 After consulting with eight different immigration attorneys, and spending $10,000 in lawyers' fees over the course of five years, Manuel Guerra lost hope that he would be allowed to stay in the U.S.
"The [attorneys] were all were telling me the same thing: to sign my voluntary departure form," Guerra told The Huffington Post. Guerra, who says he came to the U.S. illegally when he was 16 to escape Mexico's gang violence, was finally encouraged by yet another attorney, Richard Hujber, to try one last thing -- an online petition at Change.org.
So Guerra created an account, and wrote a letter to the public explaining his story. "I have made the United States of America my home, my adopted country and the land where I found freedom and purpose of life. That is a reason to live and a reason worth of fighting for," Guerra wrote in his petition.
After years of battling with Immigration and Customs Enforcement (ICE), just weeks after publishing the petition, the agency stopped Guerra's deportation proceedings. He says the petition and the public outcry it created made the difference for him.
Guerra's case isn't unique, however. The Obama administration's announcement last year that it would prioritize prosecutorial discretion, a policy which favors the deportations of criminal immigrants over those of non-criminals, has triggered some immigration attorneys to employ public outrage to help their clients, according to Change.Org spokesperson and campaigner Gabriela Garcia. Change.org has seen more than 10 new immigration-related petitions each month, and more than 20 immigration-related "victories" in the last year, Garcia told The Huffington Post.
"We've seen an increase in the number of petitions about immigration cases, and an increase in immigration attorneys who've started them when they run out of legal recourses for helping their clients," Garcia said.
However, ICE spokeswoman Gillian Christiansen downplayed the influence of online petitions in the agency's decisions to halt deportation proceedings. "ICE exercises prosecutorial discretion on a case-by-case basis, depending upon the unique circumstances of an individual's case and whether or not it falls outside the bounds of the agency's enforcement priorities," she wrote in an email. Decisions are made by the agency's attorneys, based solely on legal justifications, she told The Huffington Post. Christiansen was unwilling to speak on the record specifically about the influence of public opinion and online petitions on ICE decision-making.
But Matthew Muller, a California-based immigration attorney, says the agency is "definitely worried about the public implications of their decisions."
"Even if ICE doesn't wake up every morning and check Change.org, the site's petitions are affecting the agency in some form," Muller told The Huffington Post.
Muller says the petitions can help link attorneys with those who need representation and alert media outlets to extreme cases. "Change.org is a bridge to traditional media, which is definitely something ICE is paying attention to," he said.
Earlier this year, Muller himself used a Change.org petition to demand that ICE halt the deportation proceedings of his client Blanca Medina, a mother who faced the threat of sexual abuse if returned to her home country. He says that when he ran out of legal options to help his client, he hoped public outrage would shame the agency into changing their ruling. The petition collected over 118,000 signatures and attracted media attention. The petition worked, Muller says.
"With the prosecutorial discretion policy, press attention and public outrage don't hurt," Muller said.
Manuel Guerra, who claims an online petition encouraged ICE to halt his deportation proceedings, now spends his free time filing petitions for undocumented strangers.
"After they stopped my deportation so many people asked me for help," he told The Huffington Post. "So now I start petitions on their behalves or I show them how to do it."
Before You Go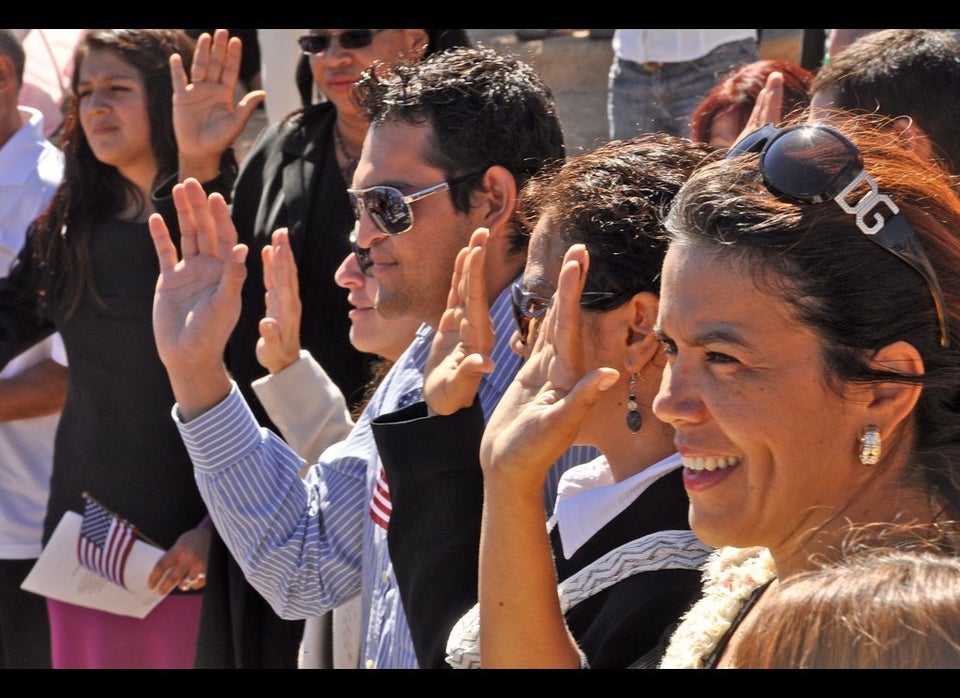 10 Major U.S. Federal Immigration Laws
Popular in the Community