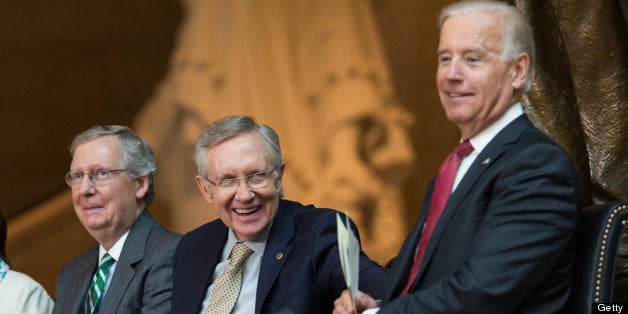 That was when Obama issued a directive stopping deportations of such people, or Dreamers as they are known after the Dream Act that sought to legalize them.
It was their turn to watch on Thursday as the Senate took the first significant step toward lifting their friends and family from the darkness, as well.
Vice President Joe Biden presided over the historic session as lawmakers voted from their seats, gaveling down a 68 to 32 vote for what would be the first overhaul of the nation's immigration laws since 1986. Dozens -- maybe more -- of Dreamers lined the gallery that rings the stately upper chamber of Congress.
"It was extremely powerful to hear every senator say aloud their vote," said Carolina Bortolleto, 25, who arrived with her parents from Brazil 15 years ago. She graduated from college in 2010, but realized it would do her little good.
"I saw no future for myself because I couldn't use my degree," Bortolleto said, and that inspired her to join the fight for immigration reform.
"It was very moving. I saw Joe Biden, and was like, 'This is a big deal. It's not just some presiding officer," Bortolleto said, a little giddy and a little emotional at the same time.
Lissette Moreno, 29, had tears rimming her eyes as she left the Senate gallery. Her parents brought her to the U.S. when she was 5 and overstayed their visas. She said she has earned degrees in international business and fashion design.
"I was praying hard," Moreno said of the moment when the vote came. "I've been waiting for this moment all my life. All my life I've lived in fear," she said, a quaver in her voice. "I'm very happy for myself, my family and my community."
Raul Anaya, a 22-year-old intern on Capitol Hill, came to the U.S. with his parents 12 years ago on a tourist visa. They were unable to get permanent residency through relatives, who are citizens.
He had to control himself as others chanted "Yes we can!" in violation of Senate decorum.
"I had an internal wish to cheer ... but I didn't want to get in trouble with that," Anaya said.
He and the others said they are aware that the House of Representatives represents a difficult challenge for immigration reform. They said they hoped they and others can convince the GOP-controlled chamber to bring the same light to some 11 million undocumented immigrants.
"Hopefully we can get that as soon as possible so that I can start making my life here. I want to live here," Anaya said. "I consider myself a citizen, even if not on paper. I grew up here. This is my home."
Michael McAuliff covers Congress and politics for The Huffington Post. Talk to him on Facebook.
REAL LIFE. REAL NEWS. REAL VOICES.
Help us tell more of the stories that matter from voices that too often remain unheard.
BEFORE YOU GO
PHOTO GALLERY
11 Ways Immigration Reform Helps The Economy