WASHINGTON -- A deal will be announced on Thursday for a border security amendment that would up the cost and requirements for enforcement of immigration law in the "gang of eight" immigration reform bill, senators said. The agreement gives a boost to an effort led by Sens. Bob Corker (R-Tenn.) and John Hoeven (R-N.D.) to win over more Republicans.
The bill mandates that significant increases to border requirements be met before undocumented immigrants can move from provisional status to legal permanent residency. Given those increases, it's likely to be expensive: aides said they expect a cost of about $30 billion for 40,000 border agents to be hired and deployed, rather than the 21,000 agents in the original bill. The deal would also require 700 miles of fencing and more funding for aerial drones and surveillance of the U.S.-Mexico border. Some of these strategies are similar to what is being used in Iraq and Afghanistan, Sen. Lindsey Graham (R-S.C.), a member of the gang of eight, told reporters of the amendment.
"This is a border surge," Graham said. "We've practically militarized the border."
Gang of eight senators and the amendment's authors hope the measure will help win over skeptical Republican senators so the bill passes with significant margins, giving it more momentum when it goes to the House. Corker told reporters that he thinks the bill could bring on an additional 11 Republicans beyond the four GOP members of the gang of eight, but emphasized that things could change.

"For people who are concerned about border security, once they see what's in this bill, it's almost overkill," Corker said on MSNBC's "The Daily Rundown" Thursday morning, before the deal was announced.
Corker told reporters later that the amendment is likely to address other issues with the bill, such as benefits. Senators' offices had been calling his office all day to see if their concerns could be included, Corker said, while noting that those changes will be more minor.
"Our phone's like a switchboard operator with folks who have issues they'd like to have dealt with," he said.
Concerns about the cost of additional border security requirements were assuaged a bit after the Congressional Budget Office's estimate earlier this week that the bill as written would cost about $22 billion to implement, meaning additional border agents alone would more than double the cost. But the CBO also predicted large economic gains for the bill, with a $197 billion decrease in the deficit over the next decade and a $700 billion decrease in the 10 years after.
The cost of the new border elements would be paid for by a trust fund established in the bill and could require an increase in fees for undocumented immigrants aiming to become legal residents, senators said.
Gang of eight member Sen. John McCain (R-Ariz.), who has previously spoken out against sending more agents to the border because of costs, said he thinks it is worth it to get Republicans on board.
"I don't know if it's totally well-spent," he told reporters. "I think that it's important that we do this to give people confidence that we have border security, so in that respect, I think it's well-spent."
Sen. Dick Durbin (D-Ill.), another member of the gang of eight, told reporters the amendment could be considered "overkill," but that it would also make it harder for Republicans to continue to oppose the legislation based on security concerns.
"It becomes more and more difficult for Republican senators to argue that they're not getting enough force on the border," he said.
The Senate already voted down amendments to add border security requirements to the bill from Sens. John Thune (R-S.D.), Mike Lee (R-Utah) and Rand Paul (R-Ky.). On Thursday, senators rejected another border amendment from Sen. John Cornyn (R-Texas).
Some GOP members, including Sen. Mark Kirk (R-Ill.). have said they would be more likely to vote for immigration reform if its border security requirements were strengthened. Kirk raised eyebrows last week when he voted twice against moving forward on the bill, joining immigration hardliners.
"The decision is should the border security amendment pass, I will be able to support the final legislation because then I will be able to assure the people of Illinois that the border is well covered with 21,000 border agents added, one every thousand feet, I think we got the border covered," Kirk told the Chicago Sun-Times' Lynn Sweet on Thursday.
Sens. Jeff Sessions (R-Ala.), Chuck Grassley (R-Iowa), Ted Cruz (R-Texas), David Vitter (R-La.) and Lee -- all expected to oppose the final bill -- came out against the amendment in a press conference Thursday afternoon, saying it did not address their concerns about successfully securing the border or legalizing undocumented immigrants.
"We are now being told an amendment is here that will fix the border, and it will just throw money at the border," Sessions said at the press conference.
Cornyn said on the Senate floor that he was open to the Corker-Hoeven amendment for increasing border security requirements, but first wanted to see the details.
Hoeven announced later on the floor that Sens. Kelly Ayotte (R-N.H.), Dean Heller (R-Nev.) and others had joined the gang of eight Republicans in co-sponsoring the amendment.
In the House, it could be another story. Although Corker and others said they hope the strong border protections in the amendment will help with House GOP concerns, it's possible the bill won't come up for a vote in the lower chamber at all.
House Speaker John Boehner (R-Ohio) said on Tuesday that he would not take up the bill unless a majority of House Republicans supported it.
"[A]ny immigration reform bill that is going to go into law ought to have a majority of both parties' support if we're really serious about making that happen," Boehner told reporters after a meeting with his conference. "And so I don't see any way of bringing an immigration bill to the floor that doesn't have a majority support of Republicans."
This is a developing story and has been updated.
Before You Go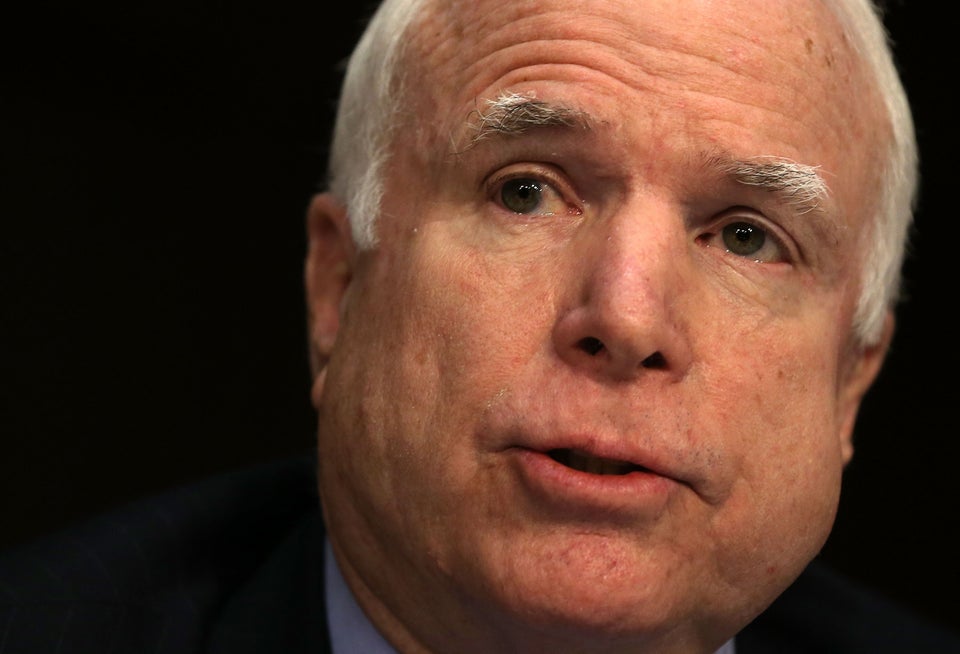 Bipartisan Immigration Plan's Key Provisions
Popular in the Community