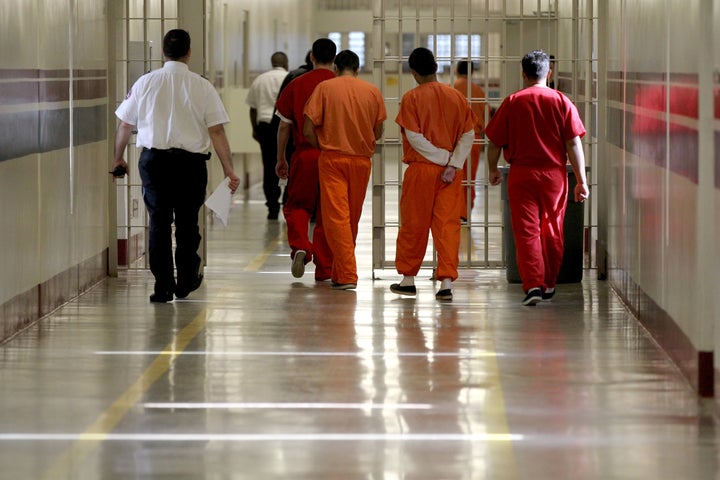 Two undocumented immigrants locked in Stewart Detention Center in rural Georgia are refusing food, authorities said Thursday.
The protest, described as a hunger strike by an immigration attorney, comes a few months after a major disturbance at the for-profit detention center, which contracts with Immigration and Customs Enforcement.
ICE, which issued a statement confirming two inmates were rejecting food, didn't provide details and declined to make the inmates available for telephone interviews, citing privacy concerns.
"ICE takes very seriously the health, safety, and welfare of those in our care and we continue to monitor the situation," the agency said. "ICE's Stewart Detention Center is staffed with medical and mental health care providers who monitor, diagnose and treat residents at the facility."
Attorney Helen Parsonage, who represents several clients detained at Stewart, said the hunger strikers were protesting the length of their detention.
Under U.S. policy, ICE is required to review each immigrant detainee's case after 180 days. Those who don't present a danger of flight, violence, terrorism or spreading an infectious disease must be released if they are unlikely to be returned to their home countries in the near future.
"There are a number of detainees at Stewart Detention Center that are being held, despite the fact that they have a final deportation order -- no contest, no nothing," Parsonage told HuffPost, citing information from her client.
Parsonage said she represents one of the detainees refusing food. Her client, a stateless Palestinian who she wouldn't name for fear of jeopardizing his case, originally was placed in deportation proceedings for working without authorization on his student visa. But in his six months of detention, ICE has been unable to secure travel documents to his birth country or an alternative third country.
"It's a mess," Parsonage said. "All he wants is to either be let out or sent home. He's in his 20s and misses his mother. He wants to go home. If you're going to deport him, do it. If you can't deport him, which I think is the case, then let him go on an ankle bracelet."
Stewart Detention Center, located outside the southwestern Georgia town of Lumpkin, was the site of a major protest in September that erupted into tumult between detainees and guards. Authorities quelled the unrest with non-lethal force. Guards punished several detainees with solitary confinement, including some who said they weren't involved in the protest.
Detainees, activists and lawyers said the protest was motivated by the length of time in detention -- even for those who agree to be deported -- along with harsh punishments for rules infractions, including solitary confinement, and poor quality of the food, which often consists of potatoes served three times a day.
Anton Flores, an activist with Georgia Detention Watch who toured the detention center last week, said its population had dwindled in recent weeks.
"Given their remote location, they are having difficulty maintaining a sufficient medical staff," Flores told HuffPost. "So they've had to reduce their population."
ICE did not immediately comment on why the detention center is housing fewer immigrant detainees.
Before You Go
The Obama Administration's Controversial Use Of Family Immigrant Detention
Popular in the Community