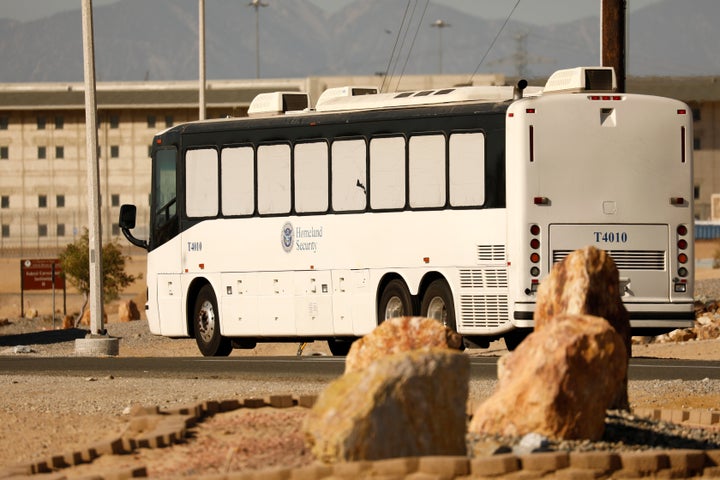 Former and current employees at a federal prison in California that began receiving a group of 1,000 immigration detainees on June 8 are warning that poor medical conditions in the prison in the Mojave Desert complex will endanger detainees, as well as the inmates and staff who are already at risk.
Staff members at Federal Correctional Complex, Victorville, who spoke to HuffPost allege that initial medical screenings of the detainees were rushed and that comprehensive checkups for all the detainees will not be completed within the two-week period that's standard procedure. They say so far this has resulted in an outbreak of scabies and a case of chicken pox among the detainees, as well as the potential for more widespread infectious disease.
The employees raised concerns about how their understaffed department could be contributing to a lack of screening that could have dangerous, even deadly consequences. And while Victorville stands out, the Justice Department had previously identified inadequate medical staffing as a key issue across the Bureau of Prisons in a 2016 inspector general's report.
Staffers held a protest outside the prison last week over the arrival of the detainees, holding signs that said, "Budget cuts will result in death!"
"Our medical department, as well as some others, are in absolute need of staff and have been for some time," John Kostelnik, president of the American Federation of Government Employees Local 3969 and a case manager for the prison, told HuffPost. Even before "getting detainees, we didn't have the staffing to provide proper medical care."
Kostelnik pointed to the death of an inmate on June 19. The inmate, who was part of the existing prison population, not a detainee, died by suicide. Kostelnik believes that a more robust monitoring process could have lowered the risk of the inmate's death.
"It's gone from bad to worse ― there are going to be some detainee deaths," a current medical staffer who corroborated Kostelnik's account of the death, told HuffPost. This staffer requested anonymity for fear of retaliation after staff was warned not to talk to the press.
The prisoner numbers are in flux, but Kostelnik estimated that about 1,000 detainees joined the 3,500 inmates already at the complex, which consists of a high-security U.S. penitentiary, a low-security satellite campus for female inmates and two medium-security prisons. The detainees are being housed in one of the medium-security prisons. No additional permanent staff were added to assist in their care, Kostelnik said.
A spokeswoman for Immigration and Customs Enforcement confirmed that detainees were being housed at the facility, as well as at other federal prisons, due to the surge of arrests associated with the implementation of the Trump administration's zero tolerance policy on immigrants caught crossing the border illegally. Staff believe the detainees were sent to the Victorville complex not because it was equipped to handle the large number of detainees but because it's located only a few miles from ICE's Adelanto Detention Facility northeast of Los Angeles.
"What they're doing to our staffing and budget levels is unconscionable, and is going to result in someone getting injured or killed."
So far, there has been one reported case of chickenpox among the detainees, which the warden confirmed in a letter to employees. Kostelnik also confirmed another staffer's report of 10 cases of scabies among the detainees ― two cases of which he had seen himself. All are highly infectious and easily spreadable in the cramped quarters of a prison.
A lack of preparedness for the sudden influx of detainees may be contributing to the spread of disease. The detainees' clothes were not washed for more than a week, Kostelnik said, making infection more likely. And, against protocol, the prison hasn't yet supplied shower shoes to the detained immigrants. The language barrier is further complicating efforts to provide proper health care, and although ICE has brought in a phone translation system, staff members say it's only rudimentary, making it inadequate for medical discussions.
Medical staffers are also worried about a lack of clarity over whether detainees can be sent out for medical care, according to interviews with current employees and medical records. One patient, a detainee with severe abdominal pain, vomiting and diarrhea, was denied access to emergency medical care at a hospital. While he has recovered, staffers were worried his condition could have been fatal.
Federal prisons have a policy requirement that for every 1,000 inmates, there should be one physician, three physician assistants or nurse practitioners, a registered nurse, one or two medical assistants, two health technicians, and a person focused on medical clerical work. Victorville falls far short.
For its 4,500 current inmates and detainees, there are two physicians ― one of whom is the clinical director ― half of the four required. While there should be 13 physician assistants or nurse practitioners on staff to cover 4,500 people, there are six.
The prison has brought in additional personnel in the wake of the detainees' arrival ― three that fulfill the role of physician assistants and nurse practitioners, along with one medical clerical worker, but this is still short of the necessary total by four. And there are only three nurses and one vocational nurse, one paramedic and one emergency medical technician on staff ― in total, according to Kostelnik.
This lack of staffing means the medical team feels unable to complete its basic job requirements. Kostelnik told HuffPost that medical staff are being pulled from sick calls, tracking potential infectious disease outbreaks and conducting other important wellness checks to hand out medication at the morning and evening pill line ― a job that should go to lower-level staff.
When asked about the conditions at the prison for detainees with regard to infectious disease risks, the Bureau of Prisons denied staffing was an issue.
"The BOP had bedspace available due to the decline in the inmate population over the past several years, and is using existing staff to accomplish this mission," the Bureau of Prisons told HuffPost in an emailed statement. "There is sufficient staff at FC1-2 Victorville to serve the population."
Immigration and Customs Enforcement echoed that statement.
"ICE is confident in the care and oversight provided by the BOP and believes these are extremely safe and secure facilities for ICE detainees," an ICE official told HuffPost in an emailed statement.
"We all know the VA has massive problems medically, and it takes care of the nation's heroes ― how much political support is there really to take care of the nation's felons?"
Staffing issues aren't endemic to Victorville specifically ― across the board, the Trump administration is in the midst of cutting BOP staff by 14 percent nationwide to reduce costs. In Victorville, that was achieved mostly by cutting vacant positions, Kostelnik told HuffPost.
Eric Young, the national president of the Council of Prison Locals, said the cuts were beyond dangerous.
"I've been in the Bureau of Prisons for 24 years, and I'm telling you right now, this administration that we have right now, what they're doing to our staffing and budget levels is unconscionable, and is going to result in someone getting injured or killed," the union leader said.
Young added that "we never had this kind of level of custody control and care of this many detainees at once" at Victorville.
Rep. Paul Cook (R-Calif.), whose district encompasses Victorville, also expressed concerns over the influx and Victorville's current staffing levels in a letter sent Friday to BOP acting director Hugh Hurwitz and ICE acting director Thomas Homan.
"I urge BOP to increase staffing levels at FCC Victorville to match the increase in population the facility has experienced. Furthermore, I urge ICE to support and train FCC Victorville staff so they are properly equipped to implement policies and procedures that may be unfamiliar to them when dealing with immigration detainees."
A former Victorville medical employee told HuffPost it's no surprise the situation has continued to devolve, claiming the prison was unsafe medically even before the 1,000 detainees arrived. The former employee, who requested anonymity for fear of retaliation, said the prison had prioritized saving money over patient care.
For the former employee, it boils down to a lack of political will to properly take care of inmates.
"We all know the VA has massive problems medically, and it takes care of the nation's heroes ― how much political support is there really to take care of the nation's felons?"
Other staffers are constantly looking for other jobs to escape the cycle of retaliation they say exists when they complain about unsafe inmate and detainee treatment.
"It is the worst kind of callousness to another human being's life," the current staffer told HuffPost. "They could care less about the life of detainees or inmates at this point. They are just like cockroaches to them."
Related