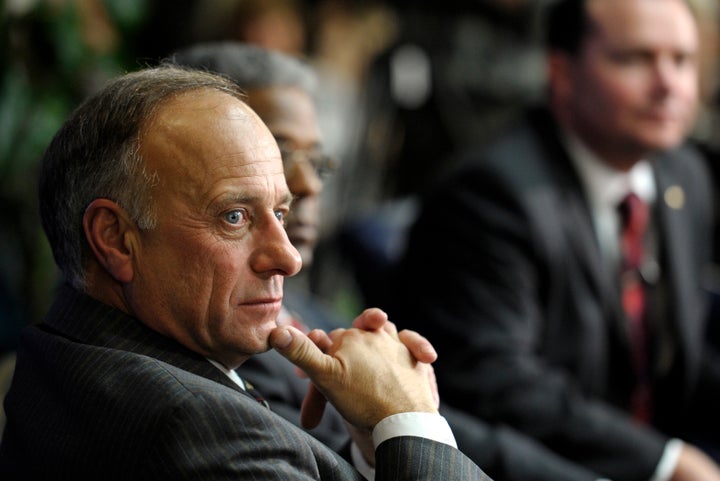 WASHINGTON -- To some Republicans in Congress, U.S. immigration detention facilities sound like resorts.
That was the premise of a hearing Wednesday by the House immigration subcommittee, where Reps. Lamar Smith (R-Texas), Elton Gallegly (R-Calif.) and Steve King (R-Iowa), argued that reforms to immigrant detention by President Barack Obama's administration , including medical treatment and protection of detainees, were too generous.
In the hearing, titled "Holiday on ICE" -- a punny reference to an ice skating movie and U.S. Immigration and Customs Enforcement -- opponents of detention reform said detention centers were becoming like "college campuses" or "Mayberry," the fictional little town where "The Andy Griffith Show" was set.
The title of the hearing, and its message, outraged immigrant rights groups and supporters of detention reform. Novelist Edwidge Danticat wrote an op-ed in the Tuesday New York Times decrying the hearing as a "political stunt" with a dangerous message as she described her uncle's 2004 death in ICE custody.
Rep. Zoe Lofgren (D-Calif.) said Gallegly, the subcommittee chairman, called her earlier in the day to say he regretted the way the hearing was named. Gallegly skipped over the phrase "posh detention facility" from his prepared remarks, instead referring simply to "the detention facilities."
But King said he stood by the title "Holiday on ICE."
"I can't think of a more descriptive name for the hearing," King told HuffPost. "I thought it was right on point. ... All they need to do to avoid that 'holiday on ICE' is put themselves back in the condition they were in before, which is go to their home country."
The title was especially offensive because of the numerous examples of detainee abuse and neglect, Lofgren said. More than 180 sexual assaults of immigrant detainees have been reported since 2007, according to an October 2010 report from the American Civil Liberties Union.
Smith "criticizes these detention standards as 'hospitality guidelines,'" Lofgren said during the hearing. "I didn't think that it's a 'hospitality guideline' to prevent rape of detainees, women who have done nothing wrong, to prevent death of detainees."
But Republicans said the reports of abuse were mostly meaningless. Gallegly told Lofgren that her examples of suffering were anecdotes, and shared his own about an immigrant who was released from detention and then killed citizens. Later, King said that based on his calculations, a person in detention would be less likely to die than someone in the general population. He shrugged off a witness's point that in the general population, many deaths are due to old age.
The hearing hashed out familiar arguments on immigration changes, which are at a legislative standstill because of the divided Congress. House Republicans have used hearings to accuse the Obama administration of trying to avoid enforcement of immigration laws.
Gallegly and Smith on Wednesday also argued detention was too expensive and would become more so if immigrants were held in less jail-like facilities. Smith pointed to cuts in funding for physical education classes in schools, while detainees play soccer, volleyball or basketball.
He added that one recently-opened facility cost "over $30 million taxpayer dollars" -- a figure that actually refers to the cost to Geo Group, the private company that built it. None of the three Republican congressman said they would support alternatives to detention that would cut costs, such as ankle bracelet monitoring.
To those who have experienced detention, the idea that centers are too nice is laughable. Nazry Mustakim, a legal resident who was detained for 10 months and released in February, said he slept in a room with 100 beds, waiting days for medical attention, eating meager food portions at odd hours. Basketball was one of the only activities, he said.
"It's pretty much like prison, but I think prison you can do more stuff," Mustakim said.
King set a low bar when asked by HuffPost how immigrants should be treated in detention facilities.
"Our standards should not be lower than the country that they're coming from," he said.
CORRECTION: Due to an editing error, an earlier version of this report incorrectly stated that Rep. Gallegly's anecdote featured an immigrant killed by U.S. citizens. Gallegly's story was of an immigrant released from detention who then killed citizens.
Popular in the Community