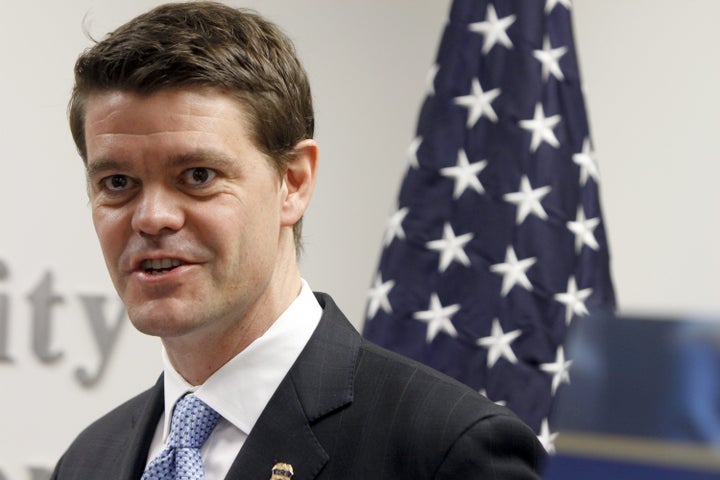 WASHINGTON -- The agency tasked with finding and deporting undocumented immigrants announced on Tuesday the creation of a new position that will work with non-governmental organizations, advocacy groups and immigrants to make sure their voices are heard.
Immigration advocates said they are hopeful, but will believe it when they see it.
The new public advocate for Immigration and Customs Enforcement, Andrew Lorenzen-Strait, already worked as a liaison between immigrant rights groups and ICE, which has undergone some reforms under the Obama administration while also deporting a record number of undocumented immigrants. Few immigration advocates had negative things to say about their work with Lorenzen-Strait and were hopeful that his expanded role would help in getting their message to the administration. Whether that will happen, though, is an open question.
"It's almost premature to say whether this will lead to tangible results," Brittney Nystrom, director of policy and legal affairs for the National Immigration Forum, said. "It has some good ingredients here, it's promoting a person who has been in a liaison role. It's just another announcement, but it's a welcome announcement."
In his new position, Lorenzen-Strait will talk to stakeholders in immigration and report their concerns back to ICE leadership, along with communicating deportation programs and initiatives with advocates.
"As our first Public Advocate, Andrew Lorenzen-Strait will work to expand and enhance our dialogue with the stakeholder community," ICE Director John Morton said in a statement on Tuesday. "We want the public to know that they have a representative at this agency whose sole duty is to ensure their voice is heard and their interests are recognized, and I'm confident Andrew will serve the community well in this capacity."
Lorenzen-Strait began working for ICE in 2008 and previously worked as a lawyer in Maryland, where he won an award for pro-bono service with Community Legal Services of Prince George's County. His most recent post at ICE was the senior adviser for a division that manages civil immigrant detention.
Lorenzen-Strait said in a blog post on the Department of Homeland Security site that he is "thrilled to assume this new role and proud of this agency for valuing community input and emphasizing transparency and accessibility." He urged people to come to him with concerns and comments.
The new position is part of a broader effort by ICE to counteract outrage by immigrant-advocacy groups and others who believe the administration's deportation numbers contradict President Barack Obama's promise to help undocumented immigrants. Deportation rates of non-criminal undocumented immigrants -- being in the country is a civil, not a criminal, violation -- are decreasing, and a refocused "prosecutorial discretion" policy should, according to ICE, help prevent some deportations.
At the same time, ICE is rolling out programs that many immigrant organizers say will hurt minority populations and lead to racial profiling, such as Secure Communities. The agency is still pushing for jails to hold undocumented people regardless of whether they are convicted, or in some instances charged, with a crime.
"[Lorenzen-Strait] is going to need the authority to take these things on," said Don Lyster, director of the National Immigration Law Center's D.C. office.
Some said they doubt the new position is more than a public relations move. Mohammad Abdollahi of DREAM Activist, an organization that fights deportation orders of young undocumented immigrants, said Lorenzen-Strait was recently involved in a deportation in Ohio. Abdollahi said Lorenzen-Strait's work with ICE has shown him that preventing deportations is getting harder, not easier.
"Honestly, if we weren't so deep in doing deportation cases, even as an immigrant advocate, these announcements would have probably fooled us too," Abdollahi said. "Thankfully we see it for what it is."
Republicans are also skeptical of the new position, although it's for different reasons.
"The administration all too often acts more like a lobbying firm for illegal immigrants than as an advocate for the American people," Rep. Lamar Smith (R-Texas) said in a statement Tuesday. "This is just further proof that the Obama administration puts illegal immigrants ahead of the interests of Americans."
Popular in the Community