 Immigration enforcement has changed significantly ever since Congress approved a sweeping immigration bill in 1996, according to a new report.
The report, released Tuesday by the Migration Policy Institute, finds that 4.5 million people have been deported ever since Congress approved the Illegal Immigration Reform and Immigrant Responsibility Act of 1996. It also identifies three key immigration enforcement trends that emerged following the approval of the 1996 legislation.
The number of people who go through a formal removal process has increased tremendously, rising from about 70,000 in 1996 to nearly 420,000 in 2012.
When immigrants go through a formal removal process, they are charged with immigration-related criminal offenses. These charges make them ineligible for a visa to return to the United States and places them on the priority list for deportation if they re-enter the country unlawfully in the future.
Between 1970 and 1996, most people caught crossing the border illegally or living in the U.S. without the proper documentation did not go through a formal removal process. Instead, they were simply ordered to "voluntarily return" to their home country.
2. Non-judicial removal procedures
There's been an expansion of the use of non-judicial removal procedures. This occurs when people are deported without going before a judge.
Previously, people often attended a court hearing where an immigration judge decided if they should be removed. But that has changed. Now, more immigration enforcement officials, rather than immigration judges, are making deportation decisions.
The report finds that non-judicial removals accounted for 75 percent of all deportations in fiscal year 2012, compared to 3 percent in fiscal year 1996.
3. Immigration-related criminal offenses
More people are being charged with immigration-related criminal offenses, such as illegal entry and illegal re-entry.
The report found that the proportion of people apprehended at the Southwest border charged with immigration-related criminal offenses increased from 1 percent in fiscal year 1997 to 22 percent in fiscal year 2013.
It also found that people convicted exclusively of immigration-related crimes grew at an average rate of 31 percent per year between fiscal year 2008 and 2013. Last year, a total of 60,300 people who were convicted exclusively of immigration-related crimes were removed, up from 35,758 in 2011.
Immigration enforcement under Obama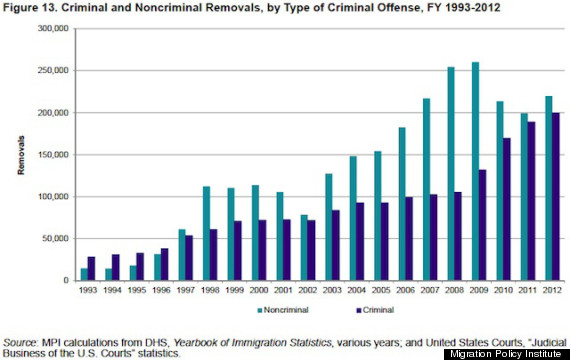 Speaking at a panel discussion Tuesday, authors of the report noted that the report also highlights how immigration enforcement has changed under the Obama administration.
Marc Rosenblum, a co-author of the report, noted that ever since President Barack Obama took office in 2009, new prosecutorial discretion policies have been implemented to focus immigration enforcement efforts on people with serious criminal records. He said these efforts have proven to be "successful."
"Since 2009, under the current administration, the number of non-criminals removed has fallen," Rosenblum said. "The number of criminals removed has increased and the ratio of criminal to non-criminal removals has gone way up."
However, he added that most of the growth in criminal removals since 2009 has consisted of people convicted exclusively of immigration-related crimes, such as illegal entry and illegal re-entry.
Rosenblum also noted that under the Obama administration, border enforcement and interior enforcement follow two different approaches. At the border, there is a "zero-tolerance" system that is resulting in more people being put in formal removal proceedings and charged with immigration-related offenses. Meanwhile, within the country there is an effort to prioritize who to go after for deportation.
Most recently, Obama announced he wants to make more changes to immigration enforcement. Last month, the president ordered the Department of Homeland Security to review the current immigration enforcement policies to find ways to conduct deportations "more humanely."
Doris Meissner, co-author of the report, pointed Tuesday to some of the potential executive actions that could result from the review.
Meissner said the Obama administration could move to limit the deportations of people who don't have a serious criminal record but have been convicted of immigration-related crimes, such as re-entering the country illegally after having been deported. However, she said this is "very unlikely" to happen.
"If you were to eliminate immigration crimes entirely from being called serious offenses, what you would really be setting up is a system that says, 'Okay, we're going to make the border tougher and tougher and tougher, but if you can get across the border and you're in the interior — even if you've been a habitual violator — you're in a safe place,'" she said.
Meissner added that the Obama administration could also move to expand the Deferred Action for Childhood Arrivals program to benefit more undocumented immigrants, not just Dreamers. But she warned that broadening DACA at this point would "severely jeopardize the possibility of any kind of movement on immigration reform legislation" given the criticism Obama has received from some members of Congress who've accused the president of abusing his executive powers.
It's unclear when the Obama administration will announce the new immigration enforcement changes. In a recent interview with ABC News, DHS Secretary Jeh Johnson said the changes could come "very soon."
Before You Go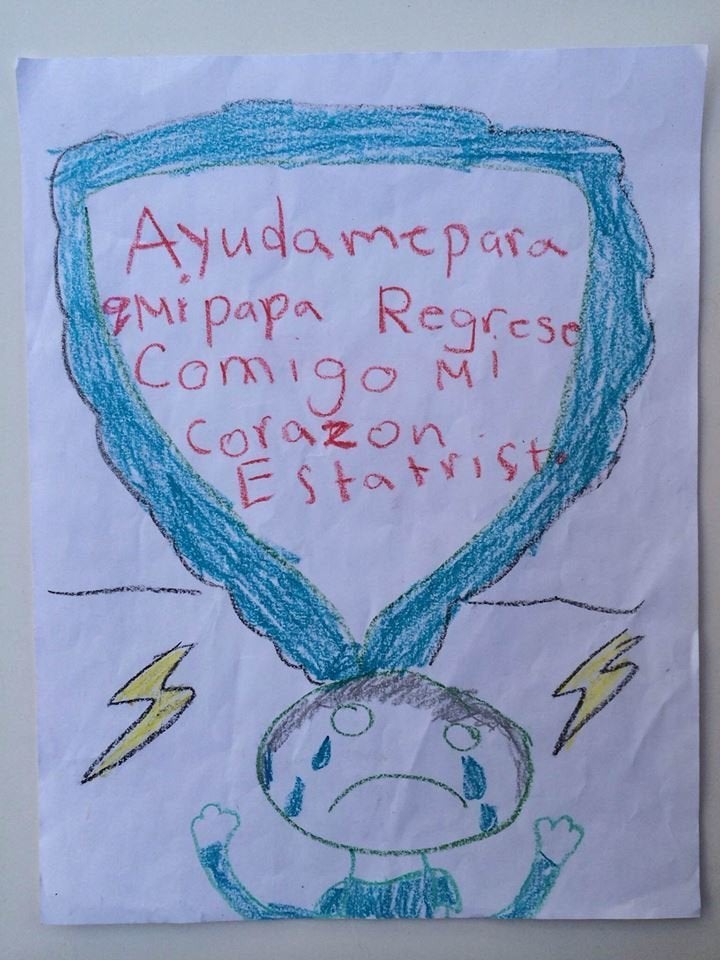 Children Ask Pope To Help Stop Deportations
Popular in the Community