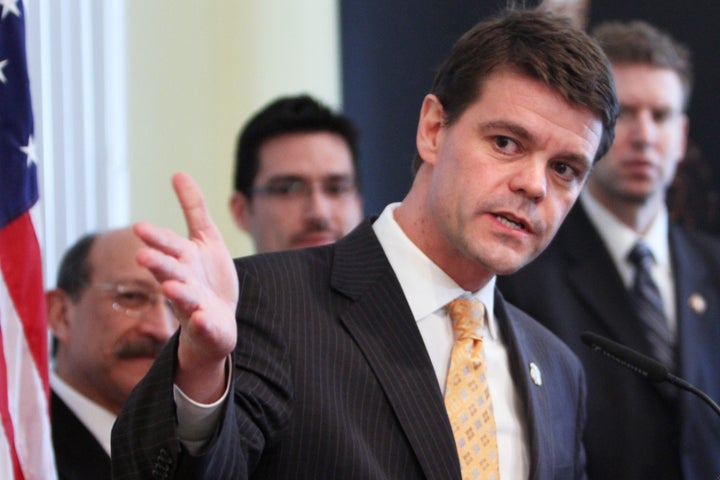 WASHINGTON -- Immigration and Customs Enforcement Director John Morton said Thursday that the agency has no plans to suspend a controversial program that gives police authority to detect undocumented immigrants, even in jurisdictions under investigation for racial profiling.
"From our perspective that is a fairly draconian step, and we're very concerned about the public safety implications of not identifying serious offenders who would otherwise be released to the streets," Morton told a House of Representatives subcommittee on homeland security.
ICE has remained staunchly committed to the Secure Communities program, despite opposition from many immigrant-rights groups, lawmakers and law enforcement offices. And even though the agency, partnered with the Department of Justice, is investigating whether local police are engaged in racial profiling, the administration of President Obama plans to move ahead at the same rate to implement the program nationwide.
Secure Communities requires police to share fingerprint data on all arrestees with the federal government, namely the FBI, which transfers the data to ICE in order to detect undocumented immigrants. The program currently exists in 2,385 jurisdictions, including all along the Southwest border, and will be rolled out in all 3,181 nationwide by 2013.
Rep. Lucille Roybal-Allard (D-Calif.) pressed Morton on problems with the program, including the fact that ICE has yet to report back on analysis meant to help detect racial profiling.
"On the question of have we suspended Secure Communities in any place that is under investigation --," Morton said to Roybal-Allard.
"-- The question is why have you not," she interjected.
The hearing, which was held to discuss Obama's Fiscal Year 2013 budget proposal for ICE, came on the same day as a letter from 80 civil rights organizations urging the FBI to stop participating in the program.
"[Secure Communities] threatens public safety, encourages racial profiling, undermines community policing, and serves as a deportation dragnet, ensnaring anyone who is booked into police custody," the letter reads.
The program's detractors say it could discourage immigrants from coming to police as witnesses or victims, hurting overall public safety. They also say it could unnecessarily put undocumented immigrants arrested for minor crimes -- even if they were never charged or convicted -- in deportation proceedings.
Racial profiling has already proved a problem in the predecessor to Secure Communities, the 287(g) program that the government is now beginning to phase out. Maricopa County, Ariz., led by infamous Sheriff Joe Arpaio, was stripped of its 287(g) contract amid reports that law enforcement officers racially profiled there.
The roll-out of Secure Communities does not seem likely to be slowed by similar investigations, despite evidence that racial profiling may exist. A recent study from the Warren Institute at the University of California, Berkeley, found that 93 percent of those detained under Secure Communities were Latino, even though Latinos make up 77 percent of the undocumented population.
Some jurisdictions, and even states, have attempted to opt out of Secure Communities but were told they could not -- contradicting earlier statements and documents. Cook County, Ill., announced in September that it would no longer honor requests from ICE to hold undocumented arrestees that it would otherwise release.
Morton said ICE is tracking Cook County's releases and offered to pay any extra cost for detention at the agency's request.
"We do not think it's a good idea that hardened felons are released onto the streets of Cook County," he said.
Morton "willfully ignores" problems like racial profiling, said Chris Newman of National Day Labor Organizing Network, which advocates for ending Secure Communities.
"To me, among the most pernicious elements of Secure Communities is the extent to which it endorses the view that undocumented immigrants are serious criminals," he said.
Popular in the Community