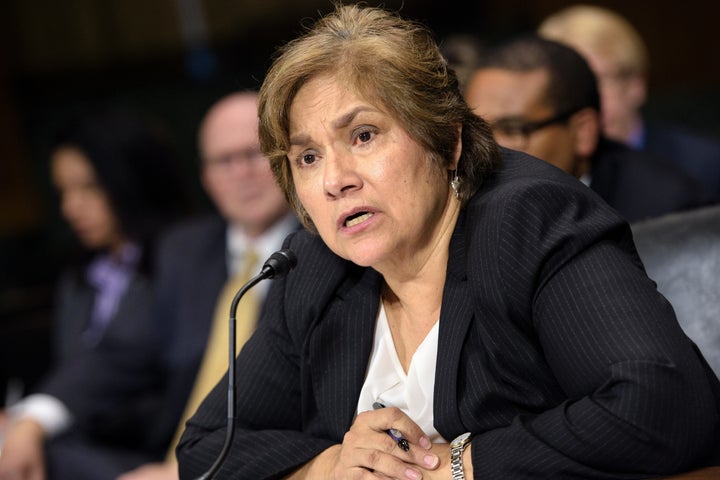 WASHINGTON ― Shutting down for-profit detention facilities would hurt Immigration and Customs Enforcement's ability to do its job, agency director Sarah Saldaña said Thursday amid a review over whether the government should do just that.
"It would pretty much turn our system upside down," she said at a House Judiciary Committee hearing, "because we are almost completely contractor-run with respect to our detention facilities."
Criminal justice reformers welcomed the surprise change in policy, but critics noted that ICE would still rely heavily on privatized facilities despite the change. The DOJ decision also does not apply to jails used by the U.S. Marshals Service, which has played a growing role in immigration enforcement since 2005.
Johnson responded by ordering a review of ICE's use of privatized facilities to lock up immigrants. An advisory council called by Johnson has until Nov. 30 to submit a report evaluating whether privatized immigrant detention centers should be eliminated.
ICE officials pushed back from the start on the idea that the DOJ decision should apply to immigrant detention as well because they have different missions. Immigrant detention is meant to be short-term and non-punitive, while the criminal system is punitive but should also have rehabilitative services, an official said in August.
"We are almost completely contractor-run with respect to our detention facilities."
Saldaña is correct to assert that eliminating private detention centers would fundamentally reshape the system. Roughly two-thirds of immigration detention centers are run as for-profit enterprises by private corporations, according to Texas-based advocacy organization Grassroots Leadership. Congress requires ICE to keep 34,000 detention beds available for immigrants on a daily basis.
Saldaña said ICE would not be able to maintain 34,000 beds if it ended its use of private detention centers, in response to questioning from Judiciary Committee Chairman Bob Goodlatte (R-Va.). She said later that more than 34,000 beds were filled as of a few days ago.
But many immigrant rights defenders question why the federal government needs such a massive detention system. The Border Patrol caught 337,117 people crossing illegally into the United States last year ― about one-fifth of the number of apprehensions at the border in the year 2000. Central American unaccompanied minors, who are not supposed to be placed in immigrant detention centers unless they are accompanied by their mother, have made up a growing number of immigrant apprehensions at the U.S.-Mexico border.
The Obama administration largely abandoned the practice of family immigrant detention in 2009, when it shut down a Texas facility infamous for putting children behind barbed wire. But it opened two new family detention facilities ― both privately run ― in 2014, amid a surge in mothers and children being apprehended at the border.
Most families are now held for fewer than 20 days, Saldaña and other administration officials have said.
Some families are held far longer, such as the mothers who have been involved in hunger strikes at Berks County Family Residential Center in Pennsylvania. Saldaña said she "take[s] very seriously how long we detain families," but that some are in mandatory detention or awaiting deportation.
"When they are losing their appeals and we are preparing to remove them, we don't detain them for the purpose of punishing them, but to prepare them," she said.
The Obama Administration's Controversial Use Of Family Immigrant Detention
Popular in the Community