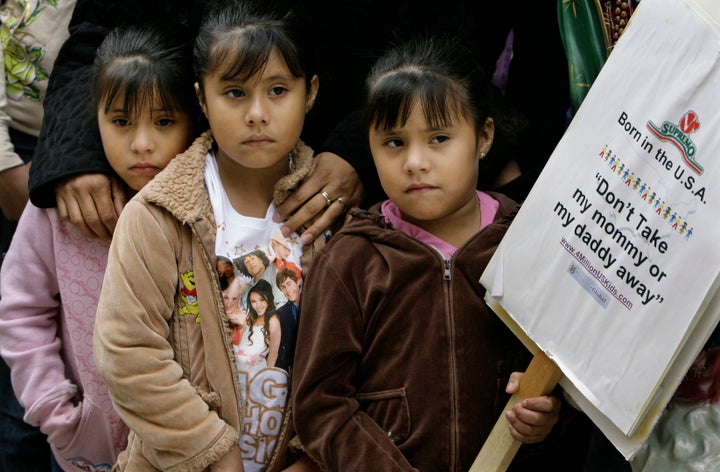 WASHINGTON -- In the first half of 2011 alone, nearly 46,500 parents of U.S.-born children were forced to leave the country, according to a report released on Monday by Immigration and Customs Enforcement.
Those parents were among the 396,906 immigrants removed from the United States in the 2011 fiscal year under President Barack Obama, which set the record for deportations in one year by any president. Between Jan. 1, 2011, and June 30, 2011, 46,486 men and women were removed from the country by the government.
The Obama administration has said that undocumented immigrants with strong ties to the United States are a low priority for removals -- including parents of citizen children. There are a lot of them: At least four million citizen children of undocumented immigrants were living in the United States as of 2009, according to a 2010 report by Pew Hispanic Center.
U.S. citizen children of undocumented immigrants can't do much to help their parents gain legal status, and the "extreme hardship" they could face by losing their parent or moving abroad is rarely considered during the parent's removal proceedings. That means parents have to either take their children to their native country -- where they are not citizens and may not speak the language -- or leave them here.
Immigration and Customs Enforcement did not release the number of parents deported who were the sole caretaker of their children, or how many were married to U.S. citizens. The agency did not immediately respond to a request for comment and additional information on the report.
More than 5,100 children were living in foster care in January 2012 because their parents were detained or deported, according to a study released by the Applied Research Center, which advocates for immigration reform.
The Congressional Hispanic Caucus put out a statement on Friday decrying the amount of parents who were deported.
"This report is the latest example of the terrible human toll our broken immigration system is taking on families. Tearing families apart like this is inhumane and completely unacceptable," said Rep. Lucille Roybal-Allard (D-Calif.). "We can't continue to claim to value families while deporting parents in the tens of thousands. This must stop."
Immigration and Customs Enforcement was not required before 2011 to track information on whether removed immigrants had U.S.-born children, so data is scarce. But the Department of Homeland Security inspector general reported in February 2009 that 100,000 parents of citizen children were deported between 1998 and 2007.
The agency has not released numbers for parents deported after June 2011. But there has been a key change since that date; On June 17, 2011, ICE Director John Morton released a memo to employees that laid out which undocumented immigrants should be prioritized for removal.
That memo came out only two weeks before the end of the third quarter of fiscal year 2011, meaning those changes were likely not yet implemented.
The Obama administration is currently reviewing some 300,000 removal cases and closing some that are deemed low priority, taking into account family ties.
Popular in the Community