WASHINGTON -- When President Barack Obama announces his plans Thursday evening to shield potentially millions of undocumented immigrants from deportation, it will represent a victory for immigration reform advocates who have worked decades on the issue.
Years of failure to move a bill through Congress and stalled efforts to persuade the president to act have left the community dispirited. Now those advocates are bracing for the moment when they finally score a win in the contentious world of immigration politics. But they don't expect even these policy changes to go smoothly, and they have no intentions of stopping there.
"If the president's executive action comports with press reports that some 5 million immigrants will be able to come forward and live in freedom and with dignity, it will be the biggest win for immigrants and their allies in 25 years," said Frank Sharry, the founder of immigration reform group America's Voice. "And if we are successful in fighting off Republican attempts to kill it in the crib, it will be a turning point for our movement."
On Wednesday, it was announced that Obama will deliver a primetime address the following evening to lay out administrative changes he will make to immigration policy. Those changes could protect some 5 million undocumented immigrants from deportation. According to reports, the undocumented parents of U.S. citizens and legal permanent residents will be able to apply to remain in the country and work.
The reforms are also expected to expand the Deferred Action for Childhood Arrivals program to help more undocumented young people who came to the U.S. as children. According to a high-ranking immigration advocate, the expansion of DACA could allow immigrants up to the age of 35 to apply or even eliminate the age cap altogether. (Currently, an immigrant had to have been under age 31 as of June 15, 2012.) There has been some consideration of allowing deferred action recipients to travel outside the country as well, the advocate said, but that has not been worked out. (Currently, those under DACA dare not leave because they can't return.) One option might be to levy an extra cost for those deferred action recipients wishing to travel.
The specifics of the final executive action could still change before it's announced, the source cautioned. But even if Obama opts for the more conservative side of those outlined proposals, many Democrats will be enthusiastic.
"I'm looking for him to be courageous in addressing a longstanding issue here in this country, which is the fact that we have immigration laws that work against not just ideals of American justice, but work against economic common sense," Sen. Cory Booker (D-N.J.) told reporters. "We are losing hundreds of billions of dollars by not solving this problem, and I'm looking forward to us solving it."
Though pleased about the impending executive action, immigration advocates are still urging Republicans in Congress to pass legislation that would grant a permanent reprieve to the undocumented, rather than this temporary relief to only a portion of them. The concern within the advocacy community is that absent that bill, the public debate could end up focused on the reach of executive authority rather than the merits of immigration reform.
"I am going to celebrate with and sign up the families that are covered, keep fighting for the families that are not covered, and we all must recognize that no executive action is a substitute for legislation, so the fundamental challenge of getting legislation passed through the Republican-controlled House remains the same," Rep. Luis Gutierrez (D-Ill.) told The Huffington Post in an email.
The White House appears to share this concern, having framed the president's pending action as something he does almost reluctantly in light of congressional inaction. Obama has said repeatedly that he would welcome a comprehensive immigration effort from Republicans.
So far, however, the signs point to a dramatic, high-stakes political showdown in the wake of the president's announcement. Republicans have floated obstructing Obama's nominations, bringing lawsuits and even pushing for impeachment as possible responses to his plans.
One advantage that the administration may have in the post-announcement era is that the new deferred action program is likely to be fee-based, which will render it safer from attacks through the congressional appropriations process. But Republicans may still try to stop it through funding bills or any other means necessary.
"I'm pretty sure I had a good feel for how the debate would have essentially subsided after legislation [passed]," said Marshall Fitz, director of immigration policy at the Obama-allied Center for American Progress, in reference to the Senate's immigration reform bill that stalled in the House. "It would have been all about implementation. This, though! Given the gauntlets that the Republicans have been throwing down -- they open their mouth and they are throwing down a new gauntlet -- I don't know what they do."
Along with fighting back GOP efforts to derail the president's action, immigration advocates will be working to protect those left out. Relief is not expected to be included for parents of the undocumented young people commonly referred to as Dreamers.
Lorella Praeli, policy director for the advocacy group United We Dream, said Dreamers are proud of how much their work has contributed to this day. Even after many received their own relief through DACA, they began pushing for Obama to protect their families and others in their community, and Thursday's announcement is a validation of that. But it also falls short of what they wanted, Praeli said.
"We're at this moment where we see the fruits of so much sacrifice and so much hard work, but it doesn't feel complete at the same time," Praeli said. "We're sad because there are many people who are here who won't qualify, because there's not specific language for parents of DACA recipients. But we won't let the disappointment overshadow the fact that this is a tremendous victory and that we got us to this moment."
Praeli is a legal permanent resident and her mother is undocumented, meaning that should the president's announcement go as expected, her mother might be able to receive work authorization and deportation protections. Her mother is coming to Washington from Connecticut on Thursday so they can watch the announcement together, Praeli said, and then they will travel to Las Vegas to see Obama's speech on Friday.
After that, it's back to advocating for immigration reform and relief for more of the undocumented population.
"It's a bittersweet moment," Praeli said. "I am excited and I am happy, and I am ready to turn the page to the next fight."
UPDATE: 10:35 p.m. -- Rep. Judy Chu (D-Calif.) who along with other lawmakers attended a dinner at the White House on Wednesday evening to discuss the impending executive action, told The Huffington Post that the president hopes to have his policy in place by Jan. 1, 2015. Obama also asked lawmakers for their aid in reaching undocumented citizens who may be wary of coming out of the legal shadows.
"He asked us for our help in letting people know that this program is happening and making sure they know it will be helpful," said Chu.
Getting a major new immigration initiative up and running in less than two months is a challenge. But much of the policy will be built on an existing program. Chu confirmed reports that the president would be expanding DACA to adults with the overarching goal making sure "that it is felons deported, not families." Altogether, an estimated 4 million to 5 million people could be affected, Chu said.
As a legal matter, the president told the crowd he was on firm ground with his executive action. But according to Chu, Obama also said his legal team had advised him against expanding visas for high-tech workers and temporary agricultural workers.
"There were some programs he could not do because there was not statutory authority," explained Chu. "I was disappointed."

Before You Go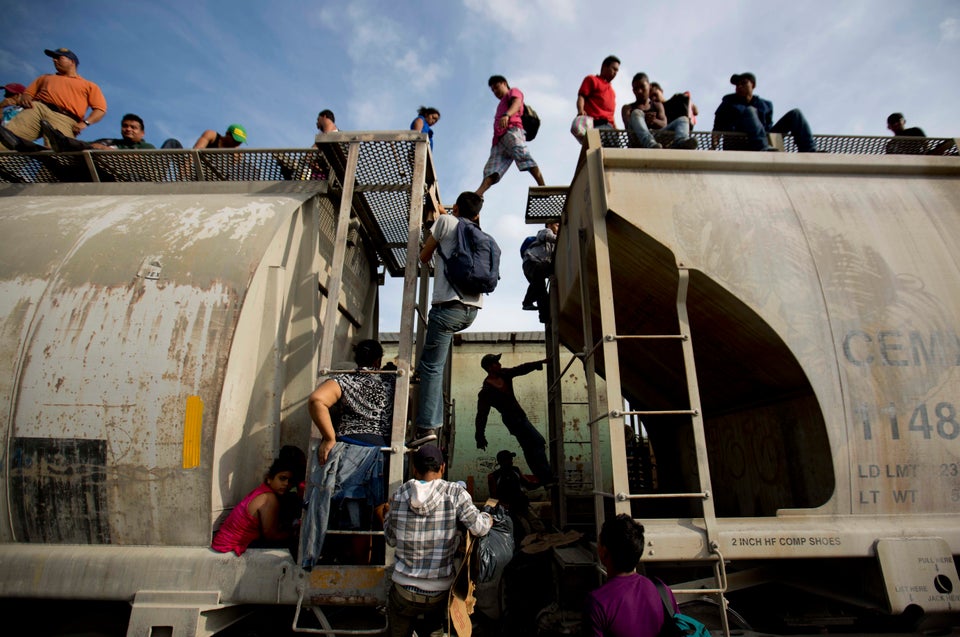 Why Latin Americans Really Come To The U.S.
Popular in the Community