Republican lawmakers slammed President Barack Obama for announcing Thursday that he would act unilaterally to provide deportation relief for approximately 4.4 million undocumented immigrants.
Obama has said that he was forced to act alone because Congress failed to pass comprehensive immigration reform. He has also said that immigration reform passed by Congress could supersede his executive order.
House Speaker John Boehner (R-Ohio) said the president was more interested in playing politics on immigration than working with lawmakers.
"By ignoring the will of the American people, President Obama has cemented his legacy of lawlessness and squandered what little credibility he had left," Boehner said in a statement on Thursday.
In a video on her Facebook page, former Alaska Gov. Sarah Palin (R) said Obama was "giving the middle finger" to voters.
Texas governor-elect Greg Abbott (R) said in a statement that he would "immediately challenge" Obama's plan in court. Maricopa County, Arizona, Sheriff Joe Arpaio also said he would file a lawsuit against the president over the executive action.
Rep. Lamar Smith (R-Texas) said Obama's announcement amounted to a declaration of war on the United States.
"President Obama has put the interests of an extreme wing of his party above the interests of American workers. Some have said that the actions he is taking this week equal a declaration of war on Republicans," Smith said in a statement. "I believe he is actually declaring war on the American people and our democracy."
Appearing on CNN, former Republican House Speaker and 2012 presidential candidate Newt Gingrich said Obama's remarks were "a Gruber speech," referring to Jonathan Gruber, the MIT professor who has recently come under scrutiny for suggesting that the "stupidity of the American voter" helped pass the Affordable Care Act.
Sen. John McCain (R-Ariz.), Obama's opponent in the 2008 presidential election, said the actions outlined by the president would do little to fix the country's immigration system.
"The President's unilateral action announced today fails to address the root causes of the dysfunction in our immigration system, including an insecure border, the absence of a rational, efficient guest worker program to meet America's urgent labor needs, and a broken system for legal immigration, which fails those around the world who seek the American dream by actually following our laws," McCain said in a statement on Thursday.
Under Obama's plan, approximately 4.1 million undocumented immigrants will be eligible for a new policy that will permit undocumented parents of U.S. citizens and permanent residents to remain in the country. Obama also announced that he will expand a program which gives deportation relief to undocumented children who came to the United States legally.
While Republicans have said that Obama is acting outside of his constitutional authority, legal experts, including some conservatives, have said that Obama has the authority to act on his own.
Before You Go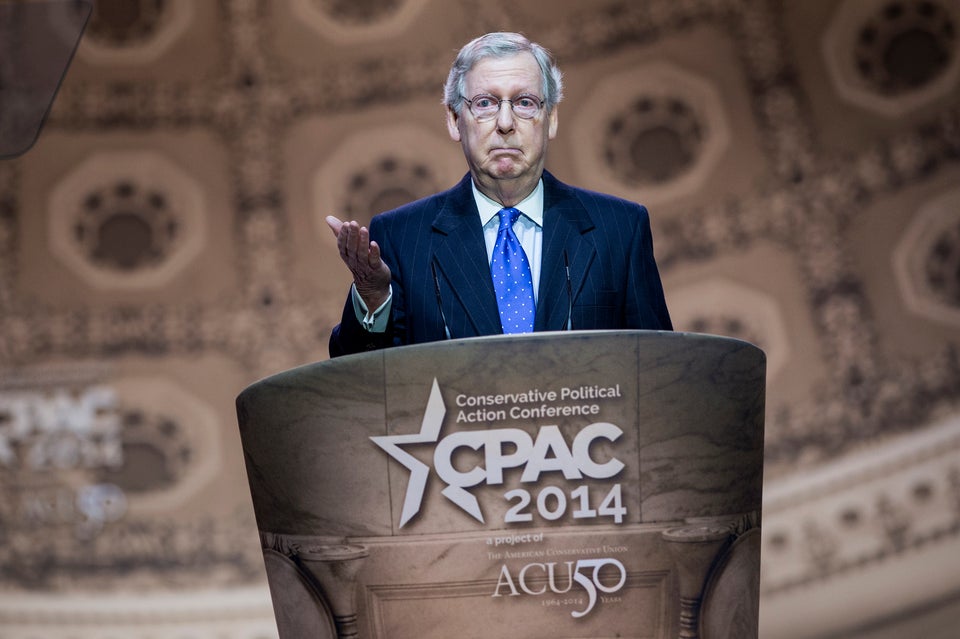 Mitch McConnell & Alison Lundergan Grimes
Popular in the Community