WASHINGTON -- GOP presidential candidates may want to talk about it, but fewer Republicans rank unauthorized immigration as a top issue, according to a poll released Monday by Pew Research Center.
The poll found that "illegal immigration" dropped from the second-most important issue for Republicans to the twelfth-most important this year. Nearly 50 percent of Republicans still rate the issue as a top priority, but that figure has fallen by about 20 points since 2007, Pew found.
The declining interest in immigration doesn't mean that Republican politicians are dropping the issue. During the race for the GOP nomination, candidates have been jockeying to appear the toughest on immigration.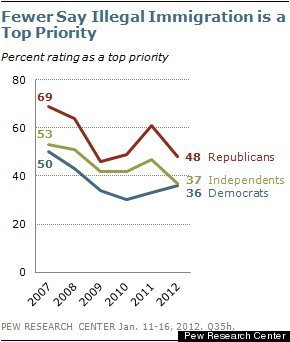 All of the candidates call for more border security and deportations, claiming that President Barack Obama is soft on unauthorized immigration. In fact, the Obama administration surpassed any prior deportation records, sending 396,906 people back to their native countries in fiscal year 2011. U.S. Border Patrol is also changing tactics to impose more serious consequences on illegal border crossers, the Associated Press reported last week.
Still, candidates seem to be concerned with being branded as supportive of "amnesty," or allowing undocumented immigrants to stay in the country without conditions. (Obama also opposes amnesty under that definition, and no bill proposed by a Democrat has called for it.) Former President Ronald Reagan, a revered Republican, was the last to allow amnesty for undocumented immigrants in the 1980s.
During this election cycle, former Massachusetts Gov. Mitt Romney has called for policies that would drive all undocumented immigrants out of the country, former House Speaker Newt Gingrich (R-Ga.) has praised a contested South Carolina immigration law and both Rep. Ron Paul (R-Texas) and former Sen. Rick Santorum (R-Pa.) have said they would increase deportations substantially.
Among Americans at large, Pew Research found that "illegal immigration" has also dropped as a priority. Although it is not a steady decline, the share of Americans who consider immigration a top issue has decreased from 55 percent to 39 percent since 2007.
Calling all HuffPost superfans!
Sign up for membership to become a founding member and help shape HuffPost's next chapter
BEFORE YOU GO