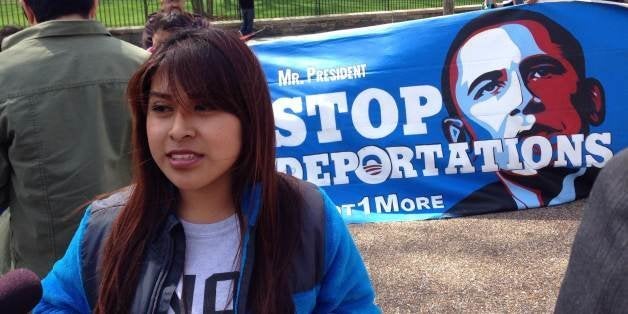 WASHINGTON -- Three immigration activists began a hunger strike on Tuesday outside the White House to demand their loved ones -- a mother, a son and a fiance -- be released from detention.
The protesters have both a narrow objection to the Obama administration's deportation policy and a far broader goal. First, they want to block the deportation of those closest to them, but they also are working to halt such deportations altogether, as part of the larger "Not One More" movement.
Cynthia Diaz, an 18-year-old U.S. citizen born in Phoenix, is taking time away from the University of Arizona to protest her mother's detention. Her mother, Maria Del Rosario Rodriguez, is undocumented and was deported in 2011, but reentered the country in March as part of the "Bring Them Home" action, Diaz said. Rodriguez has been in detention since.
"I don't care that I'm not eating, for however long it takes," Diaz said at a press conference outside the White House on Tuesday. "I'm here to demand my mother's release."
Obama's deportation policies have increasingly come under the microscope in recent weeks, as numerous reports have found that non-criminals and immigrants with low-level convictions are being deported at high rates. The New York Times reported Sunday that two-thirds of deportations under Obama were of people with either no criminal records or convictions for minor violations. A report released Tuesday by the Transactional Records Access Clearinghouse at Syracuse University found that Secure Communities, a 6-year-old program meant to bring a higher proportion of criminals into deportation proceedings, has not yet achieved that purpose.
The hunger strike is part of a vigil to be held every day outside of the White House for an indefinite period of time until Obama makes some type of action on immigration, such as halting deportations for some undocumented immigrants or shutting down the Secure Communities program.
Naira Zapata, whose fiance Ardani Rosales was deported in December, is also going without food. Rosales came to the U.S. from Guatemala seeking asylum and was previously deported. He is currently in detention. The third faster is Jose Valdez, whose son Jaime Valdez was deported in February after being arrested for a DUI. He also attempted to return to the U.S. and is now in detention.
There have likely been about 2 million deportations during Obama's presidency, based on previous rates, including about 370,000 removals last year. Many of those removals take place along the U.S.-Mexico border, and administration officials have argued that those deportations are often less disruptive to families and communities than those from within the interior of the country.
The Obama administration is currently reviewing its deportation policies to make them more humane, but a timetable has not yet been set for the release of the review's conclusions. Natally Cruz, who works with the pro-immigration reform group Puente Arizona, said at the press conference that activists need the president to act now.
"Our families are being separated," she said. "We need the relief now, not in 90 days."
Popular in the Community