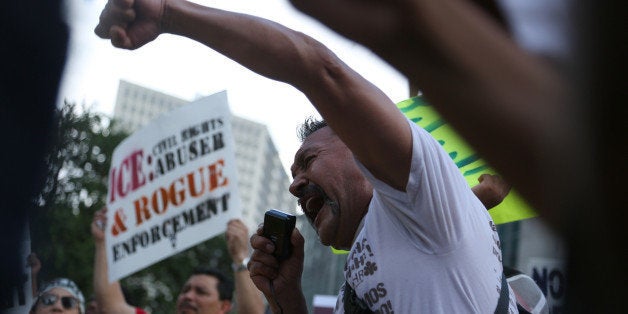 WASHINGTON -- Hundreds of immigration advocates, some of them undocumented, waited hours outside a New Orleans courthouse on Friday as a federal appeals panel heard arguments on President Barack Obama's deportation relief.
The advocates expect to wait some more if the appeals court ruling doesn't go their way -- they think it won't, given the soundly conservative records of two of the three judges on the panel -- or even if it does. However the decision comes down, one side or the other will likely appeal to the Supreme Court. The deportation reprieve that Obama promised by executive action in November, which was set to begin this spring, isn't coming anytime soon.
Still, undocumented immigrants went to New Orleans to show they haven't lost faith that it will come eventually.
"We know that we may not win in the court right now, but we have hope that if we go to the Supreme Court, we can make it over there," said Ruth Guzman, a 36-year-old undocumented mother, in a phone interview.
Guzman, who lives in Austin, Texas, was accompanied to New Orleans by her husband, children, brother and sister, as well as the group Workers Defense Project. Guzman has been in the U.S. for 20 years. She said she arrived a month after her 16th birthday, which makes her ineligible for the president's Deferred Action for Childhood Arrivals (DACA) program for undocumented immigrants who came to the U.S. before they turned 16. She finished high school in the U.S. and learned English, and now works as a housekeeper.
She would be eligible for the new Deferred Action for Parents of Americans and Lawful Permanent Residents (DAPA) program because she has three children who are U.S. citizens: a daughter, 13, and two sons, 10 and 5. Her goal is to save enough money so her children can go to college, she said.
Other Texans also traveled in for the hearing. The lawsuit was launched by their then-attorney general-now-governor Greg Abbott, a Republican. Mary Moreno of the Texas Organizing Project said her group had brought 20 people to New Orleans for a previous hearing on the president's executive actions. This time, they had 140 people from Houston, Dallas and San Antonio, many of them undocumented parents with their U.S. citizen children. The buses from Dallas and Houston drove overnight to get in on Friday morning -- and then drove back Friday afternoon.
Moreno said her group wanted to be there to show that Abbott wasn't representative of the people of Texas when he launched the suit claiming Obama's executive actions were unconstitutional and would harm the state.
"This lawsuit that is keeping nearly 5 million people from being able to obtain temporary relief from deportation was started by our governor," Moreno said. "So we feel responsible for it, and we also don't want the world to think that this is what Texas is about. Texas is not an anti-immigrant state."
The rally outside the courthouse was so loud that people inside the courtroom said they could hear it.
Not far away, other immigration activists were causing a disruption of their own. Fourteen people -- 10 of whom were undocumented -- were arrested during a large protest outside an Immigration and Customs Enforcement office, according to organizers.
They wanted to draw attention to the fact that while the deportation relief programs are stalled in the courts, some people who might have received reprieve could be deported, said Fernando Lopez, a community organizer with Congress of Day Laborers who was at the protest but was not arrested.
Lopez, 24, is an undocumented immigrant who lives in New Orleans. He is not eligible for DACA because he came to the U.S. at age 18, and he would not be eligible for DAPA because he doesn't have children.
"Often people talk about Republicans attacking the community and Republicans blocking the executive actions, but in reality, who is really affecting the community every single day is Immigration [and Customs Enforcement]," Lopez said. "They are the ones that need to be held accountable."
REAL LIFE. REAL NEWS. REAL VOICES.
Help us tell more of the stories that matter from voices that too often remain unheard.
BEFORE YOU GO
PHOTO GALLERY
11 Ways Immigration Reform Helps The Economy