WASHINGTON -- It's not what most people would picture when they think about courts: toddlers, children and teenagers arguing against government lawyers for deportation reprieve that could, according to advocates, save their lives.
But it happens all the time in immigration courts, where there's no guarantee of legal counsel. And it has a huge effect. Minors without representation are more likely to lose and more likely to get deported.
Democratic senators -- led by Minority Leader Harry Reid of Nevada, Bob Menendez of New Jersey, Patrick Leahy of Vermont, Patty Murray of Washington and Dick Durbin of Illinois -- launched another effort on Thursday to change that.
Senators introduced a bill, the Fair Day in Court for Kids Act, aimed at ensuring kids have access to lawyers, along with legal orientation programs and post-release services. It also applies to "vulnerable individuals," defined as people with a disability or victims of abuse, torture or violence.
"Immigration law is one of the most complex areas of law out there," Reid said Thursday on the Senate floor, after talking about children who went up against immigration judges alone. "Toddlers should not be placed in this situation."
There will be a companion bill in the House from Democratic Rep. Luis Gutierrez of Illinois and Reps. Zoe Lofgren and Lucille Roybal-Allard of California.
The bills come as the number of unaccompanied minors apprehended at the border is up this fiscal year from the previous one, although it dipped in January, and the administration is conducting raids to pick up families ordered for deportation. Meanwhile, El Salvador, Honduras and Guatemala remain dangerous, and families and children there are continuing to flee for the U.S. and elsewhere.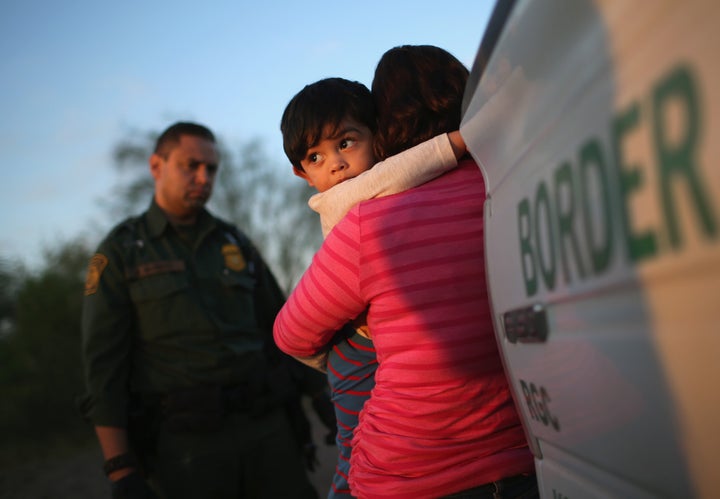 Advocates argue that many -- if not most -- of the mothers and children seeking asylum have a good case for it. But having an attorney may make the difference between receiving relief and being sent back to potentially perilous situations.
Children were allowed to remain in the U.S. in 73 percent of cases in which they had representation, according to data from fiscal years 2012 to 2014 analyzed by the Transactional Records Access Clearinghouse at Syracuse University. Children without representation were only allowed to stay in 15 percent of cases.
"Trying to win asylum without a lawyer is like playing Russian roulette," Greg Chen, an advocate with the American Immigration Lawyers Association, said on a call with reporters.
There are groups, including Kids In Need of Defense, that help provide attorneys, and cities and states have tried to do the same. The Justice Department provided grants in 2014 for lawyers and paralegals to help. But there's only so much they can do. About half of minors and about 70 percent of families go through the process without legal counsel.
The legislation will likely face opposition in Congress, despite its supporters' arguments that it should be a no-brainer. Republicans thus far have been more focused on speeding up the legal process and deporting more families and minors than they have on things like counsel -- although it's worth noting that attorneys say having representation can help the process move more efficiently.
Menendez told reporters on the same call that he does not think of it as only a messaging bill, and will do everything he can to get it through, including trying to attach it to must-pass legislation.
"We will have strong resistance from Republicans that have shown themselves in every iteration to be anti-immigrant, but I would hope the administration will also join us at the end of the day," he said. "The possibility of including this in some must-pass legislation is something I'm going to work very hard with."
Both Democratic presidential candidates have expressed support for legal counsel for children. The immigration platform of Sen. Bernie Sanders (I-Vt.) says he "will ensure that all children at our borders will be provided procedural protections by providing counsel." Former Secretary of State Hillary Clinton called last month for government-funded lawyers to ensure representation for all unaccompanied minors in deportation proceedings.
This article has been updated with Clinton's stance on counsel for minors.
The Obama Administration's Controversial Use Of Family Immigrant Detention
Popular in the Community