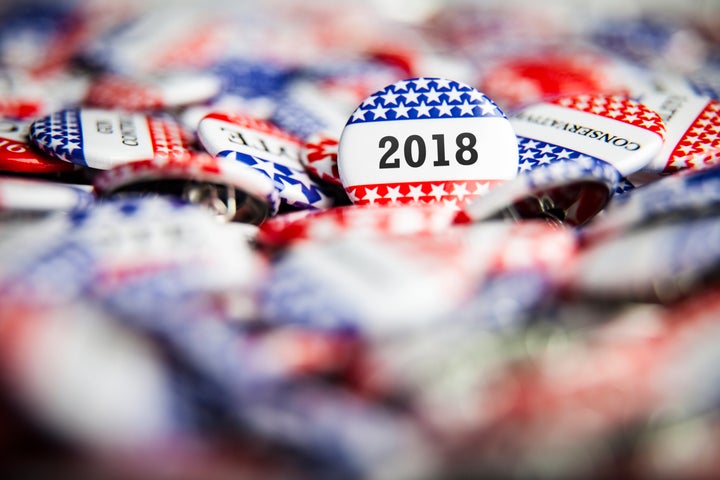 Immigration policy has ratcheted up in importance as a key issue in campaigns across the nation in the past week, a new poll showed, dominating voters' minds and the messaging from office seekers in their states.
Thirty-five percent of surveyed registered voters cited immigration as one of the two issues most important to them for this year's midterm elections, a new HuffPost/YouGov survey found, edging ahead of health care and the economy, at least for the time being.
A majority of polled Republican and Republican-leaning voters (55 percent) cited immigration among the issues most important to them, up from 43 percent in March. Among Democratic and Democratic-leaning voters, 19 percent called immigration a priority, up from 10 percent in the spring ― a more modest uptick that left it third in their attention, behind health care and gun policies.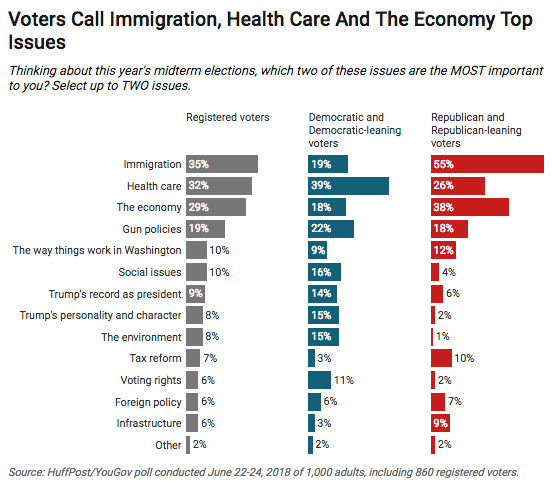 Immigration ranked second only to health care as an issue that voters said they would like to hear more about from midterm candidates; 36 percent of Democratic and Democratic-leaning voters and more than half of Republican and Republican-leaning voters said they'd like to hear more discussion of the issue.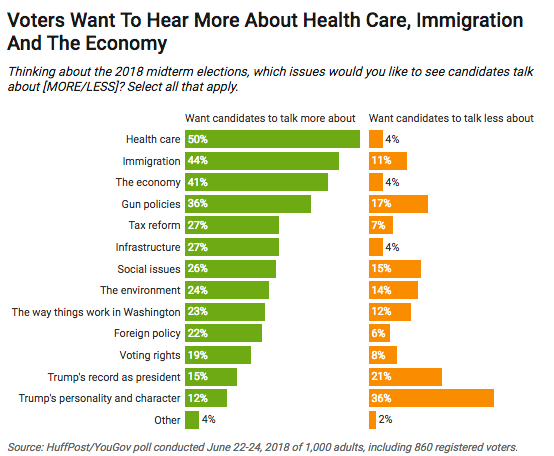 Just because voters care about an issue, of course, doesn't mean it will be the key factor in determining their vote or even whether they'll vote. Although surveyed voters said they didn't prioritize President Donald Trump's record and character over more specific matters, other polling has found his presence looms large over the midterms ― as does the question of which party will have control of Congress. And with months to go until the elections, there's no guarantee that the issue won't fade in importance.
But as the HuffPost/YouGov survey showed, immigration policy has been a key talking point in campaigns nationwide. Surveyed voters said they heard Republicans in their state talking about immigration more than any other issue, including the economy, in the past week. Thirty-six percent said it was among the top two issues GOP candidates mentioned the most in the previous week — up from 22 percent who said the same earlier in June.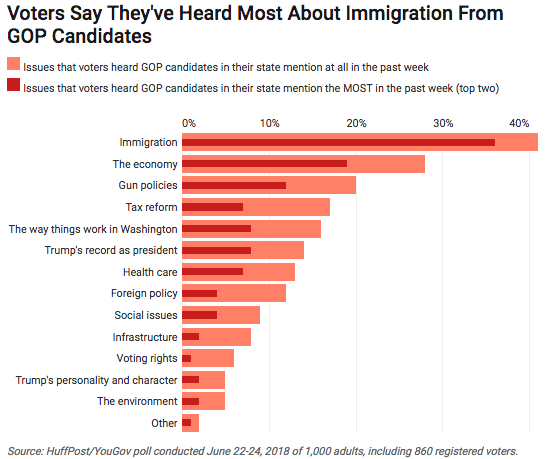 Voters said they also saw Democratic candidates focusing on immigration, though to a lesser extent. Twenty-seven percent of polled voters said immigration was among the two issues they heard the most about from Democrats over the past week — up from 13 percent earlier this month.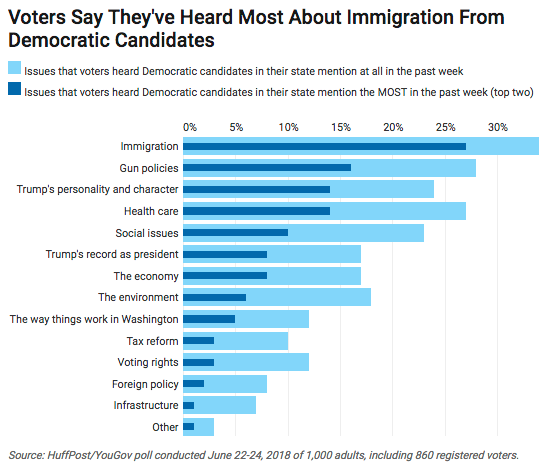 To some extent, the immigration debate is less than ideal ground for the GOP. As other recent polling has shown, voters, while trusting Republicans more on the economy, gave Democrats a double-digit advantage on handling immigration. More specifically, immigrant family separation, the policy that has dominated the news cycle over much of the past week, was viscerally unpopular, even if the GOP hasn't shouldered all the blame. But as the HuffPost/YouGov survey showed, immigration remains an issue that mobilizes Republicans far more than Democrats.
Use the widget below to further explore the results of the HuffPost/YouGov survey, using the menu at the top to select survey questions and the buttons at the bottom to filter the data by subgroup:
The HuffPost/YouGov poll consisted of 1,000 completed interviews conducted June 22 to 24, 2018, among U.S. adults, using a sample selected from YouGov's opt-in online panel to match the demographics and other characteristics of the adult U.S. population. The survey included 860 registered voters.
HuffPost has teamed up with YouGov to conduct daily opinion polls. You can learn more about this project and take part in YouGov's nationally representative opinion polling. More details on the polls' methodology are available here.
Most surveys report a margin of error that represents some but not all potential survey errors. YouGov's reports include a model-based margin of error, which rests on a specific set of statistical assumptions about the selected sample rather than the standard methodology for random probability sampling. If these assumptions are wrong, the model-based margin of error may also be inaccurate. Click here for a more detailed explanation of the model-based margin of error.
Calling all HuffPost superfans!
Sign up for membership to become a founding member and help shape HuffPost's next chapter