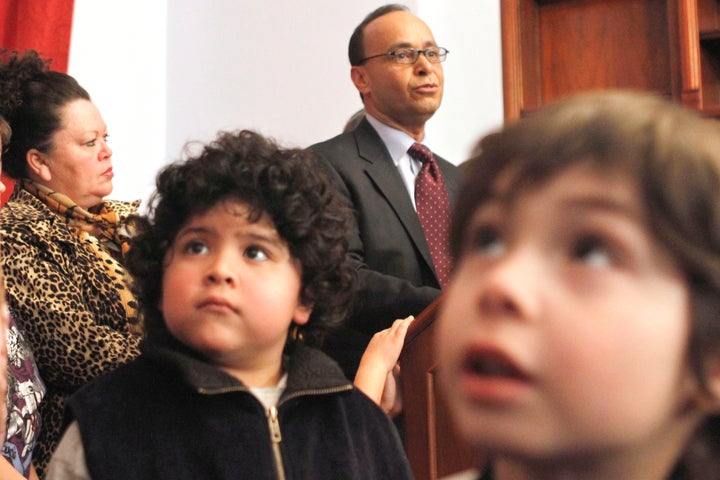 WASHINGTON -- Rep. Luis Gutierrez (D-Ill.), chairman of the Congressional Hispanic Caucus' immigration task force, announced on Thursday a national campaign to hold President Obama accountable for promises he made on the campaign trail to reform the country's broken immigration system.
Featuring the stories of families devastated by deportations, "Change Takes Courage" will hold events across at least 20 states, Gutierrez announced at a press conference on Capitol Hill. The campaign will include meetings and press events with local leaders and immigration advocates designed to put pressure on the administration. The first will be held on Saturday afternoon at the Instituto Biblico de Rhode Island in Providence; another will take place in Honolulu, Hawaii, the president's birthplace, in May.
Spearheaded by the Fair Immigration Reform Movement, a coalition of more than 200 immigration advocacy groups, the campaign will contrast clips of the promises Obama made on the campaign trail with two years of Congressional inaction, and spotlight the flesh-and-blood experiences of families torn apart by deportation.
"We are gathered here today ... to acknowledge that change takes courage, and to respectfully tell President Obama that now is the time for him to find it," said Eva Millona, a member of FIRM's executive council and executive director of Massachusetts Immigrant and Refugee Advocacy Coalition.
Among the changes the campaign is asking for: granting parole to students eligible for the DREAM Act, parents of citizen children, and immigrants with deep roots in the community; and greater protections for all workers, including a moratorium on audits and ensuring the right to organize.
Maria Bolanos, a 29-year-old undocumented immigrant from El Salvador, appeared at Thursday's event with her two-year-old daughter to explain how in December of 2009, after calling the Prince George's County police for help with an abusive husband, she was detained by immigration authorities. The campaign will rely on stories such as Bolanos' to illustrate the shortcomings of programs like Secure Communities, which has been a mainstay of the Obama administration's immigration enforcement efforts and has helped generate a record number of deportations.
Obama promised during his campaign to push for immigration reform, and reiterated in his State of the Union last year that he would advocate laws to allow some undocumented immigrants to gain legal status. But facing criticism from the right, he has stepped up immigration enforcement, deporting record numbers of undocumented immigrants and sending more troops to the border than ever before.
Despite increased enforcement, Congress did not budge on its opposition to immigration reform. In December, the last remaining hope for immigration reform died when the Senate voted down the DREAM Act, a bill that would allow some undocumented young people to gain legal status if they went to college or joined the military.
With a Republican-controlled House that includes immigration hawks such as Reps. Lamar Smith (R-Texas) and Steve King (R-Iowa), even advocates acknowledge no immigration reform is likely to come out of Congress in the next two years. But they argue Obama should do more to prevent deportation of families and young people who would be DREAM Act-eligible.
On Monday, Obama dismissed the idea of using his executive powers to halt some deportations, telling students at Bell Multicultural High School in Washington, one of whom was holding an order of deportation, that his powers would not allow him to stop deportations by executive order or assign Temporary Protected Status.
"With respect to the notion that I can just suspend deportations through executive order, that's just not the case," he said.
According to the campaign, though, there are a number of legal options for Obama to avoid deporting students or parents and spouses of American citizens. For starters, advocates say he should make sure his programs do what he has said they aim to do: deport "the worst of the worst," undocumented immigrants who have committed dangerous crimes or are deemed a threat to safety in the United States.
Programs such as Secure Communities, which puts the fingerprints taken by local police through DHS databases to net undocumented immigrants, are designed to put criminals in deportation proceedings, immigration officials say. But they also net a number of innocent people, such as Bolanos, because police fingerprint people who may never be charged with a crime or convicted. About 25 percent of immigrants who are detained under the program have not been convicted with a crime, according to data released by ICE and analyzed last week by a coalition of critics of the program.
In Prince George's County, Md., where Bolanos lives, the percentage of non-criminal immigrants detained under Secure Communities data is even higher, according to a report from the National Day Laborer Organizing Network, Center for Constitutional Rights and Benjamin Cardozo School of Law's Immigration Justice Clinic. About 65 percent of the immigrants detained through the program are never convicted of a crime. The only county with a higher rate is Jefferson Parish, La., where 72 percent of immigrants caught up in the program are not convicted.
"Secure Communities in Prince George's County is nothing short of a crisis," Gustavo Andrade, a community organizer with Latino advocacy group Casa de Maryland, told The Huffington Post. "We should be using our resources to be making our communities safer, not to be hunting people down and separating families."
The program has expanded rapidly under the Obama administration, even against the will of local law enforcements and city officials. Despite initially calling Secure Communities a voluntary, "opt-in" program, Homeland Security Officials announced in October that communities could not exempt themselves from the program. More than 1,100 communities are already part of the program, and DHS plans to expand Secure Communities nationwide by 2013.
"The ultimate responsibility still lies with the president who has chosen to make SCOMM his signature enforcement program," Andrade said.
Gutierrez said he hopes the Change Takes Courage campaign will convince Obama to make changes to Secure Communities that keep non-criminals from deportation, particularly in cases of students or family members of U.S. citizens. The campaign does not advocate the president issuing an executive order or issuing Temporary Protected Status, but asks him to use discretion based on an internal ICE memo leaked last summer.
"We understand he has the responsibility and obligation to enforce the law, but we're asking him to use the discretion that he has," Gutierrez said.
The document, a memo from U.S. Citizenship and Immigration Services Director Alejandro Mayorkas, offered seven "relief options" to avoid deportation for certain individuals. Immigration officials quickly distanced themselves from the memo after it was criticized as "backdoor amnesty" for undocumented immigrants.
"This is not amnesty," Rep. Mike Honda (D-Calif.) said on Thursday. "It is simply the right thing to do, and we must do it now."
Gutierrez said the campaign would also remind Obama that his 2008 victory was in part thanks to the immigrant population. But he stopped short of saying Obama would lose support from immigrants in 2012.
"I'm here because I want him reelected, because I want him to achieve a second term as president," he said. "I'm here to say, 'Mr. President, join this community in showing balance so that I and others can go out there and make sure you have a resounding victory.'"
Popular in the Community