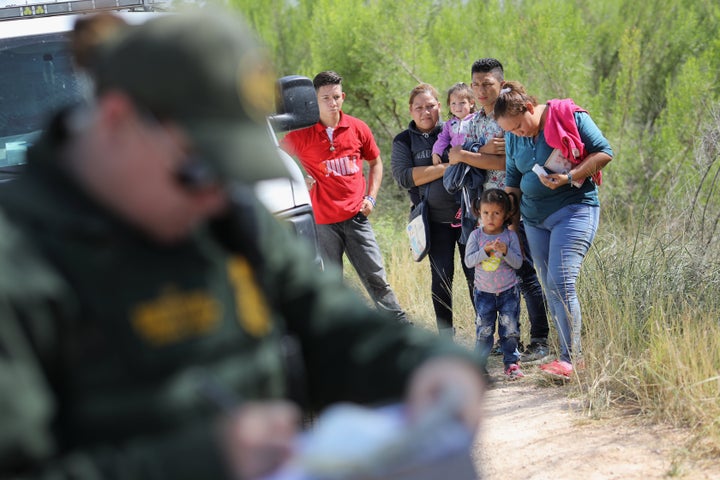 U.S. Immigration and Customs Enforcement officials are telling detained migrant parents that to be reunited with their children they must sign a voluntary deportation form, according to lawyers who spoke to HuffPost.
The paperwork, which HuffPost reviewed, gives migrants the option to be reunited with their children before leaving the U.S. or to be deported without them, and it is addressed to parents who have been given "final orders of removal" ― meaning they have been rejected from seeking asylum.
But attorneys say that their clients who are still going through the asylum process have been pressured to sign the form and that ICE agents are misleading parents into believing that voluntary deportation is the only way to be reunited with their kids.
"We're hearing that people were told [by immigration agents], 'You don't have the option to seek asylum and be reunited with your children,'" said Gracie Willis, an attorney at the Southern Poverty Law Center (SPLC). "You either have to option to be deported with your child or without your child."
Although Trump signed an executive order to halt family separation on June 20, and a recent court ruling requires families to be reunited within 30 days, there are still more than 2,000 parents who have not seen their kids. Lawyers say it is highly manipulative for immigration officials to ask separated parents who are desperate to reunite with their children to sign a deportation form.
Jennifer D. Elzea, an ICE spokesperson, said the form is only being circulated to migrants with final orders of removal. "As is stated on the very top of the form, this form only applies to parents with a final order and who are part of a specific class action suit," she wrote in an email to HuffPost. "This form has absolutely nothing to do with those who have pending asylum claims."
But HuffPost spoke with lawyers who say immigration agents brought the form to their asylum-seeking clients.
On Friday, Willis said, an ICE official asked one of her clients in a Georgia detention center to sign the form (since then, she's confirmed that four more of her clients have been presented with the same paperwork). The father, who has been separated from his 7-year-old son for over a month, is awaiting his asylum hearing and has no plans to return to a country where he faces political persecution. While the form says that it must "be read to the alien parent in a language that he/she understands," she said the officer spoke to her Spanish-speaking client in English.
Willis said that, thankfully, the man showed the form to one of her colleagues at SPLC, but the attorney is worried that other parents are being persuaded by the promise of reunification.
"I can imagine that the sort of desperation you would feel to see your child would lead you to make decisions about your case that you might not otherwise make," she said.
Adriana Zambrano, a legal volunteer with Aldea, a Pennsylvania-based nonprofit that provides pro bono legal services to immigrants, said her client told her he signed the form on Thursday at the West Texas Detention Center, out of a desperation to see his 3-year-old son. The father had not yet had his credible-fear interview, the first step in an asylum case, and though the immigration officer told him the form did not mean he would be deported, Zambrano said the language suggested otherwise.
"His biggest fear is that if he doesn't sign any of this, his child will just get lost in the system," she said. "They are capitalizing on the fear of these parents to have their children given out to someone else, and their purpose is to deport them."
Karen Hoffmann, a lawyer at Aldea, said her client was pressured by an ICE officer to sign the form Thursday, even though he also had not gone through a credible-fear interview. She says the government's strategy for reuniting families is to "force people to sign their own deportation papers," adding that her client is so distraught over being separated from his 15-year-old son that he can't eat.
The American Civil Liberties Union, which filed the lawsuit that resulted in an injunction to reunite all families, has requested that ICE officials stop using the form. Lee Gelernt, an ACLU attorney, says that the paperwork shouldn't even be given to parents with final orders of removal, since those orders can still be challenged in court.
"The court ruling does not make reunification contingent in any way on agreeing to removal," Gelernt said. "There is absolutely no justification for the government giving people a form that combines removal and reunification in any way."
CORRECTION: A previous version of this story incorrectly stated the day that Karen Hoffman said her client was pressured by an ICE officer to sign a deportation form.
Popular in the Community