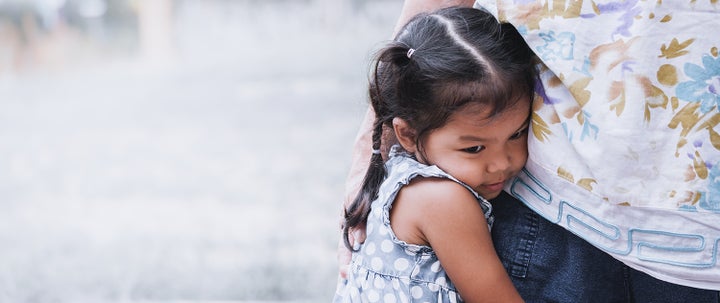 Children as young as four are anxious about their parents being deported under President Trump's immigration policies — with long-term consequences for their health and wellbeing. 
The children in our community are having sudden tantrums when they're dropped off at preschool; they're obsessed with airplanes and distant relatives; they only want to build walls with their blocks; they turn away meals and snacks, they fear their parents being taken away. These are just some of the alarming behaviors preschool teachers are observing in their classrooms since President Donald Trump signed executive orders on immigration. 
Immigration politics may seem like an adult conversation, and many parents do their best to shield their children from these discussions, but for kids in our immigrant community in New York City, and the other 4 million children with at least one undocumented parent, these policies are shaping their emotional and academic development.  As public health researchers working in preschools, we know the result could be disastrous.
We've seen teachers do their best to respond to the situation. As soon as President Trump was elected, they've worked to address undocumented parents' fears of being deported. They organized workshops and brought in legal experts to provide support. By taking part in these meetings, we learned a lot about how federal policies around immigration are affecting immigrant families.
In group interviews, teachers, administrators, and staff at two preschools all responded unanimously: "[Teachers] could see constant fear and anxiety and children were being exposed to it every day." Parents spoke about their fears of leaving the house. "What if ICE waits for us as we drop off our kids?" one asked.
School attendance is down. Parents are also afraid to go the doctor with their children, to renew social services, or to go to work. Even before Trump, Harvard researcher Hiro Yoshikawa reported reduced utilization of health care and social services by undocumented immigrants.
Fear paralyzes us and makes us suspicious, causing us to engage less with our community and our own families. Even immigrant families who live in protective enclaves can experience high levels of social isolation. This sense of isolation can stress and disrupt meaningful relationships. For parents we work with this has translated to a loss of trust in teachers who they had been working with for months.
For other parents, Trump's immigration policies have forced them to make plans if they are separated from their children. One teacher, who is an immigrant, explained how one family asked her to become the legal guardian of their daughter. "They don't have anybody here, they are alone," she said. "What is going to happen to their children if they get deported?" Schools too have responded by urging families organize "a safety plan,"—what to do if ICE knocks on your door, who could take care of their children, and how to talk with their children about deportation.
The psychological consequences of fearing your parents' deportation or being separated from them are clear. There is evidence that parents' deportation and legal vulnerability are associated with poorer health, anxiety, depression, and lower education achievement among children. Another study found nearly half of children whose parents were undocumented were anxious and three-quarters reported PTSD symptoms. Children need strong relationships with their parents to feel secure and be able to learn and develop as healthy adults.
Over the past five years DACA (Deferred Action for Childhood Arrivals) has provided much needed relief to unauthorized immigrants who arrived in the United States before the age of 16. Since then DACA has promoted economic and social well-being for over 780,000 qualified individuals, increasing employment, education, and civic engagement. The impact of this program has been even more significant for over 200,000 American children whose parents were eligible to receive DACA.
If the criminalization of undocumented immigrants negatively impacts children, then DACA has been proven to help families across the country.  DACA immediately addresses the fear and stress associated with separation, which has been shown to impact children long into their adult lives. A recent study found that children with mothers who received DACA were less likely to be diagnosed with anxiety and attachment disorders than their peers with mothers who were ineligible to enroll in DACA.
As President Trump looks to Congress to repeal DACA, there is an added layer of fear and instability for hundreds of thousands of families in the United States. We see this within our own communities, where parents are less likely to send their children to school or seek help from teachers and administrators when they fear deportation. This would have devastating effects on child development and achievement, and will ultimately hurt all of us in affected communities and beyond.
We have seen teachers and others rally around families that need support and protection in the current political climate, just as we have seen politicians turn their back on these same people. It is up to all of us to hold elected officials accountable to DACA recipients and their families now, in order to protect the future of this country.
Revoking pathways to citizenship has far-reaching consequences for those seeking residence in the United States, their families, and the communities that we all belong to. When a mother comes to school with her child and she is completely devastated, disconnected and can't protect her child from the fear of being deported, we are failing them.
Calling all HuffPost superfans!
Sign up for membership to become a founding member and help shape HuffPost's next chapter