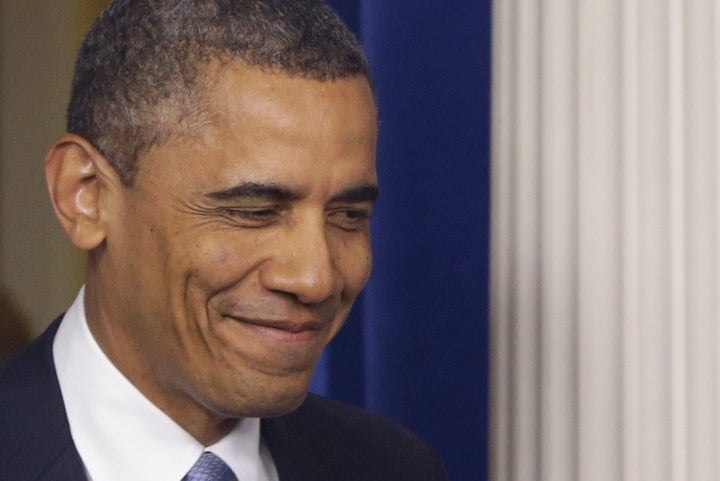 WASHINGTON -- A majority of voters support immigration reform that would give a pathway to citizenship to undocumented immigrants, bolstering the idea that such a bill could be viable politically, according to a poll released Friday by bipartisan polling groups.
As the White House and Congress begin to work on a bipartisan immigration reform plan, the issue of citizenship is likely to become a major sticking point, and reform advocates are hopeful that polling such as this -- conducted by the Democratic-leaning Hart Research Associates and Republican-leaning Public Opinion Strategies -- could help in the effort. America's Voice Education Fund, SEIU and the National Immigration Forum sponsored the poll.
The firms found that more than half of the 1,003 people they surveyed supported such a pathway, and a majority also said they wouldn't consider such a thing "amnesty" -- a word that has been used in the past to derail any effort toward dealing with the estimated 11 million people currently living in the United States without status.
Many Republicans argue that undocumented immigrants could be given legal status as part of reform but without a special avenue to become citizens, meaning many would either be unable to or be forced to wait for long periods. Most Democrats advocate for a long road to citizenship as well, likely with requirements such as fines and wait times, but say that policies specific to undocumented immigrants currently in the U.S. need to be part of a final package.
The findings of the poll were roughly consistent with other surveys that have found majority support for a pathway to citizenship. An NBC/Wall Street Journal poll released this week found that 52 percent of Americans support a pathway to citizenship and 46 percent oppose it.
The Hart Research Associates/Public Opinion Strategies poll was encouraging, advocates of reform from both parties told reporters during a Friday press call. In part, the numbers could convince Republicans that it isn't political suicide to vote for immigration reform -- the poll found that 53 percent of people would be more likely to vote for their member of congress if they supported reform, versus only 8 percent who said it would make them less likely.
"We hope these polls will be able to do just that," said Jeb Bush, Jr., the younger son of former Gov. Jeb Bush, Sr., and a member of the board of directors for National Immigration Forum, referring to the numbers giving cover to House Republicans to vote for reform. "Hopefully they have this type of data to ... allow them to say, listen, this is an issue that's great for our country, people support it around the country, it's good for the economy, it's good for border security."
Advocates were able to lay out some key priorities for reform through the data. Requiring undocumented immigrants to pay taxes was a high priority to the largest percentage of people -- 89 percent -- while only 33 percent said it was a top goal to give legal status, but no citizenship, to undocumented immigrants already living in the country.
Strong majorities of Americans also believed it was a high priority that reform included requiring employers to verify the legal status of employees, more border security, guards against employers exploiting immigrant workers, policies to prevent unauthorized immigration in the future, the opportunity for the undocumented to work toward citizenship and ability to unite families separated by current immigration law. It was also important to most that the bill be a long-term solution, the poll found.
Guy Molyneux, a partner of Hart Research Associates, told reporters that it was "striking" how closely self-identified Democrats and Republicans aligned on immigration issues. Republicans were more concerned than Democrats that future undocumented immigration swells be prevented, while Democrats were more concerned than Republicans about a path to citizenship. But those figures were still close, Molyneux said.
Still, advocates said they don't expect reform to be easy, despite widespread support.
"We will not stand down or be led into a false sense of security," said Eliseo Medina, secretary-treasurer at the Service Employees International Union. "We will continue to build support throughout the country and keep reaching out to all sectors of society. ... We believe the time is now, and we look forward to getting it done."
REAL LIFE. REAL NEWS. REAL VOICES.
Help us tell more of the stories that matter from voices that too often remain unheard.
BEFORE YOU GO
PHOTO GALLERY
10 Major U.S. Federal Immigration Laws