Forty-seven percent of Americans said deporting children to their home country as soon as possible should be America's priority in dealing with the current border crisis, while 38 percent said the priority should be letting immigrant children stay in America until it's certain they have a safe place to return.
Similarly, 43 percent of respondents said it is too difficult to deport immigrant children who cross the border illegally unaccompanied by an adult, compared to 13 percent who said it is too easy and 15 percent who said it is about right.
In the past few months, there has been a sharp increase in the number of immigrants from Central American nations coming into the U.S. illegally, including thousands of undocumented children. The crisis is being blamed in part on a 2008 law that allows unaccompanied children from countries other than Mexico and Canada to go through more extensive immigration hearings, a process which can take months or even years in America's backlogged immigration courts.
Democrats and Republicans in the new poll were quite divided about how to handle the crisis. Twenty-nine percent of Democrats said immigrant children should be deported right away, while 51 percent said they should be allowed to stay until they have a safe place to return. In contrast, 68 percent of Republicans said the children should be deported as soon as possible and 23 percent said they should allowed to stay for now.
But Americans aren't certain if undocumented children will actually have a safe place to return if they are deported. Asked to choose between two statements about immigrant children crossing the border illegally, only 36 percent of respondents said they think "most of them have a safe place to return to but would prefer to live in the United States," while 39 percent said they believe "most of them are fleeing unsafe places and don't have somewhere safe to return." Twenty-five percent said they weren't sure.
Responses to this question were also split along partisan lines, with just 21 percent of Democrats saying the children have someplace safe to return to, compared to 51 percent of Republicans.
However, not many Americans believe that unsafe conditions at home are driving the recent increase in the number of unaccompanied children attempting to cross the border illegally. Only 27 percent said an increase in violent crime in Central America is the reason for the recent wave of unaccompanied children coming to the border, while 58 percent said the belief that the American government will grant amnesty to undocumented children is causing the crisis.
A large majority of Americans believe unaccompanied children illegally immigrating into the United States is a serious problem, the poll shows. Sixty-five percent said the problem is very serious and another 20 percent said the problem is somewhat serious. Only 5 percent of respondents said it is a minor problem, and just 2 percent said it is not a problem at all.
A Gallup poll released Wednesday also found high levels of concern about the immigration crisis. Seventeen percent of respondents said immigration is the most important problem facing the U.S. right now, up from only 5 percent last month.
Although border detention centers have been criticized for their treatment of child immigrants, a 36 percent plurality of Americans in the HuffPost/YouGov poll said they believe the children are being treated "about right." Fourteen percent of respondents said the children are being treated too well and another 16 percent said the children are not being treated well enough.
Poll respondents had largely negative reviews of the way President Barack Obama is handling the immigration issue. Just 28 percent said they approve of how Obama has handled immigration, compared to 54 percent who disapprove.
Although Obama's low approval ratings in this particular poll may be driven in part by the fact that the approval question was asked following a string of questions about the border crisis, a Washington Post/ABC News poll released Tuesday had similar findings. Thirty-three percent of respondents in that poll said they approve of the way Obama is handling the issue of undocumented immigrants coming into the United States over the border with Mexico, while 58 percent said they disapprove.
The HuffPost/YouGov poll was conducted July 10-July 13 among 1,000 U.S. adults using a sample selected from YouGov's opt-in online panel to match the demographics and other characteristics of the adult U.S. population. Factors considered include age, race, gender, education, employment, income, marital status, number of children, voter registration, time and location of Internet access, interest in politics, religion and church attendance.
The Huffington Post has teamed up with YouGov to conduct daily opinion polls. You can learn more about this project and take part in YouGov's nationally representative opinion polling. Data from all HuffPost/YouGov polls can be found here.
This article has been updated with information from Wednesday's Gallup poll.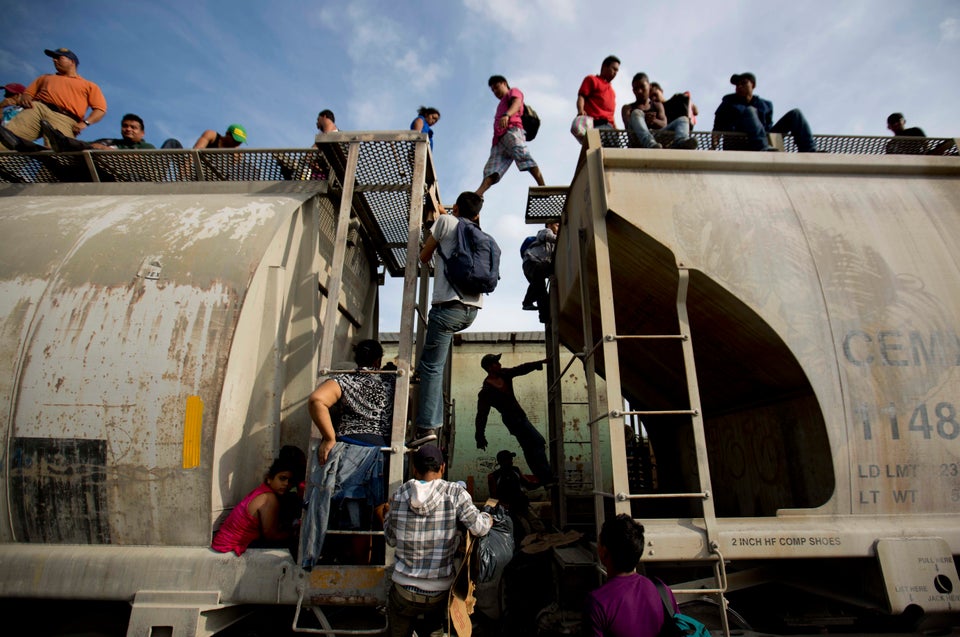 Why Latin Americans Really Come To The U.S.
Popular in the Community