WASHINGTON -- Conservatives supporting immigration reform said they felt better about its chances after a day of lobbying on Capitol Hill Tuesday, but also resigned that most House Republicans won't go for a comprehensive bill.

"When I came in, I thought it was a done deal -- dead," Brad Bailey, a self-avowed conservative and chairman of the Texas Immigration Solution, said after meetings with Texas Republican House members. "But actually, I have a little hope held out that this is something that people are realizing that everyone wants, and the piecemeal approach is not totally bad. Something is better than nothing."
Bailey was one of about 600 advocates, including conservatives, evangelicals and business leaders, who descended on Washington for a "fly-in" to urge support for immigration reform. The effort, organized by groups that include the Chamber of Commerce, FWD.us, the Partnership for a New American Economy and National Immigration Forum, aimed to renew the House focus on immigration reform after budget battles sucked up most of the congressional oxygen in recent months. Now, there's not much time to get a bill passed before 2014, when members focus on reelection and avoid anything politically sensitive.
House Republican leaders have rejected a comprehensive approach, saying they will instead vote on individual pieces of legislation. Though some immigration-related bills have been approved by House committees, they haven't gone to the floor for a vote.
Other bills are being drafted, but haven't been released, such as one led by Majority Leader Eric Cantor (R-Va.) and Judiciary Committee Chairman Bob Goodlatte (R-Va.) to give legal status to undocumented young people. Rep. Darrell Issa (R-Calif.) reportedly plans to introduce a bill that would allow undocumented immigrants to stay in the U.S. temporarily while they seek long-term solutions. It's unclear if such a measure could win support, given Republican opposition to so-called "amnesty" and Democratic reluctance to support something without a path to citizenship.
House Democrats have introduced a bill of their own and won support from nearly all of their own caucus and two Republicans: Reps. Jeff Denham (R-Calif.) and Ileana Ros-Lehtinen (R-Fla.). The Democratic bill is a combination of the Senate-passed comprehensive reform legislation -- which includes a path to citizenship for undocumented immigrants -- and a separate border security measure approved by the House Homeland Security Committee. The House Democrat-led bill won't get a vote, according to GOP leadership.

Based on what he heard from House members, Bailey said he doesn't think a path to citizenship "is going to happen." But Democrats, he said, may be realizing they're better off taking what they can get now and pushing for expanded reforms later.
Advocates urged House members to move quickly on reform as a moral and economic imperative. The Bipartisan Policy Center released a report ahead of Tuesday's Hill meetings touting the economic benefits of comprehensive immigration reform.
Many advocates continue pressing for a way for undocumented immigrants to become citizens. The Rev. Chris McElwee, a pastor at the evangelical Wheaton Bible Church in Illinois, met with Reps. Cheri Bustos (D-Ill.) and Randy Hultgren (R-Ill.), along with staff for Sen. Mark Kirk (R-Ill.) and Rep. Danny Davis (D-Ill.). McElwee said the members seemed to want GOP leaders to move forward on immigration, but that it was still "hard to say what is going to happen."

The main problem seemed to be a path to citizenship, said McElwee, who said he is not a registered Republican but tends to vote that way.
"That seems to be the hang-up," he said. "That's going to be the one where it sounds like the most debate needs to happen, but it sounds like people want to have that debate."

McElwee holds workshops and discussions at his church about immigration reform. He said that after getting to know undocumented immigrants in his community, he believes a pathway to citizenship should be included.

"I think immigration reform needs to happen comprehensively," McElwee said. "From where we are today, anything going forward is going to be helpful and productive, but I think we need to address all areas of it. A pathway needs to be part -- whether it's a separate bill or not -- it needs to be part of the solution."
A Utah group met with that state's entire House delegation -- Democratic Rep. Jim Matheson and Republican Reps. Jason Chaffetz, Rob Bishop and Chris Stewart -- and Republican Sen. Mike Lee. They emphasized the need for more visas, particularly in the science and technology fields, to help the economy, said Suzanne Mulet, a liaison for the Utah Republican Hispanic Assembly and vice chair of the Salt Lake County GOP.
The members told them reform was likely to move piecemeal because there are concerns about putting everything in one bill, which Mulet said would be acceptable.
"It's better than no movement at all. We have to get it solved, so we'll take the way of moving the ball a few yards down the field," Mulet said. "We're not looking for touchdown right now, we're not even looking for a field goal. ... Let's just get another down."
Anti-reform groups, meanwhile, pushed back against the "fly-in." Numbers USA founder Roy Beck authored a blog post arguing that the advocates visiting House members were not representative of evangelicals, while Chris Crane, head of the labor union that represents Immigration and Customs Enforcement officers, wrote a letter repudiating the day of advocacy.
"These groups are interested in increased profits and power," Crane wrote, according to Politico. "To my knowledge they have never lifted a finger to assist ICE officers in creating legislation that makes public safety and national security our priority."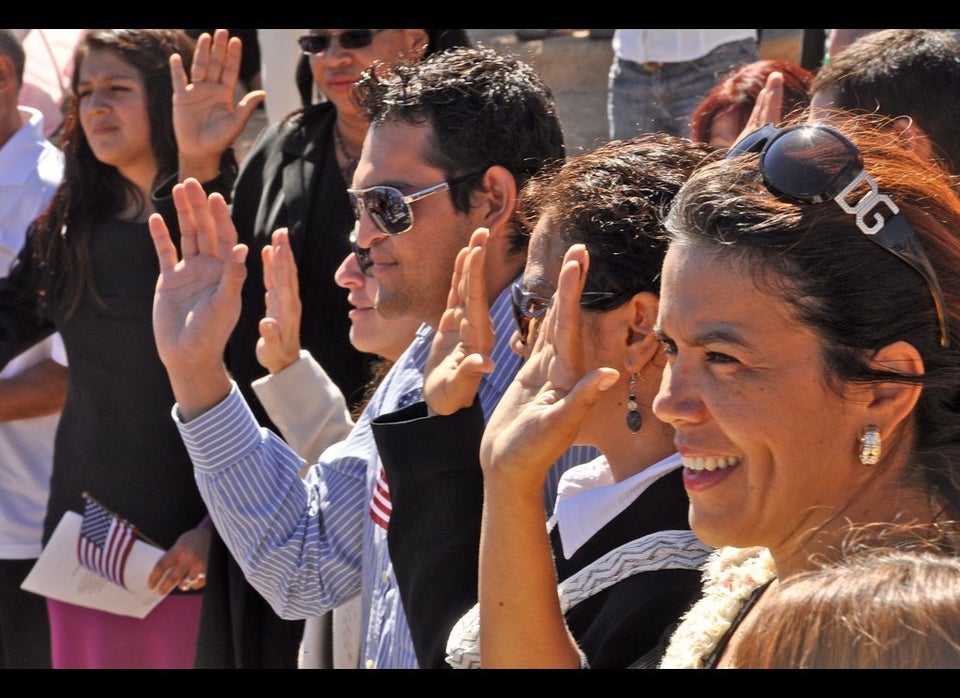 10 Major U.S. Federal Immigration Laws