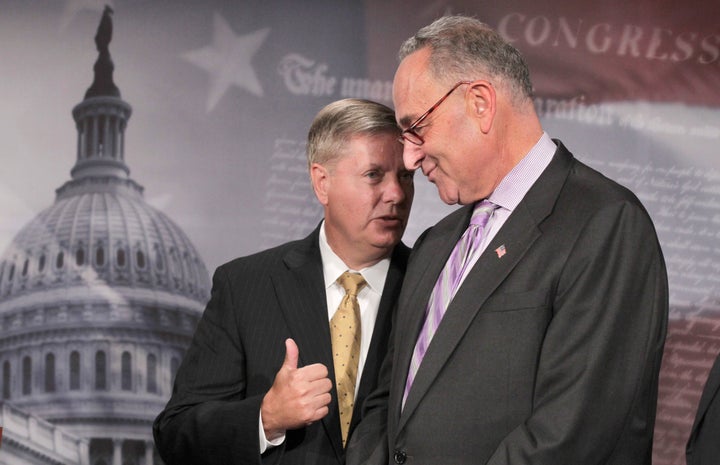 WASHINGTON -- A bipartisan working group in the Senate will publicly unveil its immigration reform framework on Monday. The text, though, is already out, in a five-page document that lays out basic principles for reform.
Read the full text below.
The news of a deal came out late on Sunday, and the senators plan to unveil their framework more publicly later in the day on Monday. Four members from each party -- Democratic Sens. Chuck Schumer of New York, Dick Durbin of Illinois, Bob Menendez of New Jersey and Michael Bennet of Colorado, plus Republican Sens. Lindsey Graham of South Carolina, Marco Rubio of Florida, John McCain of Arizona and Jeff Flake of Arizona -- worked together on the deal.
They plan to come out with a bill sometime in March, after further negotiations on exact language. Michael Steel, a spokesman for House Speaker John Boehner (R-Ohio), said, "The Speaker welcomes the work of leaders like Sen. Rubio on this issue, and is looking forward to learning more about the proposal in the coming days."
Here are the six most interesting, and important, elements.
There would be a pathway to citizenship.
Allowing some of the estimated 11 million undocumented immigrants already living in the country to earn citizenship, in a different system than the current one, has been deemed absolutely vital to President Barack Obama, Democratic lawmakers and Republicans in the "gang of eight." Support from Rubio is particularly significant. He was not an original member of the "gang of eight" -- he seems to have replaced Sen. Mike Lee (R-Utah) -- and previously floated his own ideas that, though vague, would not have given any special road to citizenship. He even claimed as recently as last week that Democrats could tank any legislation by insisting on it.
The fact that Rubio was willing to change his mind on citizenship, then, gives advocates hope that other Republicans will also support that type of pathway.
That's not to say citizenship would be easy. From the framework:
- Once the enforcement measures have been completed, individuals with probationary legal status will be required to go to the back of the line of prospective immigrants, pass an additional background check, pay taxes, learn English and civics, demonstrate a history of work in the United States, and current employment, among other requirements, in order to earn the opportunity to apply for lawful permanent residency. Those individuals who successfully complete these requirements can eventually earn a green card.

- Individuals who are present without lawful status -- not including people within the two categories identified below -- will only receive a green card after every individual who is already waiting in line for a green card, at the time this legislation is enacted, has received their green card. Our purpose is to ensure that no one who has violated America's immigration laws will receive preferential treatment as they relate to those individuals who have complied with the law.
Young undocumented immigrants who came to the United States as children would not be held to the same standard, the framework says. Instead, according to a Senate Democratic aide not authorized to speak publicly about the plans, their status would be addressed with provisions similar to those of the Dream Act, a decade-old bill that most recently failed in the Senate in 2010. The aide confirmed that the ultimate plan would most likely include a requirement that those immigrants either attend college or join the military to be eligible for the special pathway.
Agricultural workers would likewise be under a separate channel to citizenship than the undocumented population as a whole, although the document doesn't get into specifics:
Due to the utmost importance in our nation maintaining the safety of its food supply, agricultural workers who commit to the long term stability of our nation's agricultural industries will be treated differently than the rest of the undocumented population because of the role they play in ensuring that Americans have safe and secure agricultural products to sell and consume. These individuals will earn a path to citizenship through a different process under our new agricultural worker program.
Enforcement would come first, green cards second.
The senators say in the framework they "will demonstrate our commitment to securing our borders and combating visa overstays by requiring our proposed enforcement measures be complete before any immigrant on probationary status can earn a green card." Effectively, this means a path to citizenship won't come until those metrics are met -- and they haven't been defined yet.
There would be more border security -- and drones.
The framework also calls for increasing border security, which they admit is already stronger than it has been in the past. It would bring in more border agents, and more aerial surveillance of the U.S.-Mexico border. Drones are already being used along the border, and experts believe they are becoming more effective. The drones are used to spot illegal border-crossers, not to shoot them down, but there are still some concerns about their use within the United States.
The senators' agreement would also add an entry-exit system to ensure the government is aware of people coming to the United States on temporary visas, which are often overstayed, growing the undocumented immigrant population.
Border lawmakers would also be given more say:
We recognize that Americans living along the Southwest border are key to recognizing and understanding when the border is truly secure. Our legislation will create a commission comprised of governors, attorneys general, and community leaders living along the Southwest border to monitor the progress of securing our border and to make a recommendation regarding when the bill's security measures outlined in the legislation are completed.
Employment verification would be increased.
The framework promises to create a "fast and reliable method to confirm whether new hires are legally authorized to work in the United States." The government already has an employment verification called E-Verify, but it is not mentioned in the framework. There are a number of concerns with that program, including that it comes up with false-positives that can cost Americans and legal permanent residents their jobs. Some argue it also leads to racial profiling because employers don't want to deal with the risk that a worker is undocumented, and therefore rule out Latino applicants wholesale.
The framework would address those concerns, the senators say:
- Our proposal will create an effective employment verification system which prevents identity theft and ends the hiring of future unauthorized workers. We believe requiring prospective workers to demonstrate both legal status and identity, through non-forgeable electronic means prior to obtaining employment, is essential to an employee verification system; and,

- The employee verification system in our proposal will be crafted with procedural safeguards to protect American workers, prevent identity theft, and provide due process protections.
Immigrants waiting for status would not receive public benefits.
The senators agreed that immigrants who are still in probationary status, while legally in the United States, would be prevented from accessing federal public benefits. That aspect could be particularly important given concerns that undocumented immigrants are illegally receiving public benefits, bolstered by reports last week that more than $120 million in Medicare aid went to inmates and undocumented immigrants from 2009 to 2011.
The 'best and the brightest' of immigrants would be given an easier path to legal immigration.
Congress has attempted multiple times to reform the legal immigration system for high-skilled workers, most recently with the STEM Jobs Act in the House last year, which sought to give green cards to foreign graduates with advanced degrees in science, technology, engineering and mathematics. The White House opposed the bill because it wanted comprehensive immigration reform, and the bill never got a vote in the Senate. A separate bipartisan group of senators -- led by Sens. Orrin Hatch (R-Utah) and Amy Klobuchar (D-Minn.) -- plan to introduce a bill later this week to address high-skilled workers.
The framework would address concerns about skilled workers. It also throws in a mention of other types of legal immigration with major problems:
Our new immigration system must be more focused on recognizing the important characteristics which will help build the American economy and strengthen American families. Additionally, we must reduce backlogs in the family and employment visa categories so that future immigrants view our future legal immigration system as the exclusive means for entry into the United States.
CORRECTION: A previous version of this article mistakenly stated that the framework refers to federal "public health benefits" rather than simply "public benefits."
Before You Go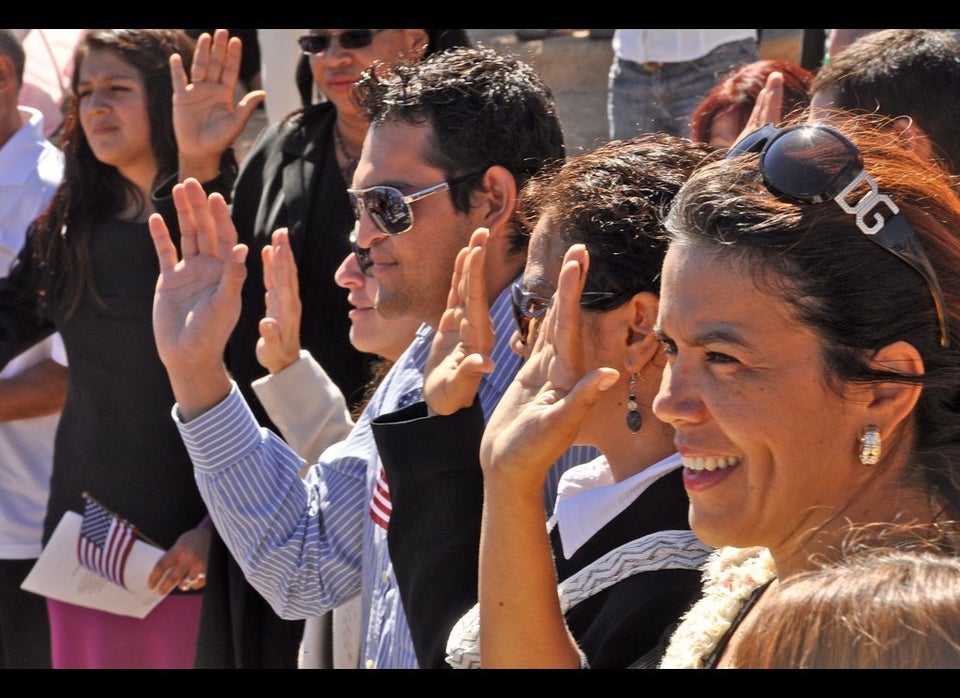 10 Major U.S. Federal Immigration Laws