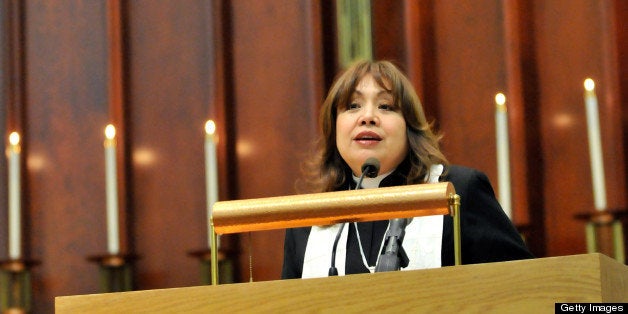 When the media writes about religious leaders who oppose the inclusion of LGBT families in immigration reform, they generalize, and in fact, misinform their readers. While a segment of the Christian community stands in opposition to provisions that aim to correct the discrimination that LGBT families face in our immigration system, these voices do not represent all religious leaders. In fact, the media's tendency to inflate this one narrow message does a disservice to the over 40 denominations and national faith organizations -- including my own church, The United Methodist Church, the Episcopal Church, and the United Synagogue of Conservative Judaism -- that stand in full support of the inclusion of LGBT families in comprehensive immigration reform.

With others I have fought for many years of my life and ministry for comprehensive immigration reform. I care deeply about the impact that our immigration policies have on individuals and families in this country -- from agricultural guest workers to the DREAMers to the families who are torn apart by deportation to the asylees who seek freedom from the persecution they suffer in their home countries. My commitment to comprehensive immigration reform and more importantly, to the families that are directly impacted by our immigration policies, comes from my faith. As a Christian I believe we are called to love our neighbor, a love to be extended to all our neighbors without exception.

In California, where I currently serve as a bishop, it is estimated that there are more than 10,000 binational same-sex families. One is Shirley Tan and Jay Mercado and their 16-year-old twin boys, Jashley and Joriene. Although Shirley and Jay have been together as a couple for 25 years and married for nearly a decade, Jay has no way to sponsor Shirley for a green card because their marriage is not recognized by the federal government. In fact, at one point, ICE agents arrested Shirley and threatened to deport her -- an action which would have separated her from her U.S. citizen wife and children. I have met Shirley and Jay and their boys. They are a loving, responsible family who represent the many LGBT families who are worthy of having their family unity protected by law just like everyone else.

I applaud Senator Leahy for introducing his amendments -- Leahy 6 and Leahy 7 -- to end the discrimination that LGBT families face in our present immigration system. Our nation's commitment to fairness and equality for all people demands that we treat LGBT families with the same dignity we hope immigrant families all across the country will be treated. Senator Leahy's amendments are fundamentally about keeping loving families together. Thank you Senator Leahy.

I do hear that there are senators who are threatening to walk away from S 744 over the simple, humane inclusion of LGBT families like Shirley and Jay's. These senators should be ashamed of themselves. Before they decide to walk away from immigration reform because of the just demand of LGBT families to be included as well, senators should remember that 64 percent of Latino voters support including LGBT families in immigration reform as do 71 percent of Catholic Latino voters, and 53 percent of born-again Christian Latino voters.

The opportunity to reunite their families should be extended to all immigrant families, including LGBT families. It is the just and right thing to do. It is the humane thing to do. It is what we must do.
Support HuffPost
Every Voice Matters
Popular in the Community