* U.S. Senators back broad outline for legislation
* Tough fight seen for first major bill since 1986
* Seeks smoother flow of immigrants to serve workforce needs (Adds new details, reaction)
By Rachelle Younglai and Richard Cowan
WASHINGTON, Jan 28 (Reuters) - A group of Senate Democrats and Republicans agreed to an immigration law overhaul that sets a path to citizenship for millions of undocumented immigrants in the United States, boosting hopes of Hispanics who have seen little progress in more than five years.
Eleven million people living in the U.S. illegally would have a chance to come out of the shadows, but only after steps are taken to beef up border security, according to the plan released by the senators on Monday.
The plan, which faces an uncertain future in Congress, was unveiled a day before President Barack Obama was to give a policy speech on immigration in Nevada.
With Republicans regrouping after November elections in which they failed to garner significant support from Hispanic voters, there are other indications immigration reform could be on a fast track in the newly convened 113th Congress.
A bipartisan group in the House of Representatives also is close to unveiling its own immigration proposals, according to the congressional source with knowledge of the reform efforts.
The source said the House group could detail its outline either later this week or next week.
No one expects an easy path for any of the proposals, which are still being developed and lack detail.
The last comprehensive revision of the nation's immigration law was in 1986. Numerous efforts since then have encountered stiff resistance, especially from the conservative wing of the Republican Party, which as recently as the Republican presidential primary races in 2012 opposed anything resembling an "amnesty" for undocumented immigrants.
"When you legalize those who are in the country illegally, it costs taxpayers millions of dollars, costs American workers thousands of jobs and encourages more illegal immigration," warned Republican Representative Lamar Smith, who is the former chairman of the House Judiciary Committee.
With the electoral power of Hispanic voters growing rapidly, however, leading Republicans have been urging conservatives to rethink both their positions and their rhetoric.
The Senate group is comprised of four Democrats, among them New York's Charles Schumer and four Republicans, including Senator Marco Rubio of Florida. Democratic Senate Majority Leader Harry Reid expressed his support for the effort.
Under its proposal, undocumented immigrants would be allowed to register with the government, pay a fine, and then be given probationary legal status allowing them to work.
Ultimately, they would have to "go to the end of the line" and apply for permanent status.
The White House praised the group's efforts but warned that Obama would not be satisfied until there was meaningful reform. The president "will continue to urge Congress to act until that is achieved," a White House spokesman said.
The measure was welcomed by undocumented immigrants who have long waited for change.
"It's the best moment for reform in years," said Maria Duran, an undocumented homemaker from Chihuahua Mexico, who has lived for nearly three decades in Phoenix. Speaking in Spanish, she said, "We are very content and with a lot of faith that there will be a just immigration reform"
Lawmakers held a news conference at 2:30 p.m. (1930 GMT).
Under the plan, no one would be given more permanent legal status until new measures were implemented to stem the flow of immigrants across U.S. borders, a critical concession to conservatives and border state members of Congress.
Immigration experts note that the combination of border security steps and an anemic U.S. economy already has slowed the flow of undocumented immigrants to a near standstill - from the approximately 500,000 who had been entering annually.
The path to citizenship would also be contingent on a new enforcement measure to track the status of immigrants who may have overstayed visas, the document said.
The proposal resembles previous immigration bills -- including a 2007 measure that died in Congress in part because of disagreement over the timing and balance of border --enforcement measures versus granting citizenship to the millions of undocumented immigrants.
But there are still many blanks to be filled in before it can advance in the Senate. "It's four pages on a subject that is enormously complex," noted Angela Kelley, an immigration specialist with the Center for American Progress. "There's a lot of detail that needs to be filled in."
However, advocates, including Kelley, noted that this time, the climate was ripe for immigration reform.
"Conservatives, law enforcers and businesses are calling for immigration reform. You did not see that in 2007," said Ali Noorani, the executive director with the National Immigration Forum advocacy group.
Democrats have considered future citizenship for undocumented immigrants a "bottom line" for a bill, as Schumer said Sunday.
Republicans, in turn, have tended to stress border security.
But as House and Senate proposals get put into legislation and as the bills wind their way through a complex process, there will be plenty of opportunities for the initiative to hit snags.
For example, Kelley noted that the Senate outline was "incomplete in terms of not treating same sex-couples" the same way as heterosexual couples in immigration law -- a potentially hot-button issue for conservatives.
"The American people and members of Congress have a lot of questions about how this would work, what it would cost, and how it will prevent illegal immigration in the future," said House Judiciary Committee Chairman Bob Goodlatte, a Republican of Virginia.

SUPPORT FROM CONSERVATIVES
Rubio's involvement has helped give the plan credibility among some Republicans. His proposals have attracted support from influential conservatives, including former vice presidential nominee Paul Ryan and TV commentator Bill O'Reilly.
Last year, Rubio had a hard time getting conservatives on board for allowing "dreamers" -- children of undocumented immigrants who often have spent most of their lives here -- to stay.
Rubio is a Cuban-American who is often mentioned as a presidential contender. He is a favorite of the Tea Party conservative movement.
In addition to the path to citizenship, the senators' proposal outlines three other legislative goals: retaining and attracting highly qualified workers; creating a system to prevent identity theft and the hiring of unauthorized workers: and establishing a way to bring in unskilled labor while providing them with workers rights.
The immigration reform issue was largely pushed aside during Obama's first term as he tackled healthcare and the economy - and aggressively pursued deportations of undocumented immigrants. But the president, who had overwhelming support from Hispanic voters in his 2012 re-election, cited it as part of his agenda when sworn in for a second term last week.
Immigration has been among the toughest issues confronting Congress over the past two decades, in part because so many powerful interest groups have a stake in it, from business organizations in need of skilled labor to the trade union movement, which worries that a flow of immigrant labor unprotected by U.S. workplace laws could depress wages. (Additional reporting by Jeff Mason in Washington and Tim Gaynor in Arizona; Editing by Fred Barbash and Doina Chiacu)

Before You Go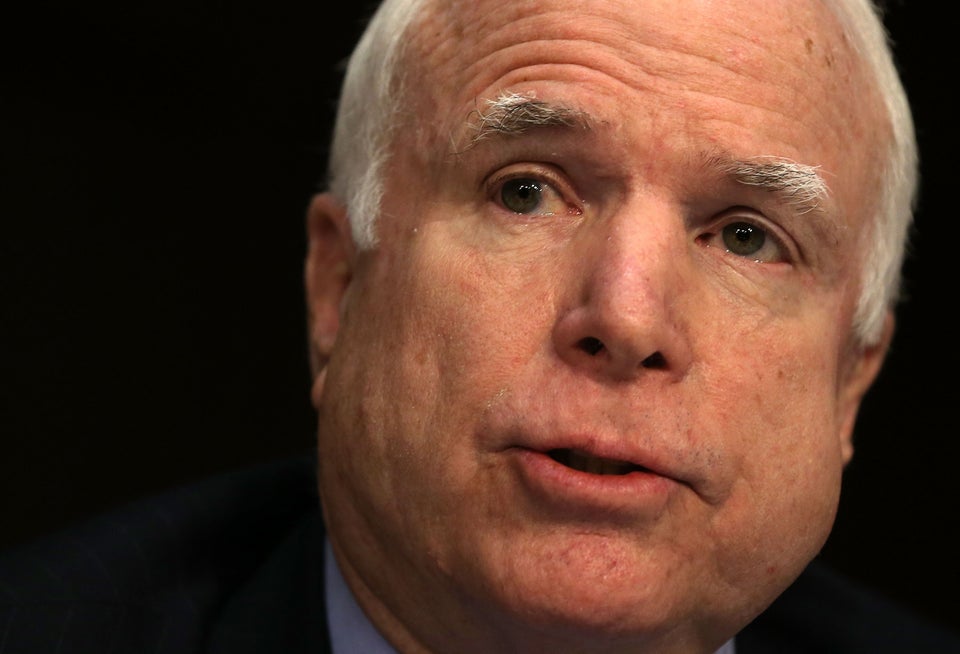 Bipartisan Immigration Plan's Key Provisions
Popular in the Community