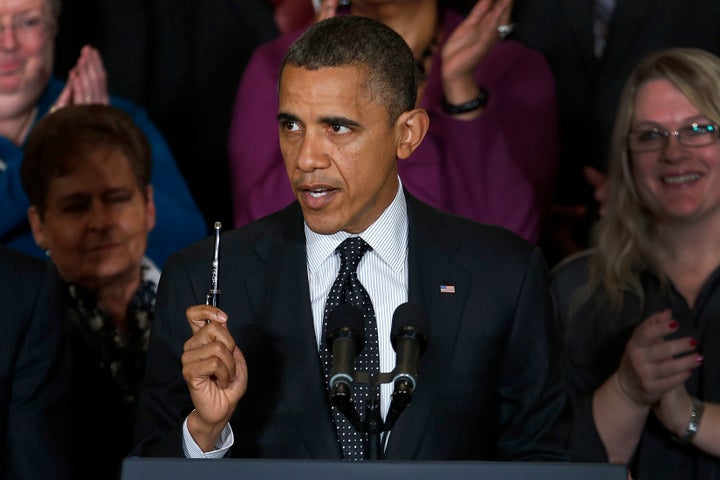 WASHINGTON -- More than two-thirds of Americans believe immigration reform should be a priority during President Barack Obama's second term, according to a HuffPost/YouGov poll released Monday.
The figures show growing momentum for immigration reform, which Democrats and Republicans alike have said they hope to tackle next year. Although there is consensus from the president and congressional leaders that something should be done, there are still differences between them on exactly how to deal with the undocumented immigrants already living in the United States, and according to the poll, Americans aren't in agreement on those issues either.
More than half of those surveyed -- 55 percent -- said stricter enforcement of unauthorized immigration should be the primary focus of reform, versus 28 percent who said it should be integrating undocumented immigrants into American society.
Democrats were more likely to say integration should be the priority, which aligns with the party's political leaders. Obama and Democrats in the House and Senate have said immigration reform must include a pathway to legal status for undocumented immigrants already in the country, while also preventing future unauthorized immigration.
GOP lawmakers tend to emphasize stricter enforcement, and the Republicans polled seemed to agree, with 86 percent saying enforcement was more important than integration of undocumented immigrants.
Poll respondents differed on the matter of young people who came to the United States as children, the focus of the Dream Act. When asked if they supported providing those undocumented immigrants a path to citizenship if they attended college or served in the military, slightly less than half said yes, while 30 percent said they would oppose such a policy. Those numbers are similar to the findings of a United Technologies/National Journal Congressional Connection poll in May that found 49 percent supported eventual citizenship for those undocumented young people, and 35 percent said they should be allowed to stay but not necessarily earn citizenship.
There is broader consensus overall on helping young undocumented immigrants to gain legal status. Sen. Marco Rubio (R-Fla.) planned earlier this year to introduce a Dream Act-lite bill that would allow some undocumented young people to earn legal status but not citizenship. That bill, though, was superseded by Obama's June order to stop deporting those immigrants.
Democrats plan to include the Dream Act in a broad reform effort that will begin in full after Obama's inauguration in January.
For now, Sens. Chuck Schumer (D-N.Y.) and Lindsey Graham (R-S.C.) said Sunday they are already working on a plan for immigration reform. They said it will include a pathway to citizenship and a requirement that undocumented immigrants identify themselves to the government, along with enforcement measures such as strengthened border security and policing employers. The measure will also reform the current legal immigration system, they said.
Schumer said on NBC's "Meet the Press" that he feels good about their prospects, particularly after former GOP presidential nominee Mitt Romney suffered a crushing defeat among Latino voters who support reform.
"I think we have a darned good chance using this blueprint to get something done this year," Schumer said. "The Republican Party has learned that being ... anti-immigrant doesn't work for them politically. And they know it."
The HuffPost/YouGov poll includes surveys from 1,000 U.S. adults using a sample that was selected from YouGov's opt-in online panel to match the demographics and other characteristics of the adult U.S. population. Factors considered include age, race, gender, education, employment, income, marital status, number of children, voter registration, time and location of Internet access, interest in politics, religion and church. The survey's margin of error is 4.6 percentage points.
If you had to choose, do you think immigration reform should primarily [move] in the direction of ...?
Which priority level do you think Obama should place on pursuing immigration reform during his second term in office?
Popular in the Community