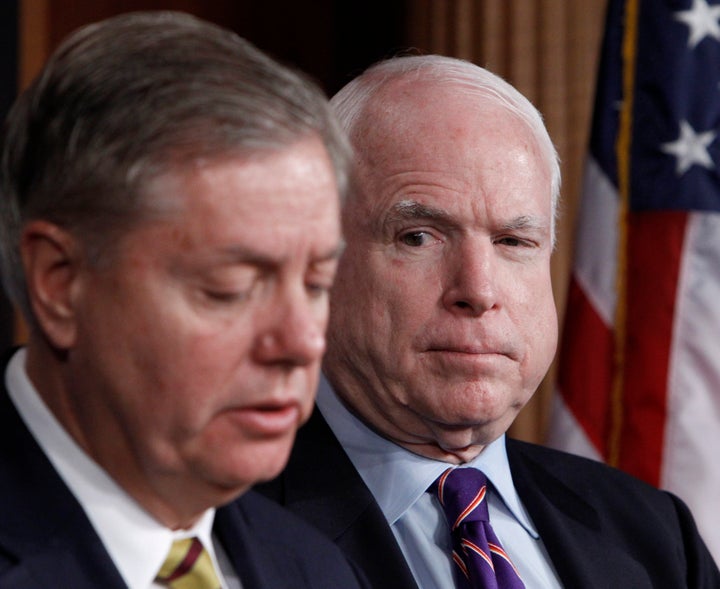 WASHINGTON -- Comprehensive immigration reform may hinge on convincing Republicans they aren't signing on to give undocumented immigrants legal status only to see another surge. So far, they're not convinced, and the bipartisan group of senators dubbed the "gang of eight" is working hard to sell them a proposal that ties a pathway to citizenship to enhancing border security.
"I'm sorry they're afraid," Sen. John McCain (R-Ariz.) told reporters, referring to senators skeptical of immigration reform. "We explained it very well: We have to have operational control of the border before we can move forward."
McCain and seven other senators introduced a framework on Monday for a bipartisan immigration deal. The group also includes Sens. Lindsey Graham (R-S.C.), Marco Rubio (R-Fla.), Jeff Flake (R-Ariz.), Chuck Schumer (D-N.Y.), Dick Durbin (D-Ill.), Bob Menendez (D-N.J.) and Michael Bennet (D-Colo.).
Their plan allows for some of the estimated 11 million undocumented immigrants already living in the United States to remain legally. But they plan to link green cards to border enforcement, disallowing anyone on provisional immigrant status to receive a full visa until certain metrics are met.
The idea behind tying the two together, according to the text of the framework, is to "demonstrate our commitment to securing our borders and combating visa overstays by requiring our proposed enforcement measures be complete before any immigrant on probationary status can earn a green card."
Many Republicans feel the Obama administration is thwarting current immigration law -- despite record-high deportation -- through policies that have stopped the removal of certain groups. At the same time, lawmakers are haunted by the memory of 1986, when Republican President Ronald Reagan signed into law an amnesty bill that did not turn out to have the teeth needed to curtail unauthorized immigration in the future. Graham said the group hopes to prove its framework would be different.
"The big problem with immigration is convincing people it won't turn into a 1986 end game where you provide legalization and you still have a third wave 30 years later," he said. "The goal for me is to go back home and say, 'You may not like everything we did, but it's fixed.'"
The framework would establish a group "comprised of governors, attorneys general, and community leaders living along the Southwest border" to monitor the situation and advise Congress on when the green card provision should come into effect. Though the group members have not been selected, McCain said they will be "credible" and will play an important role, but not have any veto power to hold up the green card process. The exact definition of a secure border has yet to be determined.
"It doesn't take a genius to figure it out … I know a secure border when I see it," McCain told reporters. "I've been there hundreds of times."
Flake said the border requirements in the framework should not be interpreted as an attempt to block or delay visas to immigrants, particularly because there's already proof in Arizona that the border can get to operational security.
"It can be done," he said. "It's not something that people are going to throw up as an impediment to reform."
During a speech Tuesday on immigration reform, Obama said he would require undocumented immigrants to go through a process to receive legal status and called for tighter border security and more enforcement, but did not propose any border requirements before immigrants could earn visas.
Flake, speaking to reporters before Obama's speech, said it might not hurt to have Obama differ from the group of eight plan in that respect.
"To the extent the president points out that we can't have a secure border in order for people to obtain citizenship, that brings up the point and reinforces the point that we're making that a requirement," he said. "That's a good thing."
Senate Minority Whip John Cornyn (R-Texas) said he wasn't prepared to rule in or out any of the framework's key elements, noting that it was premature to raise concerns over amnesty when the actual bill is still in the works.
"I know everybody wants to ask that question, but it gets the cart ahead of the horse," Cornyn said, though he added that people "don't have confidence the federal government's enforcing current law" and would hope to see any reform effort go through the full legislative process in Congress.
Sen. Richard Shelby (R-Ala.), who has in the past voted against giving undocumented immigrants benefits and other incentives, such as welfare, health care and education services and in-state tuition, declined to state his opposition to the inclusion of a pathway to citizenship as part of comprehensive reform.
Like many other senators questioned on the subject, Shelby was reticent to pour cold water on what has been lauded as a truly bipartisan effort to tackle a difficult issue, and opted instead to approach it with a wait-and-watch mentality.
"I have no illusions that the 10, 12 [or] 15 million people that are here are going to go home ... you know they're not going to go home," Shelby said. "I've had problems in the past -- I always have problems with people who break the law, but let's see what comes up."
Senate Minority Leader Mitch McConnell (R-Ky.) declined to say at a press conference whether he supports the framework, but said he is glad the bipartisan group is working on the issue.
Ultimately, garnering support among Republicans could rest in the hands of Rubio, who continues to be regarded as a GOP front-runner for the 2016 presidential race.
Schumer was optimistic that Rubio's role in the gang of eight would help bring Republicans on board.
"I think having Marco Rubio is very important," Schumer said. "We want to have as much Republican support as we can get."
Sen. Bob Corker (R-Tenn.) also played up Rubio's involvement, telling reporters that the Florida senator's comments "regarding how we deal with people in this country certainly are important." He added that Rubio will address members of his caucus at a Wednesday lunch to elaborate on the bipartisan effort.
Graham had a message for those who criticize the framework as amnesty.
"If you don't like our way of doing it," he said, "come up with one of your own."
Calling all HuffPost superfans!
Sign up for membership to become a founding member and help shape HuffPost's next chapter
BEFORE YOU GO
PHOTO GALLERY
Bipartisan Immigration Plan's Key Provisions