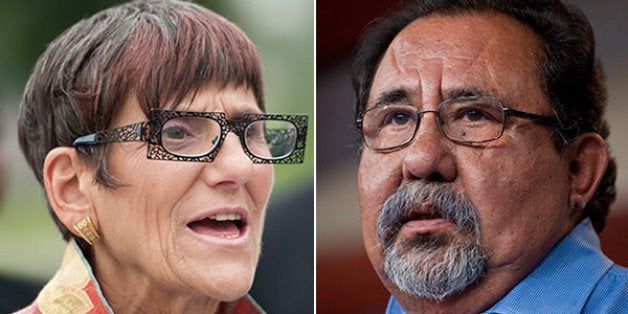 WASHINGTON -- There are a number of phrases that are repeated over and over in the immigration debate. Politicians talk about securing the border and bringing talent into the country. Some call for a fair path to citizenship, others stoke fears about "amnesty." But there's one line that's arguably the most popular: "The U.S. is a nation of laws, but it's also a nation of immigrants."
The immigrant experience is closer to some members of Congress than it is to others. There are some, such as Sen. Mazie Hirono (D-Hawaii), who are immigrants themselves; others are children or grandchildren of immigrants. Sen. Marco Rubio (R-Fla.) often talks about his parents leaving Cuba for Florida, where they worked in low-wage jobs so their son could go to school and eventually work his way to the upper chamber. Sen. Dick Durbin (D-Ill.), in touting his support for comprehensive immigration reform, tells stories about his mother moving from Lithuania to the U.S. as a child.
After the August recess, Congress will have only a few months to act on immigration reform before the election year begins -- if it does so at all. A sweeping bill passed the Senate in June, and House Republican leaders have insisted they won't take it up. HuffPost asked several members of Congress to share their families' own immigration stories and discuss how those experiences have guided them during the ongoing debate. Those personal experiences, members said, have helped motivate them to do something now.
Rep. Mario Diaz-Balart (R-Fla.)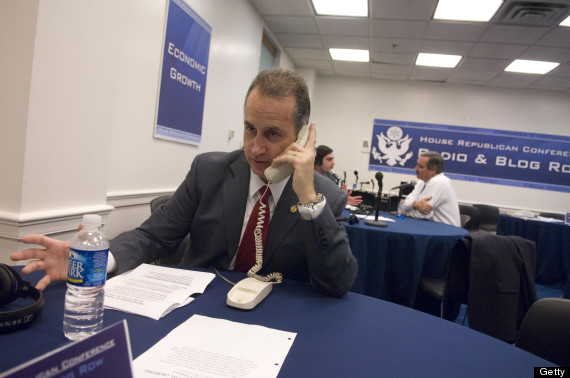 Rep. Mario Diaz-Balart is one of a few Republicans in the House who has been outspoken in his support for a pathway to citizenship for undocumented immigrants, and he is part of a seven-member bipartisan group drafting a comprehensive immigration reform bill. Part of his motivation, he says, comes from his own family's experience immigrating to the U.S. after his parents were forced out of Cuba when Fidel Castro came into power.
His father, Rafael Diaz-Balart, was majority leader of the House in Cuba and had been elected to the Senate. He was visiting Europe, working on his idea for ships that would allow for travel, entertainment and dining -- cruises, although that wasn't the term used at the time -- and stayed in Paris with his family for New Year's Eve. On Dec. 31, 1958, Rafael Diaz-Balart was a businessman and soon-to-be senator, but on Jan. 1, 1959, after Castro took over, he was essentially stateless. Castro was Rafael Diaz-Balart's former brother-in-law and the two were longtime opponents. Although Diaz-Balart's immediate family made it out, many of his friends and cousins didn't.
The congressman said it's something he grew up thinking about often, and he still does.
"When I got elected to the Florida Senate and got sworn in, what I kept thinking about was that this was the age my dad also got elected to the Cuban Senate," he said, and the same age his father was forced out of his country. "Thirty-two years old and all of a sudden, everything is gone. Fleeing the country and freedom. Everything."
He said that he's a "stickler on the rule of law" in part due to his family's experience in Cuba, including on immigration, but it's also made him more sympathetic to families who move to the U.S. to escape poor economies or other problems at home.
"We have millions of people who are here -- and by the way, our country has with a wink and a nod allowed them to be here -- and we have to deal with that reality," he said. "Look, there but for the grace of God go I."
Rep. Raúl Grijalva (D-Ariz.) Rep. Raúl Grijalva pays particular attention to guest worker programs because he saw the effect those programs had on his father, Raul Noriega Grijalva. He immigrated from Mexico in the 1940s, at age 27, and worked as a bracero, or cowboy, the rough equivalent of a guest worker.
"You're more in touch with the personal aspect of it because you've seen it," Grijalva said. "Like, I would never support something like a bracero program. It's very abusive. You certainly don't want the next generation of guest workers not to have an opportunity to have a path to legalization, not to have an opportunity to be protected by our labor laws and not to have an opportunity to make a livable wage."
"There's more passion about the issue because it carries a lot of personal memories, personal struggles," Grijalva said. "There's a reality that I think we're more connected to, that immigrant reality, than many others."
The Arizona congressman said the sacrifices that families make for their children stand out to him when he's considering immigration reform.
"A lot of parents put aside whatever personal ambitions they might have had, or desires, because they put that family in front of them," Grijalva said. "And I think that's the one thing that is repeated over and over and over."
Sen. Mazie Hirono (D-Hawaii) Sen. Mazie Hirono is one of a relatively small number of members of Congress who are immigrants themselves. She left Japan for Hawaii in 1955, when she was seven years old, with her mother and older brother, and they were later joined by her younger brother. They left because her father was an alcoholic and compulsive gambler. Hirono knew no English and nothing about America, and her family had few belongings.
"I was just happy to be a U.S. citizen," she said. "I'm about 12 years old at that point, and my naturalization paper is the only document that I have that is of that legal nature, because I have no birth certificate. My naturalization document is the most legal document that I have, as far as I'm concerned. So that was an important day for me."
Rep. Henry Cuellar (D-Texas)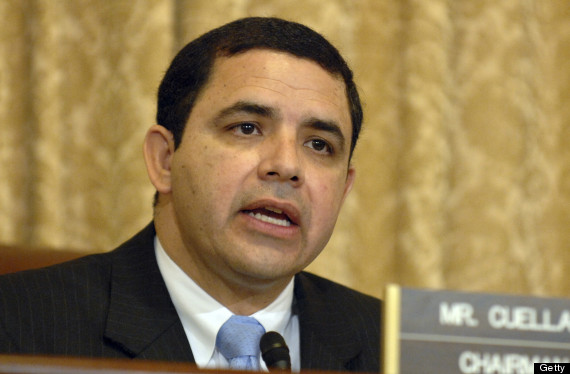 Rep. Henry Cuellar's mother was born in Texas, but she met Cuellar's father in Mexico. They moved to the U.S. from Guerrero, Mexico, to make a better life for their family. His mother only had six years of schooling and his father less than three, because they worked as migrant workers instead of going to school.
"My father became a naturalized citizen over the [legal] process, so that's why I'm not a big believer in the amnesty like President Reagan did back in 1986," Cuellar said. "If we're going to start a pathway, we can't forget about those people who have been waiting for a while, who are legal residents and are waiting to be a naturalized citizen."
Children's education continues to be an important issue for Cuellar, who emphasized that action needs to be taken to help Dreamers, or young undocumented immigrants.
"I think we need to move a little quicker on those Dream kids because they're here on no fault to them and I certainly don't want them to be second-class citizens in high schools in our society," Cuellar said.
When Cuellar worked as Texas Gov. Rick Perry's Secretary of State from 2001 to 2002, the governor presented him with two bills and asked which, if any, he should veto. One gave driver's licenses to undocumented immigrants and the other was the Texas Dream Act, legislation that would give in-state tuition to certain undocumented immigrants brought to the U.S. as children.
"My advice to him was, if you're going to veto one, don't veto the Dream Act," Cuellar said. "If [those kids] are not considered to be part of Texas, they're going to be paying out-of-state tuition ... so they won't be able to go to college and will be stuck at high school levels."
Rep. Rosa DeLauro (D-Conn.)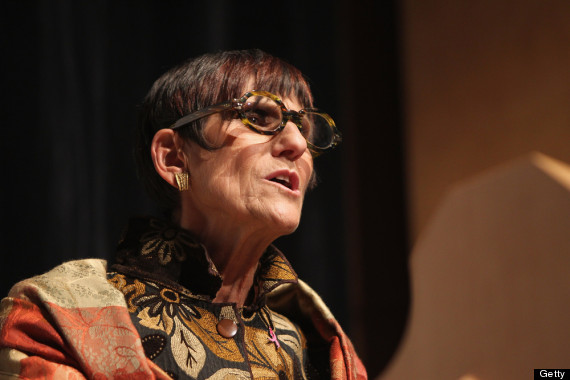 Rep. Rosa DeLauro's father, Ted DeLauro, immigrated to the U.S. from Scafati, Italy, when he was 13 years old. He left school after seventh grade because his teacher and classmates mocked him for not knowing how to speak English.
"You know, we romanticize the immigrant experience today," DeLauro said. "It's very tough. It's about being called a dago, a wop, speaking a different language."
After serving in the U.S. Army, DeLauro's father worked for the City of New Haven and sat on the city council. DeLauro said her father was self-taught; he learned the clarinet and became the first clarinet player in the U.S. Army band. He also learned how to read and write English by himself.
DeLauro stressed that the U.S. has been strengthened by immigrants, and that legislation should reflect the positive contributions they can bring with them.
"Not to say we shouldn't do something about illegal immigration, but we should embrace an immigrant's experience," DeLauro said. "We should understand people's traditions and their cultures from wherever they're from because that's what made this nation as great as it is."
Rep. Joseph Crowley (D-N.Y.) Rep. Joseph Crowley said his mother and all of his grandparents immigrated from Ireland largely for economic reasons.
"Having visited Ireland myself many times, it's a beautiful, beautiful country. It really says to me that I think had my grandparents had their druthers, if they could have stayed in Ireland, I think they would have stayed in Ireland," Crowley said. "But they couldn't for economic reasons, so those reasons made them reach out to America."
His great-grandmother came to the U.S. in 1912 after her husband was killed in a farming accident. Crowley's grandfather, her son, was 14 at the time and became a U.S. citizen after serving in World War I. His mother was born in Northern Ireland, and her family moved to the U.S. a few years later.
Crowley's family felt it was important to maintain aspects of their Irish culture once they settled in the United States.
"We were very, very much aware and steeped in Irish history and in Irish culture, music and dance," he said. "My sisters learned Irish step dance when they were kids. And I played Irish music, and I continue to this day to play it.
Partly because Crowley identifies so strongly as an Irish-American, he is passionate about immigration reform and hopes that Congress will pass a comprehensive bill. He is part of a group of Irish-American members of Congress pushing for legislation.
"[I]t takes a lot of gumption, and a lot of faith to make that leap," Crowley said. "And it's no different today. Immigrants today are trying to escape economic hardship, escape political hardship, and make a better way for their families in a country that has so much to offer like the United States." Both of Rep. Ami Bera's parents left India in the 1950s and moved to the U.S. for college.
"My story always starts with the story of my parents," Bera said. "They came to America with that same hope and dream that generations of Americans did, to really build a better life. As they tell the story, they came with very little, other than that American dream."
Bera's father earned a degree in chemical engineering and was then offered a job. According to Bera, there were only about 100 high-skilled work visas for Indian nationals at the time and his father was incredibly lucky to obtain one, enabling him to remain in the U.S.
"The allocation for immigrants from India were only a hundred of those visas, so in many ways he won the lottery," Bera said. "For the luck of the draw, his son is today a United States Congressman. So that's why we should really fix our immigration system ... that is what makes us special as a nation."
His parents' story has driven Bera to fight for a comprehensive package, in hopes that all immigrants will have the opportunity to live the American dream like his parents did.
"I'm a lifelong Californian, and I'm a beneficiary of the best that this country's offered -- the investment and the chance that was given to my parents, and then the opportunity I had to grow up and going to great public schools and grow up being able to go to college," Bera said. "So my story always starts with that ladder of opportunity that my parents were given."
Ryan Rainey contributed reporting.
REAL LIFE. REAL NEWS. REAL VOICES.
Help us tell more of the stories that matter from voices that too often remain unheard.
BEFORE YOU GO
PHOTO GALLERY
10 Major U.S. Federal Immigration Laws