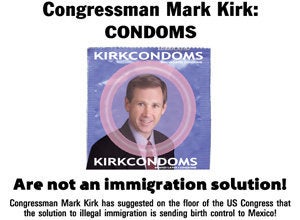 A two-year-old comment from U.S. Rep. Mark Kirk suggesting that condoms could help reduce the illegal immigration of Mexicans to America is again an issue as the North Shore Republican campaigns for President Obama's former Senate seat.
Illinois Immigrant Action, a Chicago-based immigration reform advocacy group, is releasing a Spanish language radio ad Wednesday taking aim at Kirk for his 2007 remarks.
"I wonder what goes on inside the mind of a Congressman when he states that the solution for immigration is to send condoms to Mexico!," a voice says in Spanish as babies cry in the background. "Yes, he said that! I know it is hard to believe but Congressman Mark Kirk has suggested on the floor of the US Congress that the solution to illegal immigration is sending birth control to Mexico!"
The ad, which also knocks Kirk for his vote in favor of the 2005 "Sensenbrenner Bill" that would have made undocumented immigrants felons, centers on Kirk's remarks during a Congressional debate on donating contraceptives abroad. (Printed ads, in both English and Spanish, show Kirk's face on a condom wrapper.)
"A slower rate of growth of Mexico's population would improve the economy of Mexico," Kirk said then on the House floor, according to Reuters. "It would also reduce the environmental pressure on Mexico's ecosystem. But a slower rate of growth would also reduce the long-term illegal immigration pressure on America's borders."
It turns out Kirk's rationale wasn't exactly accurate. Reuters reported that fertility rates have been declining in Mexico over the last 25 years, with a 2.5 children per couple rate in 2007 compared to 2.1 in the United States.
IIA, however, seized on what it perceives to be Kirk's flippant solution for our immigration debate.
"Tell Congressman Kirk that what our nation needs is a workable immigration solution," the ad says, "and a path to citizenship for the undocumented."
Support HuffPost
The Stakes Have Never Been Higher
Related
Popular in the Community