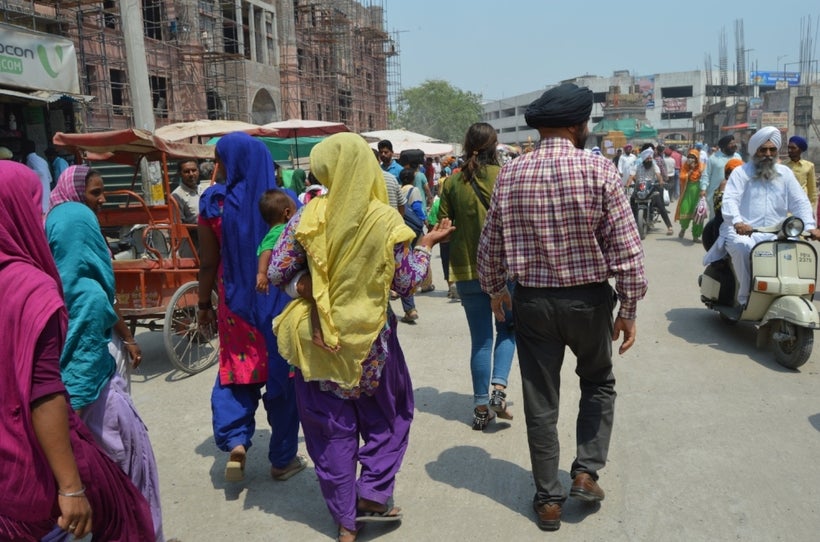 Here is Henna's story straight from the heart. Daughter of Indian immigrants, growing up Punjabi and American, navigating through the mix cultures and finding herself right there, right in the middle of it. Actually this isn't really Henna's story, as she talks about her father, but really it is. You will understand what I mean after you have read it... (And if you don't like curse words then I suggest you move along, as Henna loves to curse and there is no way I am editing her writing because it shoots straight from the fucking heart).
Before I dive into the topic of immigration, my story, and my father, I want to remind everyone that in the end of our lives we do not take this body with us, so to fear someone based on their appearance, their religion, or sexual orientation is just plain fucking stupid. People I want to remind you that when we die all this shit stays behind. Your hair, your eyes, your art, and the trees that surround you. They are all fucking staying here when you die. Oh God I sound dark again. Quite frankly, I'm just trying to make a point. I shit rainbows I swear. I also take pictures of pretty flowers all the time. Anyways, my point is that we are not immortal, so do you want to spend this life fearing and hating what you don't know or do you want to dive into it and grow from it?
There is a lot of fear and hate that surrounds the topic of immigration. Hate's mother is fear. Fears births hate. It's really that simple.
The Mexicans are taking my jobs.
There are too many black people.
The Indians are taking over IT.
The Asians are taking over our neighborhood.
She sounds like a redneck.
I bet they have small dicks.
These are all sentences with an undertone of fear or hate. You wanna know what my response is to these motherfuckers?
GIVE ME A FUCKING BREAK. IF YOU WANT TO DO SOMETHING THEN FUCKING DO IT. STOP BLAMING OTHER PEOPLE FOR YOUR LACK OF SUCCESS. WORK FUCKING HARDER. STOP COMPLAINING. WHY ARE YOU ALLOWING HATE TO HAVE A PLACE IN YOUR LIFE? LOVE BABY LOVE!! THIS IS YOUR LIFE. FILL YOUR SPIRIT WITH ALL THAT IS AMAZING IN THIS WORLD.  STOP FOCUSING ON OTHERS. WHY DO YOUR CARE SO MUCH ABOUT THEIR APPEARANCE? IS IT HARMING YOU? WHAT? YOU JUST DON'T LIKE? BABY YOU'RE WASTING PRECIOUS MOMENTS OF YOUR LIFE HATING THINGS FOR NO REASON. LIVE THIS LIFE AND FUCK IT LIKE YOU WOULD THE LOVE OF YOUR LIFE. IF YOU DON'T HAVE ONE THEN PRETEND. I LOVE HUMANITY AND THEREFORE I LOVE YOU TOO. YEAH I DON'T KNOW YOU, BUT WE'RE HERE IN THIS WORLD TOGETHER, SO LETS JUST ENJOY AND LEARN TOGETHER.
… OK maybe I wouldn't say the besos part, but everything else I would. Yeah I'm being blunt. Maybe I just wrote a really long rant, but my intentions are for the love of humanity.
Oh fuck, right my story!! Sorry readers. I'm a little scatter brained. I also confuse my left and rights all the time. Last night I took a cab from Manhattan to Brooklyn and I kept messing up my left and rights. As you can imagine my driver wanted to murder me. Is there a term for people who fuck up their left and rights all the time? Oh fuck. I did it again.
Ok Immigration. My story. Let's get into that. I'm an American Citizen. I don't have a crazy immigration story. Actually you know what? Let's talk about me in another blog post. This shit is getting long. I've got mad emotions and opinions and stories people.
I want to talk about my father right now. Let me tell you about him. My daddy is an immigration lawyer and is one of the most inspiring, charismatic, and giving people I know. My father came to this country after marrying my mother. So mom put a marriage advertisement in the Indian newspaper and after all the men who responded my father was the one who stole her heart. I'm going to be honest with you. My mother was vain as fuck. She thought he was the best looking guy after all the guys she met. I mean she did mention that he also came off as good person too, but I know my mommy. She thought he was hot. Great for baby making.
Dad went to law school. Passed the bar exam on his first try and then opened up his own practice within 5 years of just being in America. Dad did it. He made it in America. Then he got famous. Dad had commercials for his law firm playing constantly on ZeeTV (An Indian television channel). Man, when dad would come on TV I would light up. I was 7, but I was proud to be his daughter. The commercials aren't there today, but he still has an advertisement in the Indian newspaper. He has for over 20 years now. If I mention my father's name to any cab driver of Indian descent they know immediately who he is. My father has given people the opportunity to freedom and a better life. He is a man who came from poverty and has never forgotten his roots. This man never makes a trip to India without giving back to his people. He sends money for his relatives to give to people on the streets of India. If one poverty stricken child wants ice cream then he'll buy everyone ice cream. If another girl says I don't want ice cream I want flour, so I can make roti, then he's going to buy over 30 bags of flour for the beggars on the street. By the way this is a true fucking story.
I could talk about my father for hours and tell you all the amazing things this immigrant has done, but it's time for me to conclude. Freedom is everyone's right. Everyone should have an opportunity for love, family, and even all the fuck-ups that come with life because not everything bad is bad and not everything good is good. In the end we learn from the good and bad. Who are we to deny anyone of these good and bad experiences?
The definition of humanitarian is:
Having concern for or helping to improve the welfare and happiness of people
Pertaining to the saving of human lives or to the alleviation of suffering
A person actively engaged in promoting human welfare and social reforms
If we all had the heart of a humanitarian then immigration wouldn't be so scary.
REAL LIFE. REAL NEWS. REAL VOICES.
Help us tell more of the stories that matter from voices that too often remain unheard.
This post was published on the now-closed HuffPost Contributor platform. Contributors control their own work and posted freely to our site. If you need to flag this entry as abusive,
send us an email
.