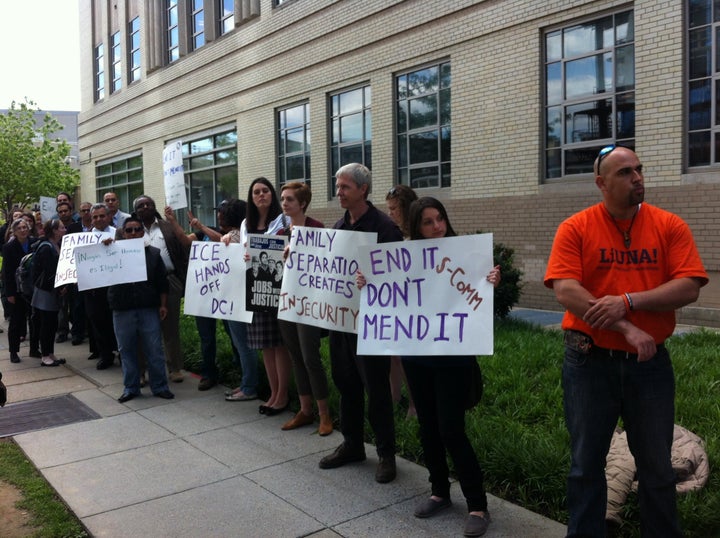 California Governor Jerry Brown must make a decision on the Transparency and Responsibility Using State Tools (TRUST) Act by September 30. Passed by the California State Assembly and Senate, this law would reduce California's cooperation with Secure Communities, a federal program that uses fingerprints, taken upon arrest, to find and deport undocumented immigrants. The TRUST Act would prohibit state and local jails from holding immigrants for deportation unless a serious or violent felony was committed.
Why? First, the Secure Communities program jeopardizes public safety by generating mistrust for law enforcement among immigrant communities. Undocumented and documented immigrants are hesitant to cooperate with the police because they fear that doing so may lead to their or their family's arrest and deportation. Many families have been torn apart by our nation's broken immigration system, and the vast majority of persons deported under the Secure Communities program have been those without criminal charges or with minor offenses.
Lack of collaboration with the immigrant community makes it difficult for state and local police agencies to investigate serious crimes, and thereby undermines the safety of our communities. The TRUST Act would restore trust by giving control over public safety back to local law enforcement and communities and preventing the mass detention and deportation of immigrants arrested for non-criminal and minor crimes.
Second, the Secure Communities program is an economic drain. The TRUST Act alleviates a serious budget burden for California taxpayers and local law enforcement. California police departments bear over $65 million a year in unreimbursed immigration hold costs. The TRUST Act saves resources and community policing by curtailing the excess use of local jails for civil immigration enforcement. In the future, when we move toward comprehensive immigration reform, we'll avail even more resources, to the tune of several trillion dollars.
Third, my California district already demonstrated that reducing the authority of the Secure Communities program is beneficial. Santa Clara County passed, in October 2011, an ordinance that ended its cooperation with Secure Communities, which is why Santa Clara County Sheriff Laurie Smith sent a letter to Governor Brown requesting his signature on the TRUST Act. In her letter, Sheriff Smith emphasized mistrust for local law enforcement during the implementation of the federal program; under the program 69 percent of deportees from California were merely charged with minor offenses, including individuals detained as a result of traffic violations. The Santa Clara County ordinance strengthened law enforcement relations with the immigrant community and eliminated the Secure Communities program's financial strain on our police departments.
We must fix our nation's broken immigration system in ways that make sense for our economy and safety and respects the dignity of all immigrant communities. Expanding detention and removal enforcement measures only pushes our communities further into the shadows. We are a nation of opportunity and hard work, not a country who condones an immigration system that separates families and instills fear in communities. Governor Brown should listen to civil rights organizations, local law enforcement, mayors, legislatures and our communities across the great state of California and sign the TRUST Act.
Rep Michael Honda represents Silicon Valley and serves on the House Budget and Appropriations committees.