As Big Coal corporate and government leaders from around the world converge in St. Louis this weekend for the Global Energy Future Forum, mysterious black crosses appeared before the headquarter offices of Peabody Energy and Ameren UE, as well as a PNC Bank, calling out the growing deathtoll related to coal mining and coal burning policies.
In fact, Peabody Energy was hit this week with an imminent danger order from the Mine Safety and Health Administration for one of its strip mines in Wyoming. And Missouri citizens continue to protest Ameren's plans to build the massive Labadie toxic coal ash dump near the Missouri River-- the source of drinking water for part of the state.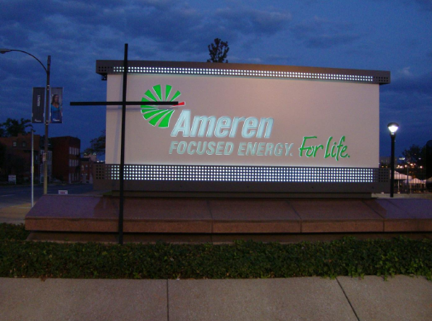 According to the press release in St. Louis:
St. Louis, Missouri is ground zero in the Obama administration's plan to dangerously experiment with carbon capture and storage (CCS) technologies for coal-fired plants, and a predominant CCS research facility has recently begun construction at Washington University. It is clear why the Black Cross Alliance wants to spread awareness in St. Louis. Three of the world's largest coal corporations are headquartered in St. Louis: Peabody Energy, Ameren UE, and Arch Coal. In the last year, Peabody Energy received $61 million in tax abatements and rebates from the city of Saint Louis; Arch Coal applied for yet another permit for a fifteenth Mountaintop Removal (MTR) coal mine in Central Appalachia; Ameren UE increased local consumers' energy bills by almost 12%, and currently operates one of the nation's largest coal plants, emitting hazardous levels of mercury and other carcinogens and toxins. PNC Bank is notorious for its financing of destructive mountaintop removal coal mining practices.
Across coal ash sites, coal-fired plants and coal mines in Illinois, black crosses are quickly emerging as haunting reminders of the human and environmental toll of coal on the region. Signs have been left with the quotation:

You shall not press upon the brow of labor this crown of thorns.
You shall not crucify us any longer upon a cross of coal.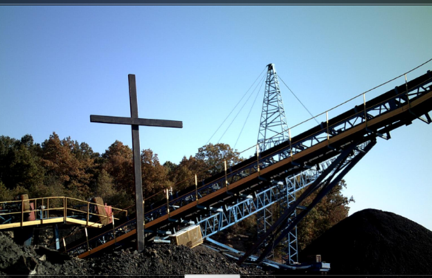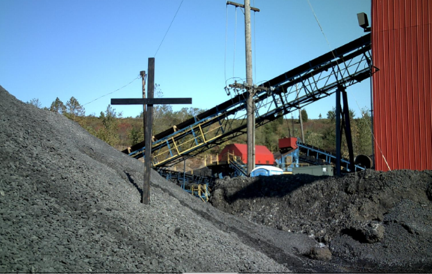 In response to the Big Coal energy future conference at Washington University, clean energy proponents are sponsoring a Climate Solutions Forum.
The activists in St. Louis posted these facts:

* Over 13,200 Americans die prematurely each year, according to a recent Clean Air Task Force study, due to fine particle pollution from coal-fired plants, costing our nation over $100 billion in external health costs. According to the Physicians for Responsibility, coal pollutants affect all major body organ systems and contribute to four of the five leading causes of mortality in the u.s.: heart disease, cancer, stroke, and chronic lower respiratory diseases.

* Over 10,000 coal miners have died from black lung diseases in the last decade, additionally costing our nation billions of dollars in external health care costs.

* Over 104,000 coal miners have died in accidents and disasters in the last century.

* Coal-fired plants account for nearly 35% of all CO2 emissions in the United States.

* Toxic mercury pollution from coal-fired plants in Missouri and Illinois is on the rise; nearly half of the nation's lakes contain fish contaminated with harmful levels of mercury.

* Toxic coal ash contaminates groundwater and soil supplies across the nation; the coal plant in Labadie, Missouri is notorious for its irresponsible handling of coal ash.

* Poorly regulated strip-mining has led to forced removals of American citizens, and the destruction of thousands of acres of fertile farms, woodlands and historic communities.

* Coal mining has prevented any economic diversification or development in the many pockets of the country, resulting in some of the highest unemployment, poverty and poor health care rates.

* Abandoned mines have cost the state and federal governments millions of taxpayer dollars.

* According to all studies, carbon capture and storage technologies, such as the proposed FutureGen site in Meredosia, Illinois, are still economically infeasible nor safe, and will increase coal production by 20-30 percent.
Popular in the Community