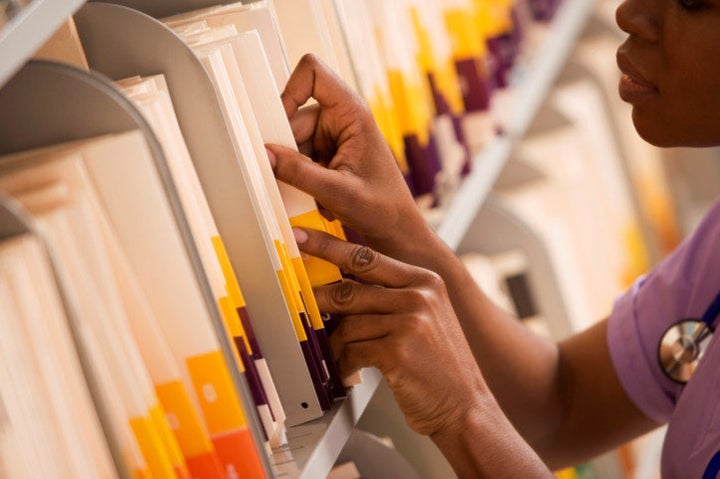 This blog entry is authored by M. Katie Charles, one of Orin Levine's graduate students at The Johns Hopkins Bloomberg School of Public Health. This post is the first of a three-part series entitled "Tomorrow's Vaccine Policy Leaders."
Consider that you are among the 50 million Americans geographically relocating this year, bouncing between primary care physicians. In addition to the transport of both your necessary and superfluous belongings, you must transition all your personal records and family documents. Though we are in the midst of a piecemeal transition to electronic medical records, your documents likely include hard copies of health records. And they are your responsibility.
At a new doctor's office, your head spins with the obligatory inquisition that comes with new patient intake forms. Past hospitalizations, surgeries, and major medical conditions may be easy enough to recall, but your vaccination history? Think through the past ten years: have you received a tetanus booster? It's possible that you have an uncannily vivid memory of the soreness you felt the next day, but can you remember for the rest of your family? Has your toddler received his third dose of Hepatitis B vaccine? What about haemophilus influenzae type B? And what about your teenagers and your spouse? Again, it's your responsibility.
If you are particularly conscientious, you may have preemptively contacted your doctor's office for a medical record transfer. Maybe you logged your vaccination history diligently into a spreadsheet, completed a vaccine card from a prior physician, or used my mother's yellow-steno-notebook-and-pencil vaccine tracking system. But method aside, I believe that there would be resounding American agreement that the process of maintaining vaccination history is not particularly "user-friendly."
Even for those who have not recently moved or changed health care providers, a substantial amount of personal initiative is required when it comes to vaccination. The U.S. Centers for Disease Control and Prevention (CDC) explicitly asserts that most states' policies are that parents of school-aged children -- not the family doctors -- hold the responsibility to maintain vaccination records. For the average parent to know which vaccines may be missing, he or she must be able to read and understand the American vaccine schedule. Because the Advisory Committee on Immunization Practices (ACIP), which serves as the primary advisory body for vaccination in the United States, delineates separate schedules for children, teens and adults, keeping track of these timelines is no small task for the family organizer.
The issue only becomes more complicated if you need to consider immigration, divorce, joint-custody, emancipated children or estranged parents. The U.S. Department of Health and Human Services reports in the Healthy People 2020 Goals that only 68 percent of children ages 19-35 months are fully vaccinated for recommended vaccines -- a number that drops between 37 and 47 percent for the recommended adolescent vaccines. Lest we assume no steps have been made toward reconciliation between human forgetfulness and complicated vaccine schedules, I draw your attention to some earnest attempts.
To expand upon a number of online templates for personal vaccine record keeping, the pharmaceutical company Novartis created Vaxtrak a 2010 iPhone application. This free tool helps subscribers record past vaccinations, makes personalized immunization reminders and locates vaccination clinics through a global positioning device. (Once again, "There's an app for that," showing movement in the right direction, for iPhone users at least).
State health departments do a better job of addressing the needs of wider demographic groups, but lack the universality, personalization and finesse of their tech-savvy counterparts. Also, they record only childhood immunizations. If you want help recreating your vaccination record, there is no shortage of suggestions from public health departments and vaccination advocacy groups: "Ask your high school, post-secondary school, college health service or previous employers for dates of any immunizations." "If your physician has retired, check with medical record storage companies (small fee associated)." "Look in your baby books."

Keeping track of vaccinations shouldn't be this difficult. If health officials, academics and students like myself are going to continue touting vaccines as the greatest accomplishment in public health and an essential health program for the masses, then it's time to prove we mean it. The "do it yourself" policy is no longer adequate, much less acceptable, with the declining status of American health in an era of booming social networks, smart phones, wired cities and generalized, widespread connectedness. The United States is in dire need of a federal, nationwide vaccination tracking system, sophisticated enough to record a lifetime of immunizations, remind individual patients of upcoming vaccinations and communicate between patient and care provider -- regardless of residence.

This system will not only be an enormous step for American citizens and their overworked health care providers, but it would make an important public health statement by helping the majority of citizens who honestly want to keep up with their vaccination schedule and protect their kids through immunizations. Those who are unwilling to vaccinate will be held accountable for their decisions, as logged in a national system, accessible to all their health care providers. As vaccine-preventable diseases continue to pop up throughout the United States, it's time for national public health officials to show support for the people and keep us all honest about our vaccination history.
Related