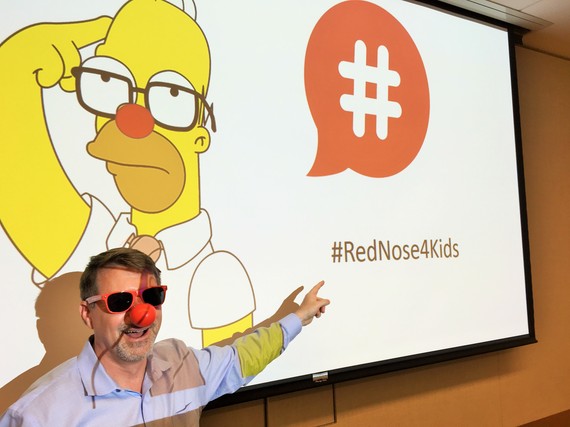 Laugh. Give. Save a kid. Thursday, May 26 is Red Nose Day in the United States and it's all about lifting kids out of poverty both in the U.S. and abroad. Red Nose Day began in the U.K. and it has raised more than US$1 billion in the last 25 years to provide vaccines, medical services, safe water, meals, and books to children in need.
So, why the red nose? It's not just about fundraising. It's FUN-raising. But, while the day is about using humor to raise awareness about the need to reduce poverty, the problems these kids face are no laughing matter.
Problems like pneumonia. In the United States, pneumonia is a concern for parents and a source of suffering for children but is rarely fatal. As a result, many Americans are often surprised to hear that pneumonia is the leading infectious killer of children worldwide.
It's amazing what a difference geography can make when it comes to health outcomes. For kids in countries like Ethiopia or Pakistan, the risks from pneumonia are very different and have life-threatening consequences. Their families may not have access to emergency health care or even a clinic within walking distance to provide the antibiotics or oxygen they need if they become ill. Similarly, they might not be able to get lifesaving vaccines that can prevent getting pneumonia in the first place.
Clearly where you are born should not determine if you have access to quality health care. Red Nose Day is trying to help change that by focusing some of its efforts on reaching children in the most disadvantaged places with lifesaving interventions.
Vaccines are one of the single best ways to help children survive and thrive. Vaccines save millions of lives each year and are among the safest, most cost-effective health interventions ever developed. And when kids are healthy, they are more likely to go to school and stay in school. They learn more, and grow up to earn better incomes. And their families fare better too, because parents or caregivers are able to be out working, rather than home caring for a sick child. In fact, studies show that every dollar invested on vaccines in developing countries returns a whopping $44 in economic benefits. In short, ensuring that children are healthy helps us all.
Yet one in five children worldwide are not fully protected with even the most basic vaccines, like those that prevent pneumonia. One organization doing tremendous work to change this is Gavi, the Vaccine Alliance. Gavi's goal is to save children's lives and improve their health by increasing access to immunization in the world's poorest countries.
As one of the 2016 Red Nose Day partner charities, Gavi will receive a portion of the Day's donations. They will use these funds to continue helping countries introduce new life-saving vaccines to protect children from diseases that cause pneumonia and severe diarrhea, the leading killers of young children in poor countries.
The great thing about Red Nose Day is that everyone can participate and help. First, check out this silly video featuring my bosses, Bill and Melinda Gates. Second, head out to the nearest Walgreens and buy a red nose and other gear - all proceeds go directly to the cause. Next, take a red nose photo of you, your family, your friends, your pet, and share it using the hashtag #RedNose4Kids - every time #RedNose4Kids is used on Twitter or Instagram with a Red Nose photo, the Bill & Melinda Gates Foundation will donate $25. Finally, make sure to tune-in on May 26 to the Red Nose Day special on NBC featuring celebrities like Ellen DeGeneres, Jack Black, Paul Rudd, Julianne Moore, Liam Neeson, Sarah Silverman, Tracy Morgan, Anna Kendrick, Seth Rogen, Zac Efron, and more.
Together, we can help make sure life-saving vaccines reach every child, everywhere.
Calling all HuffPost superfans!
Sign up for membership to become a founding member and help shape HuffPost's next chapter