For Imogen Poots, 2015 marked a new beginning. Across the better part of a decade, she'd scored noteworthy roles in movies like "28 Weeks Later," "Solitary Man" and "Jane Eyre" without ever quite transcending emerging-actress limbo. But as the 2010s inch forward, Poots has always been on the cusp of breaking through -- with the vampire horror-comedy "Fight Night," the rowdy bromance "That Awkward Moment" and the noisy Aaron Paul racing vehicle "Need for Speed." 
But it's the movies that have struggled to secure much shelf life where Poots has found her true calling. She played Philip Seymour Hoffman and Catherine Keener's daughter in 2011's "A Late Quartet" before starring as Linda Keith, one of Jimi Hendrix's lovers, in the under-appreciated 2013 biopic "Jimi: All Is By My Side" and as an earnest call-girl-turned-Broadway-hopeful in Peter Bogdanovich's 2015 screwball comedy "She's Funny That Way." This year alone, she's appeared in the Sundance drama "Frank & Lola," Terrence Malick's existential pilgrimage "Knight of Cups" and the gnarly punk thriller "Green Room," which is now in theaters. This summer, Poots will transition to television for Showtime's behind-the-scenes rock series "Roadies," created by "Almost Famous" director Cameron Crowe. 
The Huffington Post recently chatted with the 26-year-old U.K. native about "Green Room" and how she's found fulfillment in her still-burgeoning career. Here are a few highlights from our conversation.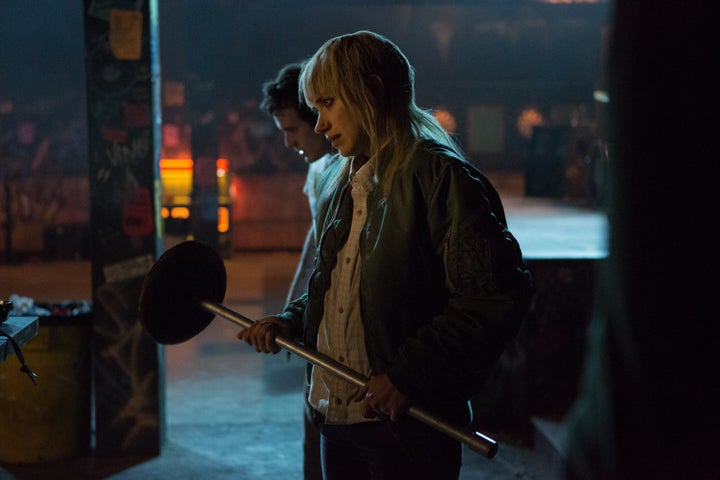 On the Los Angeles hedonism displayed in "Knight of Cups"
"What I found interesting about it when I finally saw it was that it actually reflects the myth of Los Angeles -- the whole mystical quality surrounding Hollywood. Hollywood, in some respects, is so interesting because of its grotesque nature. I find that Hollywood Boulevard, right in the center, is like a theme park. It's very strange, and yet, as a passenger flying on a plane into LA, you still get this inexplicable thrill when you see the Hollywood sign. It's quite interesting that that word has come to mean something to culture. I think, in terms of Malick's version of that, a lot of the characters are archetypes, but there's a nostalgia at play there. You love to miss it, but when you're experiencing it, it can be a very sinister environment that you're subjected to."
On being expected to look like a certain package
"That's just an inevitable hurdle that will appear for a blond actress. So you relish opportunities when people like Malick -- or Jeremy Saulnier, with 'Green Room' -- let you find something deeper within. But the whole idea, actually, a lot of the time, is you let other people lay things onto you to transform you, but actually directors are very interested in that stripped-down place of what's actually innate in humanity. That's the characterization I look for."
On her own foray into the type of heavy metal featured in "Green Room"
"I'm a big fan of that type of music, embarrassingly enough. Actually, not embarrassing. I'm proud to say that when I was 13 ... I was very much into that band Korn, and Marilyn Manson. Then, obviously from there, you kind of grow up a little bit and put on Johnny Thunders. He has that element. There's such catharsis to music like that. But my favorite band of all time is The Smiths. That's my happy place -- a little mellow."
On needing a new challenge after "Need for Speed"
"When you look back on the choices that you've made, it's interesting what stands out to you. I'm very, very cautious to ever speak in a condescending way about a project that I've done because a director has decided to hire you for something and you've made a decision to be a part of that. ... I think certainly working with Peter Bogdanovich gave me that. It's funny because in terms of 'All Is By My Side' or 'The Look of Love' or 'Filth,' I love those projects. And then when you make a decision to do something like 'Need for Speed,' you're either going to like it or you're going to reconsider some things. So it was certainly around that time that I thought, 'All right, it's time to stop doing work -- or at least try to do work that I really, really believe in, and something that I would want to go see.' If you're a writer, you can't spend time focusing on a subject that doesn't interest you or that you don't believe in. ... I feel very, very happy right now and it feels very right. A few years ago, I certainly did not feel as comfortable, in a sense, about finding work. It was really challenging. It was asking more of you than to be a device."
"Green Room," co-starring Patrick Stewart, Anton Yelchin and Alia Shawkat, is now in theaters.
Calling all HuffPost superfans!
Sign up for membership to become a founding member and help shape HuffPost's next chapter
BEFORE YOU GO
PHOTO GALLERY
Hottest Sundance 2016 Movies