As is the case in many U.S. cities today, it often appears the deck is stacked against youth living in low-income areas of Oakland, California.
Taking on these obstacles is Youth Impact HUB Oakland, a unique program founded last year with the goal of supporting local youth leaders from some of the city's most disadvantaged areas and empowering them to have a say in what goes on in their community. The program gives them the resources they need to either continue their education, find a job or launch a business.
An offshoot of the international Impact HUB network of co-working spaces, the youth-specific program is currently the only initiative of its kind in the network's 60-plus cities. The crown jewel of the hub is its yearlong fellowship program, which allows youth — ages 16-24 — who face barriers to economic opportunities to be trained in social entrepreneurship and to connect with the local business community.
In its inaugural offering, 16 young people exploring nine different enterprise projects were chosen, following an application and interview process, to take part in the program. The participants are almost exclusively youth of color.
(Story continues below)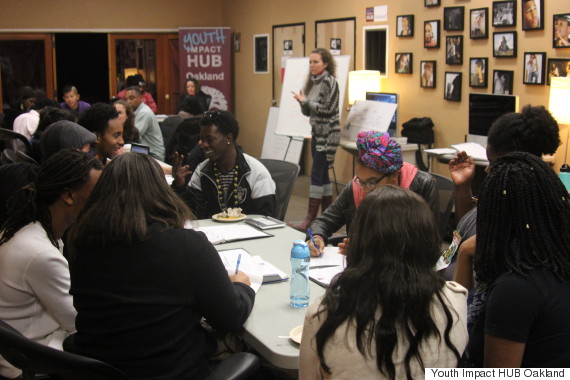 Youth Impact HUB Oakland's inaugural class of fellows gather for a weekly training.
The fellowship program consists of weekly two-hour meetings between mentors and fellows, who learn how to create a business plan, conduct SWOT analyses (identifying the strengths, weaknesses, opportunities and threats of a business idea), and form strategy and business objectives. At the end of the program, the fellows pitch their projects for a chance to receive $1,000 in seed funding to go toward turning their project into a reality.
Some of the projects in the works include United Roots Media, a media production company that would cater to communities of color.
Amanda Greene, co-director of Youth SEED, one of two organizations collaborating with Impact HUB Oakland, told The Huffington Post she sees what they are doing as a model that could be replicated throughout the nation -- and the world. In fact, a visitor from Impact HUB Sweden recently came to Oakland to see how the fellowship program worked, in hopes the group could launch a similar initiative there.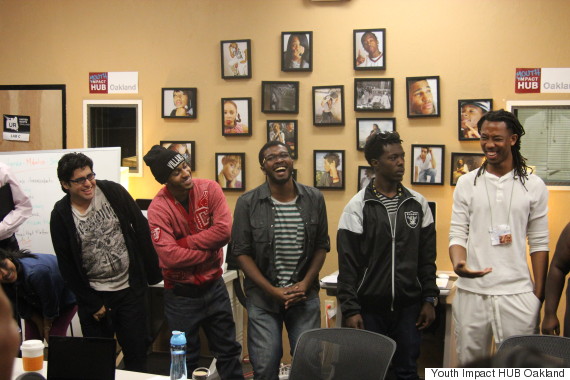 Youth Impact HUB Oakland fellows taking part in a training.
"We provide the platform for young folks who lack resources to become the leaders they have the potential and passion to be," Greene said. "It's really clear to us that to have a sustainable future and have social equity in it, we have to engage young people."
A new way Greene is looking to engage the program's fellows is by taking them out of their workspace to meet with successful, mission-driven local entrepreneurs who, in many cases, came from backgrounds similar to their own.
In order to accomplish that, Greene and Youth Impact HUB Oakland are partnering with Bay Area Green Tours -- an organization that hosts bus tours and events highlighting players in the local sustainable economy -- to organize two bus tours and a retreat for the fellows. Last week, they launched an Indiegogo campaign in an attempt to raise the funds needed to support the initiative.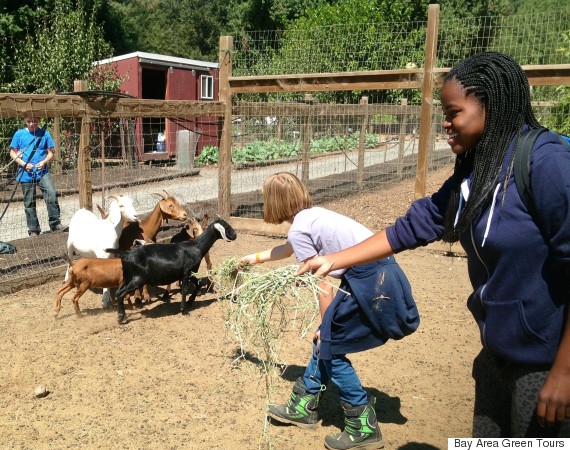 Participants in a Green Bus Tours program meet the goats at a Bay Area farm.
Finally, there will be a three-day retreat to the Sonoma County farm, where Sabor Mexicano Food -- a popular chain of three restaurants owned by Jorge Saldana -- sources some of the food they serve. Saldana started his business with just $1,000 in his pocket, according to Marissa LaMagna, executive director of Bay Area Tours. That's the same amount of seed money the Youth Impact HUB fellows are working toward.
"I find it incredibly exciting to watch a young person see and connect to people doing the things they dreamt about," LaMagna explained. "For them to see it's possible: 'These people don't look that different from me, I can achieve this.' The purpose is to connect these young people to real-life role models, to taste, touch and smell things that are working."
There is evidence that making such connections could have a big impact for the youth, as well.
If the groups successfully raise more than their Indiegogo funding goal of $12,000, they hope to expand the tours to other groups of aspiring youth leaders from under-resourced parts of the city.
"To be able to take young people and have them meet and interact with successful social entrepreneurs and to hear their stories is a beautiful addition to the program," Greene added.
Related