We are all on a global stage and our impact is being measured. We now have Klout, Kred and TrustCloud! as predominant platforms just beginning to measure your impact. While these are still in development and are incomplete in what they measure -- a conversation has begun about how a person's online presence can be measured. I am terrified of this trajectory, however, I believe that it is catching on so quickly that it cannot be ignored. Already we are hearing about people getting jobs based on analytics and the concept of you being more an algorithm than flesh is gaining momentum.
Every "like" or RT or endorsement both subtle and explicit is telling a story about who you are and what you value. Are you proud of what that aggregate story says about you, what you value and your capability? Your auto-autobiography is being written by simple responses on social sites. Whether we like it or not, stories are being told about us based on analytical data and doors are being opened or closed. We can let that happen or we can claim some control of what our data points say about who we are and what we care about. The place to regain control is to reverse engineer the qualities you would like to leave behind. Write your story now and live into it. Thought leader Clay Shirky gave us a nugget of wisdom: it is not information overload, it is filter failure.
From an existentialist point of view, who you are at your core is perhaps the most important filter to decipher.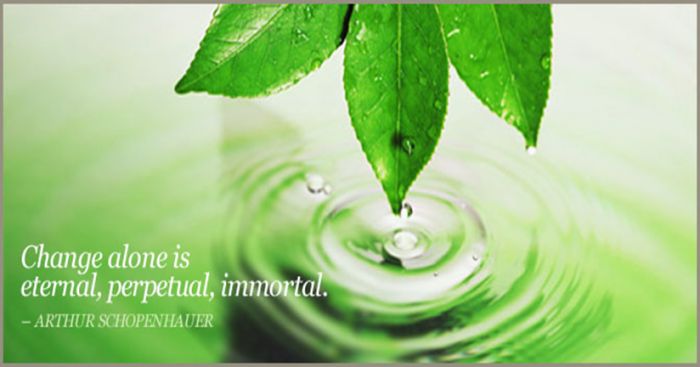 This leaf shows a water droplet and you can see the concentric circles of reverberating impact. Consider that each text, tweet, and post your write or comment on has the same physical resonance. It travels and impacts the system at large. There is a direct link between your personal growth and social impact -- regardless of how the channels evolve. Impact is not an option, ensure that yours is positive.
One of my favorite quotes comes from Aristotle: "We are what we repeatedly do; excellence then is not an act, but a habit." If you want excellence, then everything you do must have the ring of excellence. Not just the big important things, but the small and invisible acts that no one else sees or hears about. Personal leadership in a digitized economy is about having an intention - a clearly defined declaration of your filter and ownership of what you want to create in the world.
Intentions in a business context are called sources of competitive advantage (SOCA). If you are promising adaptability, know-how, and speed as your competitive advantage, then every choice inside your organization should demonstrate adaptability, know-how, and speed. The more you execute these attributes internally, the more reliable your promise to your customers and shareholders. It also provides a filter by which you can hire, develop, and promote. From experience you cannot execute reliably more than three strategies -- which forces decisiveness. The word decide comes from the Latin dēcīdere -- meaning "cut off." Suicide, homicide, decide: when you choose you cut off all other possibilities. Decisiveness is required to create a brand experience.
Building credibility in a digital economy requires continuity on the themes that matter most. Decisiveness of your filter and commitment to it will allow you to quell overloaded circuits, elevate your positive impact and most importantly keep you playing an aspirational game by which you will be proud vs. embarrassed. Here are the types of questions that contribute to clarity on what matters most:
What is your definition of leadership? (Let me be clear -- regardless of your title or where you live -- you are a leader of your own life. You need an operating statement -- your True North.)
What are three qualities do you most value in others?
What compliment have you received that made you feel the most seen? valued?
What are five attributes of collaboration that you most value?
Ask these questions frequently and keep your answers present as a guide to help you ensure that you are designing your life in ways that will continue to keep doors opening for you as the landscape of digital, work, life, legacy get blurred. Claim the story of your life and ensure it is one that you are proud of now and tomorrow.
Related
Popular in the Community