Impact Journalism Day: June 20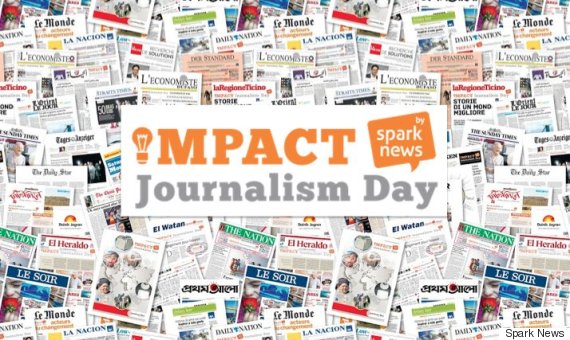 Impact Journalism Day is this Saturday, June 20. Forty-eight news organizations from 43 countries around the world will participate in a day dedicated to focusing on solutions-based stories.
The organization behind Impact Journalism Day, Sparknews, invited news outlets to take a solutions approach and "share stories of hope, change and innovation." Each participating news organization will publish a set of stories highlighting solutions to global issues. The hope is that, by sharing these stories about people, places and events happening all over the world, Impact Journalism Day will inspire change on a global level.
Among the organizations participating are The Huffington Post, The Sunday Times, China Daily, Al Hayat (Saudi Arabia), L'Economiste (Morocco), The Straits Times (Singapore), Ta Nea (Greece), The Nation (Nigeria), Excelsior (Mexico), El Watan (Algeria) and Politiken (Denmark).
Take a look at all the participating outlets:
Last year's Impact Journalism Day had a tremendous impact. But its potential is about much more than just raising awareness. It's a project that can transform newsrooms, as more news organizations embrace a solutions-oriented approach that goes beyond "If it bleeds, it leads."
Impact Journalism Day 2015 is expected to result in more than 100 stories and projects with a reach of some 100 million readers and 10 million people on social media.
To help spread the world, click here.
This page contains materials from The Huffington Post and/or other third party writers. PricewaterhouseCoopers LLP ("PwC") has not selected or reviewed such third party content and it does not necessarily reflect the views of PwC. PwC does not endorse and is not affiliated with any such third party. The materials are provided for general information purposes only, should not be used as a substitute for consultation with professional advisors, and PwC shall have no liability or responsibility in connection therewith.
Calling all HuffPost superfans!
Sign up for membership to become a founding member and help shape HuffPost's next chapter