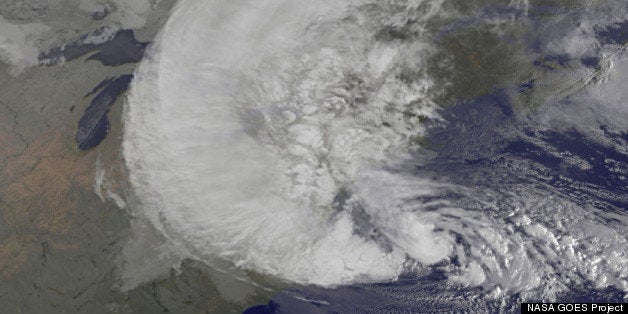 WASHINGTON -- Reeling from budget tightening that is being compounded by sequestration, the National Weather Service has begun making operational decisions that a top labor group warned could end up costing millions of dollars in damage and threaten public safety.
This past week, Dan Sobien, the president of the union representing National Weather Service employees, issued a warning that the four furlough days being faced by his members, on top of the cuts already being experienced, could compromise commerce, air travel and weather forecasting. Impacts of the cuts, Sobien added in a follow-up interview with The Huffington Post, are already beginning to take place.
In Fairbanks, Alaska, a weather service office that usually houses 20-plus staffers is now permanently down seven workers, Sobien said. The National Hurricane Center, he added, is facing several vacancies among its IT staff in the lead up to hurricane season. More worrisome, however, is the situation in Sterling, Virginia, where a weather forecast office (WFO) is being forced to downsize certain operations to adjust to budget cuts.
This past Saturday, top officials at the National Oceanic and Atmospheric Administration, which oversees the weather service, proposed eliminating four out of seven night shifts for its hydro-meteorological technician units at that Sterling center. The cutback, the officials noted in an email obtained by The Huffington Post, would help the agency cope with a lingering staffing shortfall. Since March 2013, the WFO in Sterling has dealt with three vacancies (two of which extend back to October 2012), despite having an allotted staff of just five. The unit's general forecaster office, which had helped fill some gaps, would take on some night shift responsibilities as well, according to the email.
Even then, however, the Sterling WFO will no longer be able to conduct weather measurements on four evenings per week.
This may seem like a small sacrifice to make. After all, sequestration was designed to be indiscriminate in its damaging effects. But Sobien warned that the results of cutting back weather measurements could be far more severe than the public realizes. Twice a day across the globe, weather balloons are launched for purposes of generating informed models to help guide everything from flight patterns to disaster preparedness.
"It is going to definitely have an impact," Sobien said of ending those evening weather measurements. "It was so important when Hurricane Sandy was going up the coast. The weather service was launching those balloons four times a day to get better models. So to say, 'Hey, we don't need it,' how can we say that?"
Officials at NOAA acknowledge that budget cuts, both preceding and including sequestration, have been tough to swallow. The organization had to achieve a 5-percent reduction in expenditures, in addition to a 2-percent reduction due to rescissions. In response, it proposed across-the-board furloughs and will be making a formal reprogramming request to Congress this week.
Ciaran Clayton, NOAA's director of communications, said that if the reprogramming request is passed, it would give the organization the type of flexibility now enjoyed by the Federal Aviation Agency. The FAA was able to end the furloughing of air traffic controllers after Congress gave it budgetary authority. And even without that authority, Clayton added, NOAA has the flexibility to operate effectively during critical moments.
"We can cancel furlough days for essential personnel for severe events," said Clayton. "We are doing all we can to ensure that people still get the forecast they depend upon. We have no intention of putting people's lives and property at risk. Some offices will be closed on furlough, others will be open."
NOAA has also been aided by Congress' passage of a $50 billion relief package in the wake of Hurricane Sandy, which added $476 million to its coffers. That money, however, was largely restricted to specific functions, Sobien said, including buying and maintaining new computers for running weather models. The National Weather Service is still struggling from a lack of physical personel, he added, noting that is a byproduct of both sequestration and a spending freeze for hiring new managers.

REAL LIFE. REAL NEWS. REAL VOICES.
Help us tell more of the stories that matter from voices that too often remain unheard.