Death. We don't like to discuss it in America. Suicide, even less. Fifteen years ago, when my mother Frances Alleman-Luce, a psychologist, starved herself to death in my own home -- in front of my own child -- I could not bear to share the details of her passing. She told us she could not bear to bury my brother, then dying of cancer.
One year ago this week, the 25-year old son of a close friend of mine died by suicide in Ohio. Dr. William Bauer, who had served under my mother as the director of the special needs Ewing School and now teaches Education at Marietta College, serves on the Board of our Foundation.
Last week, in conversations with Bill, we decided to inaugurate The Bauer Fund in honor and memory of his son Grant Michael Bauer, with support of Bill's wife Mary Ella and daughter Madison.
Grant, aged 25, passed away one year ago from an act of suicide. Grant touched the lives of many people during his quarter of century of life on earth. He was passionate about reading, music, movies, education -- and, like his father, the sport of competitive swimming.
Those who knew this young man, knew he would go the "extra mile" to help a person with a disability, listen to a person in need and pay for others' meals (even if it was his last dime). Grant graduated from Marietta College in 2012 with a degree in Mass Media. He was also a member of Delta Tau Delta fraternity at Marietta College.
I chatted this week about the stigma of suicide with Barbara Stanley, Ph.D., who is a Professor of Medical Psychology in the Department of Psychiatry at Columbia University and Director of the Suicide Prevention, Implementation and Evaluation Program at New York State Psychiatric Institute. She told me:
Unfortunately, suicide is a growing problem in the U.S. and worldwide. The rate has steadily increased over the past ten years and more than 40,000 individuals died by suicide in 2013.

In fact, of the major leading causes of death in the U.S., suicide is the only one that has increased in its rate. Yet, suicide is still not discussed and the death of a relative by suicide is often hidden or unacknowledged.

Family members who have had a loved one die by suicide will skirt the issue when someone asks, "How did your brother/father/daughter die?" Why the acknowledgement of suicide is so difficult is complex.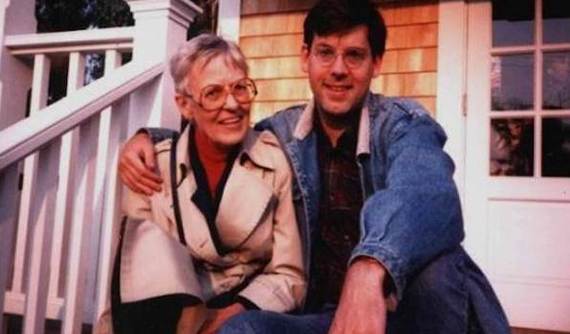 Author with his mother Frances Alleman-Luce in the 1980's on Martha's Vineyard.
Photo: The Stewardship Report.
I asked Barbara why we as a society struggle so with suicide. She said:
It remains extraordinarily painful to know that someone you love took his own life. Feelings of guilt, sadness and anger persist long after the death. Also, importantly, suicide, as with all mental illness, is stigmatized.

There remains a great deal of shame associated with suicide. But it is vital to work to destigmatize suicide so that suicidal individuals can feel more comfortable to reach out for help and so that families and friends who have lost someone to suicide do not have to endure the pain of the death alone.

There are plenty of examples where silence about a problem is broken that in turn led to greater funding for research, more support for those affected by the problem and the gradual development of a more humane response to the affected individuals.
The focus of The Bauer Fund will be to provide microgrants, scholarships, stipends or research monies to assist young adults with mental health issues or developmental delays. The program will also provide impetus for promoting kindness around the world by assisting people with endeavors to make the world a better place.
There is a tremendous lack of programs, services and supports for mental health issues. As public awareness of mental illness increases, the shortage of these services are most highly noticeable in under-served and unserved areas across the world.

Adults with intellectual disabilities have limited choices in the social/recreation arena, employment opportunities and post-secondary education opportunities. It is through contributions to the Bauer Fund that we can begin to help rectify this.
Award recipients will be announced on Grant Day (September 5 each year). We hereby designate "Grant" Day to stand for "Genuine Respectful Actions Never Terminate." This day around the world will be recognized with Random Acts of Kindness (RAK's), which began this Labor Day Weekend (story).
Bill requested through Facebook that his friends and family perform random acts of kindness in Grant's memory over Labor Day Weekend and report them to him for tally. He is still counting -- at over 1,000!
Tax-deductible contributions may be made this Fund on-line here (http://tinyurl.com/k7qa4wj). Please note "Bauer Fund." Checks may be made payable to the J. Luce Foundation, memo'd "Bauer Fund," and mailed to 540 Main Street #418, New York, N.Y. 10044.
The J. Foundation was founded in New York State in 2009, inspired by my father, college professor Stanford Livingston Luce, Jr. of Miami University who passed away in 2007. We work frequently in the fields of Arts, Education, and Orphan Care.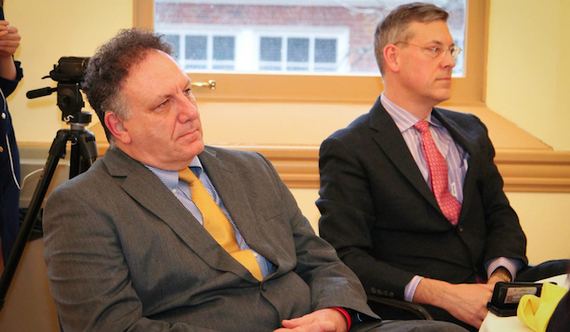 Bill Bauer and Jim Luce speaking at Marietta College, Ohio, Spring 2015.
Photo: The Stewardship Report/Ryan D. Turnewitsch.
The J. Luce Foundation, Supporting Young Global Leadership, has entered a partnership with Marietta College (link).
The J. Luce Foundation notes that September 5 is also designated by the United Nations as International Day, a day when the Secretary-General calls on people everywhere to act charitably in the face of human suffering. Grant would approve.
Barbara Stanley, Ph.D.
Prof. of Medical Psychology, Dept. of Psychiatry
Dir., Suicide Prevention, Implementation & Evaluation Program,
Center for Practice Innovations at Columbia Psychiatry,
New York State Psychiatric Institute

Dr. Stanley is the founder and first president of Applied Research Ethics National Association (ARENA), on the board of directors of PRIM&R (Public Responsibility in Medicine and Research), and is a former Chair of the Committee for the Protection of Human Participants in Research for the American Psychological Association. She has served on several Institutional Review Boards and has been a consultant for the NIH Office of Protection from Research Risks. Dr. Stanley recently served as a consultant to NIMH in developing guidelines to investigators considering including suicidal patients in treatment trials. Dr. Stanley has published over 65 articles on research ethics, suicidal behavior, self-injury and borderline personality disorder and has been the recipient of several federal and private foundation grant awards. She is currently the principal investigator on two grants, one of which is a NIMH-funded psychosocial medication treatment trial for actively suicidal and self-injuring individuals.
See Stories by Jim Luce on:

Education | Health | Philanthropy

The James Jay Dudley Luce Foundation (www.lucefoundation.org) supporting young global leadership is affiliated with Orphans International Worldwide (OIWW), raising global leaders. If supporting youth is important to you, subscribe to J. Luce Foundation updates here. Contribute to the foundation's Bauer Fund here.
Support HuffPost
A No-B.S. Guide To Life
Related
Popular in the Community