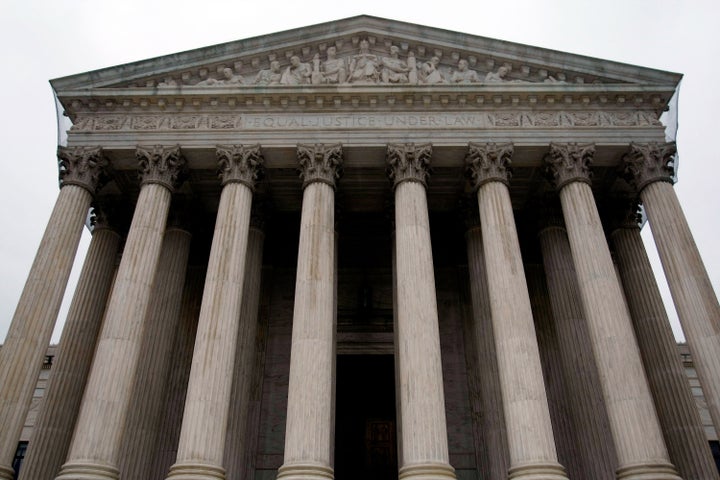 Suppose you were party to a lawsuit and you learned that the judge handling your case was hobnobbing with lawyers on the other side and helping to raise money for a group dedicated to defeating you in court? You'd be pretty uneasy about your prospects for an impartial hearing, wouldn't you?
Well, as Common Cause details in a news release today, three members of our Supreme Court were guests last Thursday at an annual fundraising dinner sponsored by the Federalist Society, a self-styled association of conservative and libertarian lawyers that is providing much of the intellectual firepower behind efforts to overturn the landmark health care reform law passed last year.
Justices Antonin Scalia and Clarence Thomas were honorees and speakers at the black tie event and Justice Samuel Alito, a regular at Federalist Society gatherings, was in the audience, according to a program prepared for the dinner. Their appearance came just hours after the nine-member Supreme Court met to consider placing a case challenging the health care law on its docket.
The court announced on Monday that it will consider that case during this term.
Guests at Scalia's table at the Federalist dinner included Sen. Minority Leader Mitch McConnell of Kentucky, who at last year's Federalist Society annual conference was actively recruiting members of the group to join him in efforts to overturn the health care law. Also there was former Attorney General Ed Meese, chairman of the "Center for Legal and Judicial Studies" at the Heritage Foundation, a conservative think tank that has been active in challenges to the law.
Guests at a table between Scalia and Thomas included a lawyer challenging the law in the case now pending in the Supreme Court. Other tables were sponsored by law firms involved in the litigation.
This kind of activity by members of our highest court undercuts any claim of impartiality in the health care litigation by the justices involved. Worse yet, it clearly violates the Code of Conduct for U.S. Judges, a set of ethical standards the Supreme Court helps enforce on lower federal courts but has refused to impose on itself.

The Code warns judges to abstain from speaking or serving as the guest of honor at any fundraising event.
Two other justices told Congress earlier this year that they and their colleagues follow the Code voluntarily, an assertion belied by Scalia's and Thomas' appearances at the Federalist event.
U.S. Rep. Chris Murphy, D-Ct., has introduced legislation to bring the Supreme Court under the Code. The involvement of Scalia and Thomas with the Federalists makes a powerful case on behalf of his bill.
Calling all HuffPost superfans!
Sign up for membership to become a founding member and help shape HuffPost's next chapter