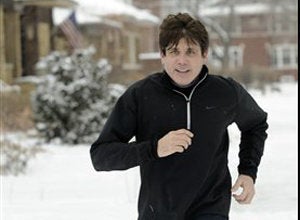 Gov. Rod Blagojevich called the Illinois House's decision to impeach him a "foregone conclusion" and blamed it on lawmakers' years-long battle against him.
"This is not something that came as a complete surprise to me," Blagojevich said at Friday news conference in downtown Chicago. "From the very moment of my re-election I've been engaged in a struggle with the House to get things done for people," he said. "The House has stood in the way of letting that happen."
With senior citizens, a man in a wheelchair, a crying baby and a Humboldt Park teen who had liver surgery assembled behind him on the podium, Blagojevich sought to portray his impeachment as vindictive payback for fighting on behalf of needy citizens.
He was impeached, he said, "because I've done things to fight for families who are here with me today," citing his efforts to expand health care, reduce prescription drug costs and cut taxes.
"The House is impeaching me for that? Is that an impeachable offense?"
Blagojevich admonished lawmakers to follow the Golden Rule and, as at his first press conference following his arrest on federal corruption charges, Blagojevich recited portions of a poem: Alfred Tennyson's Ulysses. He said he had been inspired to memorize it after Ted Kennedy read part of it at the 1980 Democratic Convention.
Popular in the Community