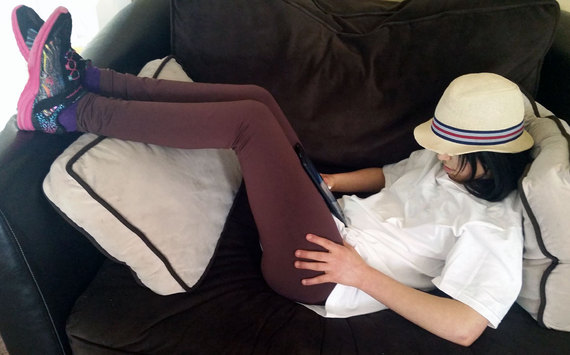 When your child struggles with verbal skills, every word from her mouth speaks volumes. My daughter has a speech disability, and sometimes it's really hard to decode exactly what she is trying to say.
That is, until puberty struck. She may struggle to be conversational, but on a winter day after school not too long ago, she had no problem rejecting my request for help.
"Amelia, can you help set the table?" I asked.
"I'm kind of busy right now," she replied.
At the time, she was reclining on the couch with her feet up watching YouTube videos on my phone.
While I was partly annoyed, I also had to stop myself from laughing. I was even a little relieved. Puberty is a challenge for kids with learning disabilities given the multitude of things they need to learn, like dealing with mood swings, open discussions about sex and the importance of privacy. In the midst of all that, though, my daughter acted like a typical teenager by letting me know that she was "kind of busy" while she sat on her butt!
Clearly, I have a lot more work to do with this whole parenting gig, but at least this time I didn't have to dig deep to understand her behavior. Dealing with a bit of teen attitude is easy compared to some of the complexities that come with raising kids that have special needs. There was no mystery about what she meant, no hidden "wants" I had to unlock, no misunderstandings about her motivation. She simply didn't want to help.
Her response got me thinking. Where had she learned that phrase? How could I get her back to being respectful? Did her reaction have a deeper lesson for me? Her words struck me all the more because, in my heart, I knew the answers to all of those questions.
"I'm kind of busy right now" is a right of passage for any teen. These words prove that my kid is just like any other teen in many respects. It's easy to get swept away by the big questions of raising a child with disabilities (education, therapies, interventions), but the older she gets, the more her actions resemble those of her peers. She's lazy when it's time to help, bored when we're at a museum and giddy when a cute boy walks in the room. In fact, she's more similar to me at that age than I expected her to be and I need to keep that in mind.

"I'm kind of busy right now" is a response that she learned from me. As a freelancer who works at home, I'm not always done with my job by the time the kids are home from school. While I do my best to be there for them, there are days when I suffer from "kid burnout" and just want to curl up in my work cave to write and play games for the night.

"I'm kind of busy right now" is a call for me to be less busy when my kids need me, especially if I want them to be less busy when I need them. Have I been lazy when my presence was requested? I have. Worse yet, I've used the excuse of "let them learn independence" at times I was just too lazy to get up and guide them.
In fact, right now I'm "kind of busy" turning this situation around. I'm putting the phone down, logging off my computer and engaging with my family more. Coming home from school or work and putting up our feet while we retreat to our tablets and smartphones is a poor excuse for family time and I'm done accepting that. Work hours are now scheduled and respected so that my family time is free of obligations. Engaging with each other is our new priority because I know the closer we become, the more we will enjoy and respect each other. After all, life moves pretty quickly -- they won't be kids forever.
Now, if only I had a plan to deal with her latest typical teen phrase of, "Leave me alone!"
Parenting is full of both joyous and messy moments. There's no perfect way to parent, which is why we've teamed up with Clorox to celebrate all of life's little messes. Do you have a personal story about your kids that impacted your approach to parenting or helped you stop stressing the little things? Let us know your perfectly imperfect parenting tale at dontstressthemess@huffingtonpost.com.