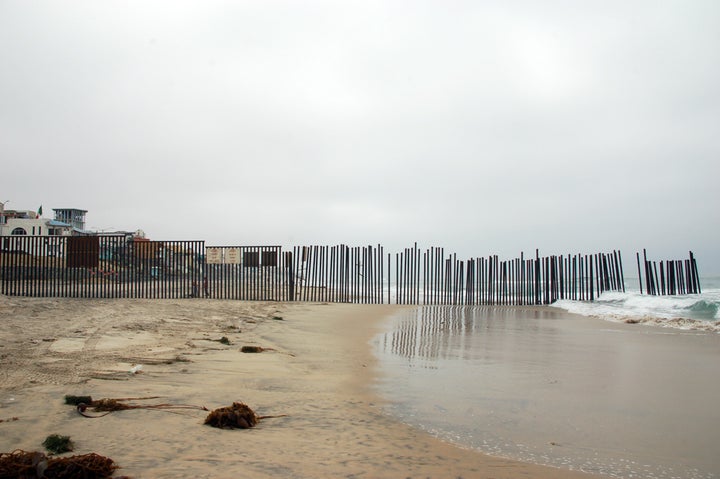 IMPERIAL BEACH, Calif. -- Pat Nixon, the former first lady, would be disappointed if she came to see the border between the United States and Mexico in America's southwestern corner today.
Mrs. Nixon, who spoke at the dedication of Friendship Park at Border Field State Park 40 years ago, said then, "I hate to see a fence anywhere." Now it seems all you can see here is a fence -- or, rather, several. Gone are the hugs and kisses and family reunions that used to happen on this beautiful, sandy beach where the Pacific Ocean meets these two countries.
Even the monument marking the exact border established under the 1848 Treaty of Guadalupe Hidalgo is now only accessible through arrangement with the U.S. Border Patrol.
In some sense, all this is understandable. The gritty town of Imperial Beach, adjacent to Tijuana, is a world apart from ritzier San Diego suburbs like La Jolla and Rancho Santa Fe. The unemployment rate here is about 17 percent and, while development is often spoken about, it's usually more in terms of potential than success.
On top of all that, Imperial Beach used to be a major crossing point for illegal immigrants and drug traffickers. But between multiple layers of fencing, camera surveillance and border patrol agents in helicopters, boats, SUVs, ATVs and on horseback, there are now few cases of successful border crossings here.
Those who do try tend to be on the water. Ron Harden, who has guarded the border for 23 years, says Jet Skis are a popular choice these days and adds that most people caught trying to get across are convicts who have been returned to Mexico after spending time in an American jail.
It's unlikely that the plan will gain much traction, even though it has the support of a local congressman, because the Border Patrol is worried about the exchange of illegal drugs and falsified documents.
The irony, though, is that despite all this focus on illegal crossing, Imperial Beach and San Diego itself are really places defined by legal crossings. Mexicans come north to shop for Christmas just as Americans head south to save on living expenses. Pacemakers and televisions and cars are made in Mexico and enter the world's economy at the Port of San Diego.
Just across the fence from the beach at Border Field State Park is a bull ring in Tijuana. But just outside that is a sign advertising Bud Light. That sharing of cultures is the kind of crossing happening here that gets much less attention than the criminals on Jet Skis.
It's the kind of crossing best illustrated by the rare Western Snowy Plover birds that fly gracefully between nations, not worried about the fence or anything else beneath them.
Popular in the Community