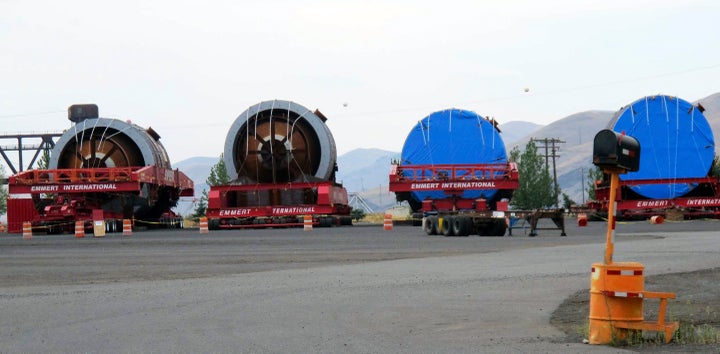 A Montana judge has delivered a significant victory to opponents of a plan by oil companies to truck oversized oil equipment destined for Canada's tar sands along a series of serpentine, two-lane roads in Idaho and Montana.
The project aims to move more than 200 so-called megaloads of oversized oil extraction and production equipment from their manufacturing facility in South Korea to the Port of Vancouver, up the Columbia and Snake Rivers to Idaho's Port of Lewiston, and from there over road through northern Idaho and across Montana to a border crossing at Sweet Grass, Mont.
Representatives of the County of Missoula, Mont., along with the National Wildlife Federation, the Montana Environmental Information Center and the Montana Chapter of the Sierra Club, filed a lawsuit against the Montana Department of Transportation in April, arguing that the state's environmental assessment was inadequate and that a full Environmental Impact Statement should be completed before any further permits were issued to Imperial/Exxon Mobil by the state to continue preparing the route.
On Tuesday, Judge Dayton agreed that the environmental assessment fell short and agreed to block further issuance of permits.
"Two months after the hearing on our motion to preliminarily enjoin Imperial Oil from moving massive components across Montana highways to the Alberta tar sands, the Montana District Court just issued an order granting our motion and halting the project," said Thomas France, an attorney with the National Wildlife Federation, in a statement posted online. "The court held that the Montana Department Transportation violated the Montana Environmental Policy Act by failing to consider alternative routes, failing to consider decommissioning the highway modifications needed for the project and failing to conduct an independent evaluation of the proposal."
In an email, Pius J. Rolheiser, a spokesman for Imperial Oil, said the company was considering its next moves.
"This would prevent Imperial from doing roadside turnout improvement and other work on Montana roadways that would be required to allow us to move oversized modules on our original proposed route in compliance with Montana's 10-minute traffic clearing rule," Rolheiser said. "We are disappointed with the decision, and will need to review and assess the decision and determine next steps."
The megaload plan has drawn widespread opposition from local residents in both Idaho and Montana -- not least because large portions of the planned route would traverse narrow ribbons of scenic highway through some of the most pristine wildlands remaining in North America. They also argue that, despite plans to build pull-outs, alter utility wires, and move the equipment only at night, the loads would inevitably block traffic for long periods of time, and in areas where no alternative routes exist.
An overview of the route:
Local activists fear that if Imperial/Exxon Mobil is permitted to move the equipment as planned, it would ultimately turn the route into a permanent, high-and-wide industrial corridor. Other companies have expressed interest in using the path to move oversized industrial equipment -- much of it also destined for Canada's tar sands.
Environmental groups, meanwhile, have seized on the issue as a referendum on the tar sands -- a highly polluting, energy- and water-intensive source of oil that produces copious amounts of greenhouse gases.
Last year, Imperial had taken the unusual step of delivering 33 of the oversized modules to the Port of Lewiston, even though the permitting issues in both Idaho and Montana had not been settled. The loads sat for the better part of a year, but this spring, the company began cutting the equipment into smaller pieces to reduce their size and weight, so that they could be moved on an alternate, interstate highway route.
Interstates were not originally considered in part because the megaloads could not fit under overpasses.
Rolheiser said on Wednesday that the company has moved one module so far along this alternative route, which takes U.S. Route 95 to I-90 to I-15 across the Canadian border:
But according to Rolheiser, Imperial/Exxon Mobil has not given up on its original plan.
"We continue to pursue permits for our original route, as well as alternative routes," he said. "Because of the delays we've experienced, we are looking at all options available to us to move this equipment."

Popular in the Community