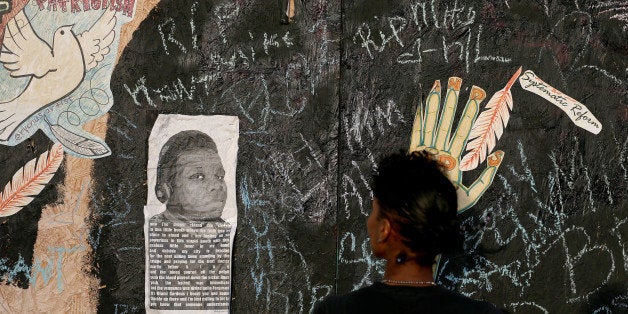 There have been too many police shootings this summer that have left black men dead or injured and our nation questioning the state of race relations.
There was Michael Brown, the teen killed by a police officer in Ferguson, Missouri, in August. That same month, John Crawford III was fatally shot by officers in an Ohio Wal-Mart as he carried an air rifle he'd picked off the shelf. And in September, Levar Jones was shot in the hip when a South Carolina state trooper opened fire on the unarmed man during a routine traffic stop.
These incidents, which involved white officers, have rightfully sparked a national conversation about racial bias. But too often, such conversations focus solely on people consciously acting on their racial bias. This approach is a mistake. It oversimplifies the issue by portraying any act of bias as a conscious decision, the work of someone with overtly racist beliefs.
That is not always the case.
We live in a world filled with messages that teach and reinforce stereotypes and biases. Even if we disagree with these messages, we see them, we are aware of them and we absorb them.
And, yes, we can be affected by them.
Pulitzer Prize-winning columnist Leonard Pitts has argued that the disturbing dashcam video showing Jones being shot isn't necessarily evidence of a trooper acting on a conscious racial bias against black people, but rather an implicit racial bias fueled by the pervasive stereotype of black men as dangerous predators.
This is why the Within Our Lifetime Network's effort to raise awareness about implicit bias -- the subconscious bias we show toward others -- is so important. This network of groups, which includes the Southern Poverty Law Center, is encouraging people to take the online Implicit Association Test to uncover their implicit biases.
Taking the test, encouraging others to take it and discussing the results is the first step to better understanding our own biases and acquiring a more sophisticated understanding of bias in others.
Organizers of the effort, which launched today, also want people to raise awareness through social media and to plan activities to fight implicit bias.
You don't have to look far to see the tell-tale signs of implicit bias. When the U.S. Department of Education Office for Civil Rights released school discipline data earlier this year, there was a clear racial disparity that raised the specter of implicit bias in the classroom.
For example, a black student is three times more likely to be suspended or expelled than a white student. And, although black students comprise only 16 percent of all student enrollment, they represent a staggering 31 percent of students "subjected to a school-related arrest."
Even at the preschool level, black children represent 48 percent of those suspended more than once, but are only 18 percent of preschool enrollment. The statistics for students with disabilities are just as alarming. Students with disabilities represent one-quarter of the students arrested and referred to law enforcement despite being only 12 percent of all students.
These sobering numbers are not meant to demonize educators. But they should encourage everyone to examine their implicit biases.
Yes, it can be an uncomfortable task. But implicit bias is so deeply ingrained in our everyday lives, it's a task worth undertaking.
Discovering these biases shouldn't make one feel ashamed or fearful that he or she is a racist. Uncovering implicit bias and guarding against it is a responsible and necessary step for anyone dedicated to eliminating bigotry and prejudice.
It's time to put our commitment to a more inclusive and just world to the test by taking the test.