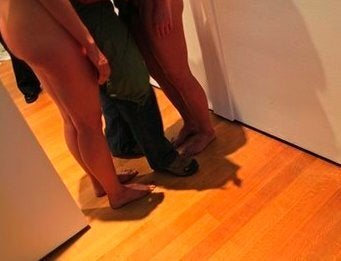 NEW YORK — Laurence Lallier slipped carefully between two naked women facing each other in a narrow doorway at the Museum of Modern Art.
"I didn't want to step on their feet," said Lallier, a student from Montreal. "We feel shy and they don't, and they're the ones that are naked."
When the artist Marina Abramovic and her then-companion Ulay first performed the piece, called "Imponderabilia," in Bologna, Italy in 1977, the police showed up. New York's finest are unlikely to interfere with the version that opened at MoMA on Sunday, though some museum-goers may choose not to do the sideways limbo between bare bodies.
Elsewhere in the exhibit two clothed people touch fingertips, two others sit back to back with their hair entwined and a naked woman reclines with a skeleton (not a real one) lying on top of her. The performers, re-enacting pieces originated by Abramovic alone or with Ulay, are statue-still.
"It's neat seeing someone naked but not in a sexual way," said Steven Crossot of Philadelphia, watching the skeleton rise and fall with the woman's breathing. "It doesn't even feel voyeuristic. It feels like you're looking at a Renaissance piece, but live."
The Yugoslavian-born Abramovic, 63, is a performance art grande dame who has pushed the limits of physical endurance since the late 1960s.
In front of audiences, she has taken medication that made her lose consciousness, and stabbed herself repeatedly in the left hand.
Videos screens at MoMA show other pieces that could not be re-enacted, such as 1988's "The Great Wall," in which Abramovic and Ulay started at opposite ends of the Great Wall of China and walked for three months until they met each other. The couple then ended their artistic and personal collaboration.
New York Times critic Holland Carter called the exhibit uneven but rarely uninteresting; he was skeptical about re-creating ephemeral performance art.
The show is called "Marina Abramovic: The Artist is Present," and she is. Abramovic sits on silent display while the museum is open. Members of the public are invited to join her, silently, across a small table.
"It's an act of extreme generosity," said curator Klaus Biesenbach. "You are completing the piece together with the artist on an equal basis."
On Monday, Abramovic wore a long blue dress as she sat opposite a young man. Both were motionless; Abramovic's face was expressionless.
"It's a great opportunity to contemplate two people just looking at each other," said spectator Vanessa Lodigiani.
Lodigiani, herself an artist, had attended a preview for MoMA members. She was amused that even some museum members wouldn't pass between the naked people of "Imponderabilia."
"It's quite shocking to me that people are shocked by nudity," she said.
The exhibit continues through May 31.
Support HuffPost
The Stakes Have Never Been Higher
Related
Popular in the Community