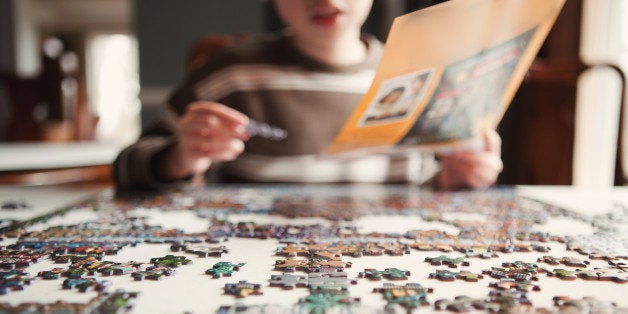 January 29th is National Puzzle Day. This is a perfect opportunity to share different puzzles with your kids and have some fun quality time with them, too. Research shows puzzles are educational, especially in the area of mathematics, and they offer developmental support for both children and adults. When any child or adult works with puzzles, the right brain and left-brain are both engaged, which is when our brains are most active.
While the traditional jigsaw puzzle is a reliable option, below is brief list of other available puzzles. You should be able to easily find one that meets your family's needs and interests.
1. Board - This puzzle consists of larger pieces for toddlers and preschoolers. They are single pieces that fit into a single space and help in learning such things as shapes, letters, animals, and colors. Some board puzzles consist of manipulations: locks, latches, laces, etc.
2. Crossword - These are great for older kids to work on independently. Crosswords require a two-step thought process - first you have to think about the answer and then correctly spell it. Newspapers and magazines are a great place to look for more advanced options. Free online websites allow you to create your own puzzle, which can be used for fun or school related topics.
3. Game Puzzles - There are currently many games that are actually challenging puzzles. There are options for all ages that help both cognitively and developmentally. You might already be familiar with some of these ... Scrabble, Bananagrams, Sudoku (also found in newspapers), Rubik's cube and Yahtzee are all perfect for family night!
4. Jigsaw - This is the traditional puzzle many of us think of when we hear the word "puzzle." The goal is to fit pieces together to make a picture using anywhere from 8 to 1,000 pieces. These puzzles are fun with a group and also when alone, just relaxing and fitting the pieces by yourself. Preschoolers love floor size puzzles and technology makes it easy by allowing jigsaws to be done online at no cost! Try this website where you can adjust the number of pieces based on the age group.
5. Logic Puzzles - These work our brains in a more mathematical way. Chess, checkers and math story problems are examples. Usually these are better suited for older kids and adults. You can introduce your preschoolers early on to logic with Connect Four and by fitting Lego pieces together.
6. Word Search - This is a scavenger hunt for letters and words. It's ideal for kids who know their letters yet are still working on spelling. The idea is to match up letters to make the words. It's another kind of puzzle that you can personalize online.
In addition to being a fun way to spend time together as a family, puzzles can play an amazing role in your child's development. Incorporating them into your routine is strongly encouraged and it's easy to do simply by having a puzzle on a table ready to go. Just take a look at the many crucial skills worked on while doing puzzles and why these specific skills are important in a child's development and life:
1. Cognitive Skills - Puzzles help children understand how following step-by-step directions accomplish a certain goal. Spatial, letter and color awareness skills develop when playing with puzzles. A key skill is exercising memory while recalling which pieces, or words have already been tried and failed in previous spaces.
2. Fine Motor Development - Fine motor skills are a necessary part of everyday life. Developing these skills early on eventually help with handwriting, drawing skills and musical instruments. Depending on the type of puzzle, children are asked to move small and large pieces, circle words, twist knobs or make pieces fit into slots.

3. Hand-Eye Coordination - Making the connection between what the eye sees and how the hand responds is practiced in puzzles. Whether it's a jigsaw or crossword puzzle, learning what fits or doesn't fit requires an adjustment of the hand. Trying new puzzle pieces, or erasing a word and writing in a new one helps develop these skills.
4. Social Skills - Many puzzles require other individuals and can encourage people to work and play together. Trying to solve puzzles as a group can help kids understand patience, teamwork and taking turns.
5. Problem Solving - All puzzles have a clear goal for the player to accomplish. Whether it is a picture to put together, a completed crossword or a successful fitting of the blocks, whenever an individual starts a puzzle, they see the steps needed to finish. Successfully completing a puzzle is a unique challenge that requires problem-solving skills. Younger children might need more guidance along the way compared to older kids. This is only natural, plus learning to problem-solve on our own and to creatively think outside the box while struggling a bit is how we grow and learn.
Share your favorite puzzles with family and friends! It could become a weekly or monthly habit that builds skills in fun ways.
Related